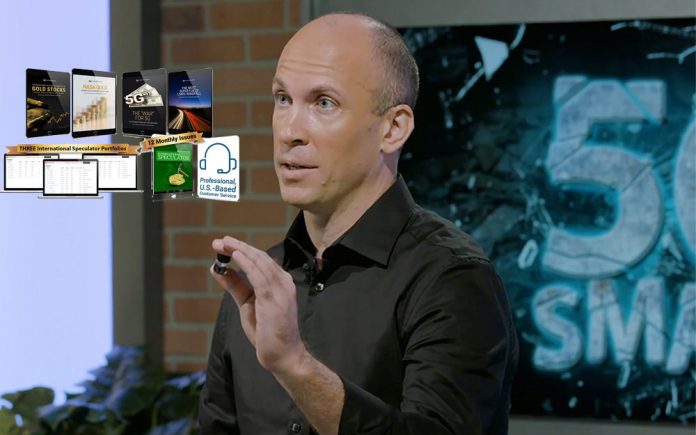 Investor David Forest recently presented, "Watch As I Smash Open this Crate to Reveal a $2.7 Trillion 'Prize'." In it, he expounded on the importance of the bigger picture of 5G technology that has been circulating for some time now. As the likes of Apple, Samsung, Huawei and Cisco among others enter this new technological advancement, it is believed that investors can take a significant cut home!
Here's what you need to know:
What is The War for 5G: 3 Little-Known Stocks to see 60x Gains?
According to the claims made by Forest, The War for 5G combines his research on rare earth metals that make the likes of 5G possible. In it, investors will have access to three key companies that make use of such minerals and are likely to witness positive changes in their stock prices. What makes this special briefing unique is the source of information provided, as it entails knowledge from mining executives, government officials and surveying results of project sites.
What's in The War for 5G: 3 Little-Known Stocks to see 60x Gains?
Besides information on the three companies of Forest's choice, the briefing will also serve as a step-by-step guide on how to purchase these respective stocks in a regular brokerage account. Other topics include supply and demand, rare earth metals that require emphasis and their uses, and to learn how to make wise speculations that can turn penny stocks into thousands of dollars. The latter is deemed a previously tested approach by Doug Casey of Casey Research!
Who is David Forest?
David Forest is an expert in the study of geology, as he's worked professionally in the mining and petroleum industry for well over 20 years. Over the course of time, he decided it was necessary to bridge his expertise in geology with that of finance, which he did by joining Casey Research in 2004. Having founded the Casey Energy Speculator, his International Speculator aims to be the foundation for those looking for opportunities to invest in oil, natural gas, uranium and renewable energy globally.
How to get access David Forest's International Speculator Guides?
In order to gain access to "The War for 5G: 3 Little-Known Stocks to see 60x Gains" and other guides, investors need to become a member of the International Speculator, which Forest is the Senior Analyst of. Upon becoming a member, investors will have access to Forest's findings on a monthly basis, which includes developments within the industry around the globe.
What will I receive once I become a member of the International Speculator?
Overall, in addition to the "The War for 5G: 3 Little-Known Stocks to see 60x Gains" guide, investors will also get access to the following:
NASA Gold: 3 Penny Stocks Set to Soar
The Doug Casey Method to Investing in Gold Stocks
Monthly issues of the International Speculator
The Nine Ps of Resource Stock Evaluation
Full Access to the International Speculator Archives and Model Portfolio Page
Customer Support from a team based in Delray Beach, Florida
How much does it cost to become a member of the International Speculator?
For a one-year membership, the original price is typically $3,000. However, for a limited offer, this respective service will be priced at roughly $1,995. The reduced price will also be backed by a full 90-day guarantee. That is, if the services offered don't meet one's expectation, it is a simple matter of giving Forest's team a call, and getting the full amount credited back.
How to contact International Speculator with Questions?
Should investors have doubts or concerns that need addressing in relation to their subscription plans, the best number to reach the customer service team is either (800)-621-0699 or (888) 512-2739.
Is there a penalty fee for unsubscribing to the International Speculator?
Should one decide to unsubscribe to the International Speculator, they should do so at least one day prior to the renewal date, otherwise the renewal fee will be charged regardless.
Is David Forest Legitimate?
Stock Gumshoe has given Forest's service a 3/5. This reflects the overall investment's performance (3), the analysis and written portions (3.5), the value of the membership (3) and the customer service team (3). Based on previous investors' experience, of the recommendations Forest has given, at least 13% of them excelled, bringing in valuable gains. Others deem Doug Casey as being knowledgeable in the field, but very risky when it comes to investing. However, the latter depends on each individual's comfort with risk, and this could drastically vary from one to the next.
To learn more about the International Speculator, visit here.