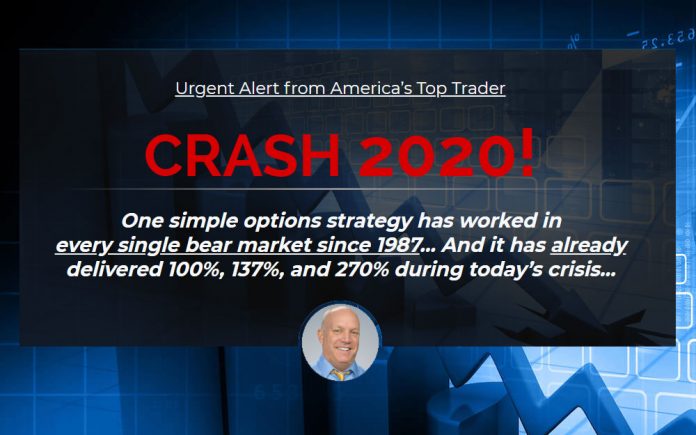 Did you recently come across a presentation called, "Crash 2020! One simple options strategy has worked in every single bear market since 1987?" If so, then you would have familiarized yourself with options trader, Jeff Clark, who asserts that his proprietary trading system has been consistent in bringing short term, triple-digit gains.
He goes on to argue that 'The Crisis Trading Blueprint' system performed best during crashes. For instance, Clark is said to have made 10 times his money on Black Monday 1987, made a 7-figure windfall for him and his clients during the 2001 dotcom bust and even found 18 triple-digit winners during the 2008 Great Recession.
2020 marks another possible bottom in the making as COVID-19 continues to negatively impact businesses to the point where some had to shutdown permanently. Given that it seems like history might repeat itself yet again, Clark shares that now is the right time to put his system to the test.
Do you want to restructure your relationship with money? Want in on the profits that Clark trusts range in the double and triple-digit ranges? Before getting to the point, let's take a brief look at what the Crisis Trading Blueprint is.
The Crisis Trading Blueprint is an options technique that allows one to make gains during market volatility. This is the approach that Clark seems to swear by. As per the claims made, this does not involve stocks and only requires one to have a starting capital of $1000. What is he suggesting we invest in? Turns out, there are a few precise options trades that can grow one's investment and to get started, one must become a member of Jeff Clark's Delta Report.
What is Delta Report?
Delta Report is a financial newsletter that covers short-term options trades. Led by Jeff Clark, this service is said to be most appropriate for those who can tolerate fast-moving plays and are accepting of both the risks and rewards that come with it rather than following the traditional, "buy-and-hold" strategy.
What will I learn from Delta Report?
As COVID-19 continues to spread with no hints of quitting anytime soon, volatility will persist. Hence, Delta Report presents a learning opportunity now than it ever did. Members will come to learn of Jeff Clark's approaches through his research. Some of the areas covered include analyzing why, when and how stocks move. That said, the following is a list of resources that individuals are entitled to with the membership:
The Delta Report Guide to Options Trading
This guide goes over step-by-step instructions on how to use options. This is especially useful for beginners, as everything from calls and puts, how Clark picks his trades and to how manage risk is detailed.
Spotting the Perfect Trade
The second report walks through the steps to finding triple-digit trades. More specifically, he informs members on the dos and don'ts of options trading, how to remove risk, and technical indicators including stacking configuration, coiling formation, RSI, MACD and the V-Line among others. To top it off, one will come to learn that it only takes 15 minutes per week to make thousands.
That's not all, in fact, he will also send out:
Trade alerts every Tuesday morning around 10 a.m. ET consisting of detailed analyses of each trade
8-part Master's Level Options Course provides details on the entire Crisis Trading Blueprint, top 5 chart patterns to consider and how the V-Line works to name a few
Access to Delta Direct: lighting trade alerts and up-to-the-minute market observations
Bonus Report #1: How to Play Gold Stocks for Triple-Digit Gains
Bonus Report #2: A Little-Known Strategy to Quadruple the Return on Your Income Portfolio
What indicator does Jeff Clark's system rely on?
As informed by the expert himself, his system focuses on an indicator he deems is "powerful" and it is the V-Line. The V-Line measures volatility. When a stock passes through this line, it is a sign that big trades can be made. This indicator is said to work best with extreme volatility present and could easily turn a starting capital of $1,000 to $5,070 in profits. Most of all, the holding period typically lasts between six days and three weeks!
How much does the Delta Report membership cost?
The Delta Report membership is currently offered at a discounted rate of $2,500. In addition to the discount, Clark adds a second year for free. That's not all, he is also offering a double guarantee.
For the first guarantee, he's giving members 90 days to fully assess his research and to see if it aligns with one's own goals. If it doesn't meet one's expectations, a full credit will be issued to any other publication that he or his corporate affiliates offer. As for the second, he believes that members will see 12 doubles during the first year of membership. If for whatever reason this was not achieved, he will add yet another year for free.
Should one have any questions, it is as simple as contacting customer service at (800) 752-0820 and referencing the promo code which is: MKT464625.
Final Thoughts
Delta Report is for anyone looking to profit from options trading in the short run. Led by Jeff Clark who carries nearly 35 years of experience, he seems to stand by the V-Line approach and wit its implementation, he will make a total of 12 recommendations. In addition, he seems to offer an array of resources so that members could familiarize themselves with the processes of options trading. As for its affordability, it is definitely on the higher end, but such services are typically priced this way so it's not too much of a surprise.
Former and/or existing members seem to be generally displeased with Delta Report because of its low win rate and dishonesty. The latter has been highly stressed, as seen on Stock Gumshoe. For instance, many felt that it was nearly impossible to get out of the auto-renewal membership subscriptions. Then there's the fact that whenever he predicted a soon-approaching market crash, it never happened, which defeats the purpose of his system. Most of all, members were not happy with how much risk he was willing to take and argued that it wasn't worth the investment.
Ultimately, members will have to decide if the risks associated with Delta Report are worth accepting and whether short-term options trading is desired. To learn more about Jeff Clark's Delta Report, click here.