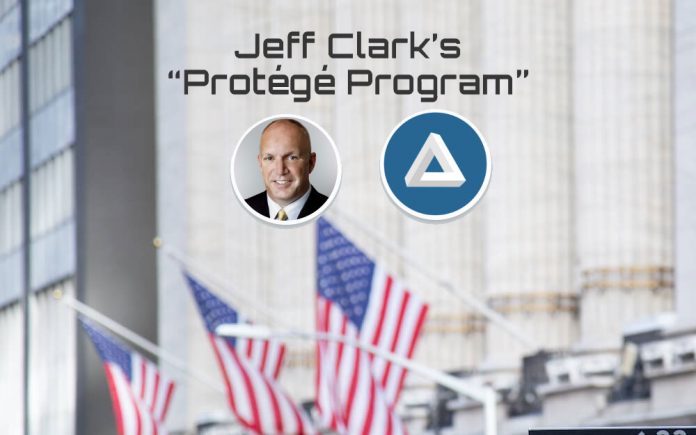 People who think they have what it takes to make some real money as traders should be aware of the fact that Jeff Clark is opening enrollment to his Protégé Program. He's looking for a small group of investors to be his trainees. He won't give personalized investment advice. Instead, he will reveal the most ambitious plan for making fortunes like the ones made on Wall Street.
What Does Jeff Clark's Protégé Program Involve?
As a member of Jeff Clark's Protégé Program, people get new trade recommendations every 3 days. Furthermore, they receive a bonus recommendation almost every week. Besides, every day in which the markets are open, Jeff will provide updates on what's going on, plus real-time training. The Protégé Program has 3 parts that are going to be explained in the next few paragraphs.
Part 1 – Options Trading
This Part consists of Jeff's weekly recommendations, which usually come every Tuesday, but may arrive on Wednesday or Thursday too. These recommendations will be picks from every market's corner, starting with retail and ending with marijuana. They're meant to generate short-term and steady gains each week. The same Part 1 also includes Jeff's monthly recommendations, which he finds using his 3-stock retirement blueprint. The bonuses of this Part are:
The Extra Credit Bonus Recommendations that Jeff sends once a week unexpectedly and can make a very big difference into a trader's portfolio. These trades are not the same with the weekly and monthly ones
The Explosive Quarterly Payout Opportunities, which present the well-known companies about to have the biggest payout opportunities, based on an earnings algorithm developed by Jeff and tested with his own money
Part 2 – Tiny Stock Trade Recommendations
The Tiny Stock Trade Recommendations make trading easier by turning it into simple buying and selling with only a few clicks. They can bring the biggest short-term gains traders have ever seen, not to mention they complement the Options Recommendations from Part 1, as they present people the reasons why markets are moving up and down, also how to take advantage of these movements.
Part 3 – Daily Coaching
This Part 3 consists of Jeff's advice on how the market should be taken advantage of every day. It's not personalized coaching, but it surely gets as close to this notion as possible. This Part is perfect for those who feel like their head is spinning when they have to trade.
Timeless Trading Wisdom Video Series
Included in the BONUSES for Jeff Clark's Protégé Program, the Timeless Trading Wisdom Video Series are recordings of Jeff's live coaching sessions in which he talked about his trading secrets.
Jeff's Future Trading Research Modules
Also a BONUS to the Protégé Program, the Future Trading Research Modules include all the research Jeff and his team conducted on the market during the past year.
How Much Does a Protégé Program Cost?
Subscribing to all Jeff's programs would cost a fortune, but the Protégé Program is running a special offer that involves joining the Alliance. This would cost only $3,250 for LIFE, while including everything mentioned plus:
The Delta Report
The Breakout Alert
Jeff Clark Trader
Every special report Jeff publishes
Jeff's Protégé Program also comes with a 90-day money-back guarantee.
The Breakout Alert
Jeff Clark Trader
Jeff Clark's Timeless Trading Wisdom (video series)
Every future research service I launch
Every special report I have ever written