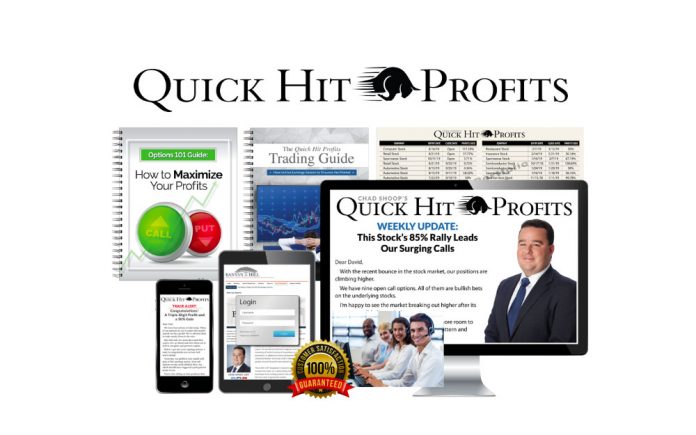 In a presentation called, "The Ultimate Trading Strategy," editor and analyst Matt Badiali starts off by highlighting a strategy that is believed to grow one's capital. He spends much of his time going over some of his top picks and how he was successful in pinpointing stocks with a large payout. He eventually introduces editor, Chad Shoop who is said to responsible for the strategy at hand.
On that note, the duo seems to be working together on a service that focuses primarily on options as an investment. What is this service and how can one become a member? The purpose of this review is to introduce Quick Hit Profits. In doing so, investors will have a good sense of what this service entails and whether or not it meets their goals.
What is Quick Hit Profits?
Quick Hit Profits is a monthly financial newsletter that covers investment opportunities with growth potential. As per the claims made, this service has been creating triple-digit gains for a consecutive three years. Having realized that some investments do not materialize over the short term, the editors behind Quick Hit Profits created a strategy including "profit trigger" that could double one's money every month.
Who are Chad Shoop and Matt Badiali?
Chad Shoop
Chad Shoop serves as Banyan Hill Publishing's income and investment research expert. He has since earned two bachelor's degrees in finance and economics respectively and earned the title of Chartered Market Technician (CMT). His daily tasks entail building and validating statistical models, with three that has been successful thus far. As for Quick Hit Profits, he is the lead editor.
Matt Badiali
Matt Badiali is the senior investment analyst at Banyan Hill Publishing. Interestingly, investing was not part of his desired career path, as the expert supposedly dreamt of becoming a college professor. However, due to the lack of financial freedom that it provides, he focused more so on the financial industry. Since then Badiali spent much of his research on energy companies.
What approach is used in Quick Hit Profits?
As previously mentioned, the approach used entails acting upon the profit trigger. According to Badiali, the profit trigger is when a stock jumps 5% or more after the company announces its earnings. In such times, a stock can easily increase by up to 20% within a day. When such a move takes place, many are quick to think that it is too late, but the expert thinks otherwise. He believes that such an increase might be the beginning of an explosion in value waiting to happen.
Once the profit trigger has been identified, the duo looks for a "profit pattern." While one can assume that an increase in earnings implies an increase in stock value, it could sometimes end up being the opposite. For this reason, investments are further analyzed to see if they have at least a 75% chance of delivering a huge payout. This is analyzed based on historical data.
Finally, the team focuses on a "profit window," which indicates the best point of entry and exit for every trade. This is based on a number of technical analysis tools and indicators including volatility, long/short rations and trading volume among others.
What will I learn from Quick Hit Profits?
Every month, members will come to learn of options as an investment that have the potential to make triple digit profits. The reason options are the main focus is because it is inexpensive, faster to work with and has limited risk in comparison to stocks. Here are some of the perks of becoming a member:
Instant trade alerts, which notify members of the trade that they should be placing, how to go about it and a complete analysis on the opportunity
At most 60 trades each year with 12 to 15 revealed every quarter
Weekly issues
Exclusive website access
The Quick Hit Profits model portfolio where members can scroll through the team's open positions
The Quick Hit Profits Trading Guide details everything there is to know in regard to the strategy used
BONUS: The Options 101 Guide, which will provide the background needed to excess in options investing
How much does the Quick Hit Profits membership cost?
The original price of the Quick Hit Profits membership is usually $4,995 per year, however for those who join today, the first year will only cost $1,995. In addition to the reduced price, Badiali and Shoop affirm that this strategy works and that if one fails to see 12 triple-digit winners over the first year, the second year of membership will be free. For more information, customer service can be reached at (877) 422-1888.
What do people think of Quick Hit Profits so far?
Based on roughly eight reviews found on Stock Gumshoe, those who've become a member of Quick Hit Profits found that the win-loss rate is about 75-25. The length of time one is required to stay, or exit varies but has been averaged out to about four months. In terms of sentiments expressed, many seem to like the fact that Shoop is straightforward and refrains from jumping at high risk investments.
Most of all, the fact that he provides probabilities in advance seems to have impressed members. That said, individuals should consider that eight reviews are obviously not enough to make a generalization of all members' sentiments. Moreover, these reviews are now quite outdated – ranging between 2018 and 2019.
Final Thoughts
Based on the analysis above, Quick Hit Profits is for anyone who is looking to diversify their portfolios by including options. The duo behind this service clearly have knowledge on both the fundamental and technical analyses, which is usually preferred. That said, they are also described as being honest when it comes to incurring losses and are said to be straightforward in both their recommendations and detailed reports.
While the price of the membership is slightly on the higher end, most financial services fall within the $49 to $2,500 per year range. Hence, it does not come too much of a surprise. Ultimately, it is important to evaluate one's goals, see if they align with what the duo is focusing on and to contact customer service regarding any doubts and/or concerns, as there are no refund policies in place. Instead, the duo is offering is a second year of membership for free.
To learn more about Quick Hit Profits, click here.