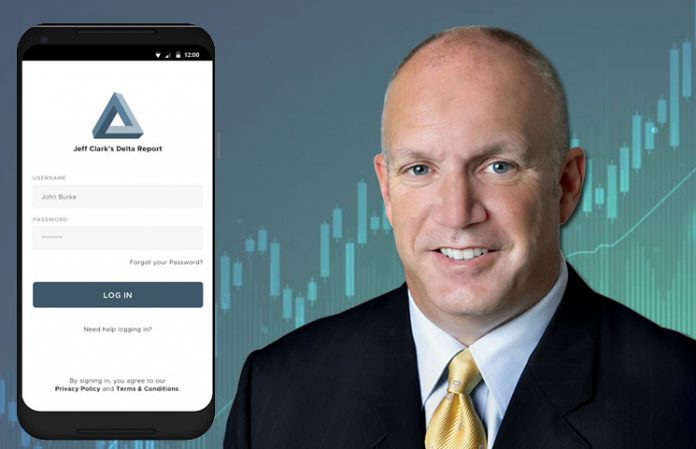 Options trading is considered advantageous in comparison to the likes of stocks and equities because they require less capital, are considered less risky, and have greater profit-generating potential and leveraging power to name the least. How can one get involved in options trading? What are the best approaches to consider? This is where it is most fit to introduce Jeff Clark and his newsletter, the Delta Report.
What is the Delta Report?
Delta Report is a financial newsletter run by editor, Jeff Clark. It is considered an advanced options trading strategy compared his more basic newsletter called the Jeff Clark Trader. Throughout this journey, individuals will be provided with option trading opportunities on a weekly basis.
Jeff Clark Trader is a highly efficient investment advisory service created by Jeff Clark, a veteran trader who wants to help his subscribers with his best investment recommendations. What's great about the Jeff Clark Trader service that it offers transparency when it comes to performance. This is usually not provided by many of the other advisory services. As it can be seen in Jeff's charts, he has made some losing recommendations too, but most of what he advised has brought his subscribers considerable profits.
What is there to know about Jeff Clark?
Over the last 15 years, Jeff Clark has been running two successful trading letters for Stansberry Research (i.e. The Short Report and Pro Trader).
His interest in editing financial newsletters started when he decided to retire from his San Francisco-based brokerage house and private money management firm. Prior to running his own business, the expert supposedly built up his career by developing a number of MBA program curricula and founding an investor education firm.
With three different newsletters under his belt today, Clark's track record has supposedly been solid enough to bring investors double-digit gains.
With that experience of more than 15 years creating financial advisory newsletters, working with Casey Research as an analyst and editor but left when the company was sold to Stansberry Research, back in 2015. However, he still has articles published on Casey Research, which proves how much his previous employers appreciate him.
His background in offering investment advice is quite lengthy, as he has been sending thousands of financial advisory newsletters ever since he launched JeffClarkTrader.com. Before he started activating in the online world, he worked for his own brokerage house, where he handled and managed private money in the numbers of millions of dollars. This is what helped him retire at the age of 42.
What will I get out of the Delta Report membership?
By becoming a member of the Delta Report, individuals will gain access to Clark's alerts every Tuesday mornings at 10 a.m. ET. Each alert will entail complete details on what he's recommending and why he thinks it is an opportunity worth grabbing onto.
The Jeff Clark Trader Subscription includes:
Monthly Trades that are being sent each month, most of the time in the 3rd Thursday. These are Jeff's trades recommendations and include both analyses or information on why he has chosen them.
Video Training, which consist of a series of videos with the basic trading training.
Regular Updates on when a position should be sold or when something important happens. These updates can arrive at any time.
The 3-Stock Retirement Blueprint report that lists the 3 stocks Jeff recommends buying straight away.
Other perks include, but are not limited to:
Online Training Videos
Upon becoming a member, individuals will have access to an eight-part series of online trading videos, which breaks down everything there is to know about options trading. This can range from what options are, and the steps to be taken to get started up to applying Clark's technique.
App and Email Alerts
For those who have their cellular devices handy, Clark's alerts can be sent directly to the Delta Report App. This has been done to increase convenience, while ensuring that individuals grab onto the opportunity in place at the right time. For those who prefer email or website alerts, these are available as well.
24/7 Members Only Website
Individuals will be provided with a unique username and password to a members-only website, where Clark lays out all of his reports, alerts and recommendations. In addition to the eight-part video series, a special report called, "Spotting the Perfect Trade: How to Make $1000s A Week in the New Bear Market," will be made available.
Just like many other services for investment advisory out there, Jeff Clark Trader provides a take-action type of advice regarding investing, advice that can be followed by anyone, regardless of the experience in the financial and trading world. In other words, the Jeff Clark Trader service teaches people what, how and when to invest.
Putting money in options does indeed have more potential to bring in quick profits when compared with putting money in stocks, but it's also riskier. What's good to know is that Jeff Clark Trader is a strategy that keeps investors away from trades that may go low, all while keeping them focused on the options known for their large-cap stocks.
Frequently Asked Questions (FAQs)
Why does Jeff Clarks prefer options?
According to the expert, options offer a better profit-generating potential in comparison to other investments. Moreover, he's found that option trading works well during bull and bear
Markets, hence allowing one to make money regardless of the economy and/or market trends.
How much capital should I have to start the Delta Report membership?
To get started, Clark recommends one to have at least $10,000 in investing capital kept aside. This is up to the member of course; however, he deems that this is enough to yield a maximum benefit. In addition to capital, one must also have already set up a brokerage account for using options.
Is Jeff a conservative trader?
Based on what's been disclosed, Clark is both conservative and speculative when it comes to trading. If the opportunity is present, he will likely take advantage of short- and sometimes intermediate-term moves.
Is there a money-back guarantee in place?
Yes, there is a money-back guarantee in place. Specifically, should one be dissatisfied with the recommendations offered by Clark within the first 90 days of the membership, it is as simple as contacting customer service and requesting a refund.
Can I sign up through phone rather than filling out a form?
Yes, for those of you who prefer to call and place an order to the Delta Report, this can be done by calling customer service at (800) 752-0820.
How much does the Delta Report membership cost?
The original price of the Delta Report is supposedly $5,000, however, for a limited time, individuals can become a member for $2,500. In addition to the 50% discount, individuals who become a member by Friday, April 24, 2020 will get an additional year of the membership for free.
Normally, a yearly subscription to Jeff Clark Trader is $199, but the good news is that there are always promotions going on, when the price is reduced to only $19 a year. It should be noted there are no refunds, only a 90-day credit policy that means any other of Jeff's services can be purchased with the money paid for Jeff Clark Trader, within 90 days after getting the first subscription.
Final Thoughts
Based on the analysis above the Delta Report focuses solely on options trading, hence this newsletter is for anyone who prefers options or are looking to diversify their portfolios. With Clark as the editor, someone who has had experience running several other financial letters, this could be an interesting one to consider.
Another advantage that investors have when it comes to Clark's services is that one will have access to his track records even before becoming a member. So, one can assess his track record prior to investing in his service.
Bearing all this in mind, the price is within the range that most editors ask. The service seems more reasonable if investors take advantage of the 50% discount and the bonus year, otherwise $5,000 seems rather high for the limited perks attached.
Existing and/or former members of the Delta Report have taken to Stock Gumshoe to express their experiences with the service. Based on 108 votes, the overall rating of the service is roughly 1.9 (out of 5 stars). A number of investors felt deprived of knowledge, as Clark never supplemented his recommendations with detailed reports, which is something he claims he does in the advertisement. Others who tried getting a refund have yet to hear from the team. This is a concern given their supposed money-back guarantee.
While similar sentiments were shared on Pissed Consumer, as most individuals complained that Clark never kept his promises, picked subpar options, and that the recommendations came in too late to truly make a profit out of them – it seems to be a case of the few shouldn't outweigh the many long-term loyal subscribers Jeff Clark has built up over the years.
Ultimately, each experience is surely to be unique. While some members seem to feel duped by the service, it is the responsibility of the individual to clarify any doubts or concerns with customer service and to conduct a thorough investigation prior to going all in. Jeff Clark is a very active trader, and keeps a pulse on many different industries. In an era when everyone seems to have the answer to all of the market's chaos, Jeff Clark stands out based on consistency, timely thoroughness and comprehensiveness.
To learn more about Jeff Clark's Delta Report, click here.