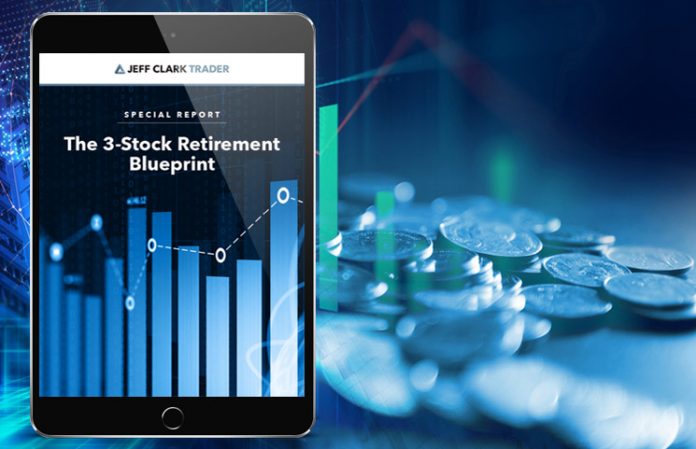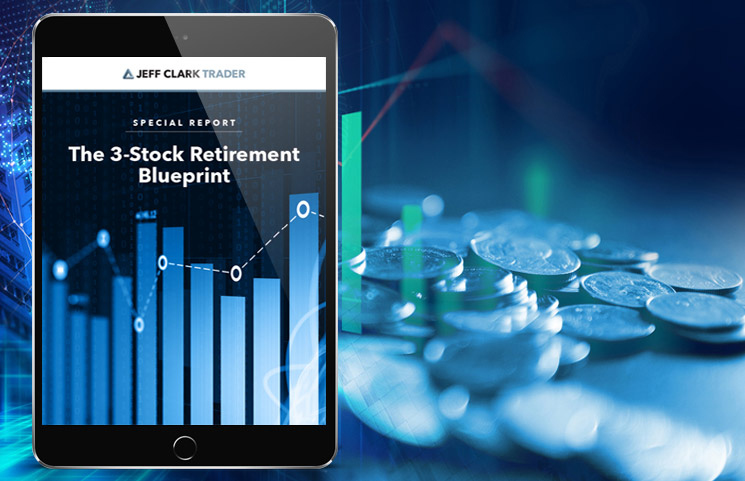 Have you ever stopped to wonder whether retirement is soon approaching? If not, are you planning out when to retire? While there are a number of ways to save for the time to come, not all of them are as efficient as investments.
With investments, individuals can make double, even triple gains if the right moves are made at the right time. In a presentation dubbed "The 3-Stock Retirement Blueprint," investor and editor, Jeff Clark shared the three stock picks that are likely to bring him enough for his and just about anyone's retirement. This is all deemed possible because of the aforementioned blueprint.
Today, he lives his life on his own terms and spends a lot of time with family. With The 3-Stock Retirement Blueprint, investors can expect to make a minimum of $1,100 a month by just experimenting. To think that all it takes to retire is three stocks is likely to surprise many. What if the three picks became 36 picks on a yearly basis?
This is where it is best fit to introduce Jeff Clark Trader.
What is Jeff Clark Trader?
Jeff Clark Trader is an introductory options trading advisory/ research service that aims to help those who are just getting started with options trading. According to the claims made, Jeff Clark will inform investors on three of his top picks on a monthly basis. By following his system, one can anticipate a well-funded retirement.
What is there to know about the editor behind this research service?
Jeff Clark has been an editor for a number of investment advisories. With specialization in options' trading, he spent nearly 15 years editing letters for Stansberry Research's "The Short Report" and "Pro Trader", both of which are known for high success rates.
Clark's interest in writing newsletters sprung into existence after he retired from his private money management firm at the age of 42. Prior to that, he supposedly developed MBA programs and founded an investor education firm. Today, Jeff's clientele entails 100 of California's wealthiest individuals. With Jeff Clark Trader, he wants to share the same service and money-making potential with the general public.
How will I benefit from becoming a member of Jeff Clark Trader?
As a new member of the Jeff Clark Trader research service, investors will not only get access to Clark's trade recommendations right off the bat, but also the following:
One full year of Jeff Clark Trader: Every third Thursday of the month, investors will be provided with Clark's trade plays. These focus heavily on fast, but low-risk trade opportunities.
Special Report: The 3-Stock Retirement Blueprint: Currently, Clark's top three fast money stocks include VanEck Vectors Gold Miners ETF (NYSE: GDX), Financial Select Sector SPDR Fund (NYSE: XLF) and Technology Select Sector SPDR (NYSE:XLK)
4-Part Video Training Series: this serves as an educational tool that teaches investors on options trading and securities pricing among other interesting, market events.
Click Here To Get Jeff Clark's Trading Strategies
Frequently Asked Questions (FAQs)
What does Jeff Clark focus on when it comes to options trading?
Clark's strategies have been justified as being both conservative and speculative. According to the claims made, he focuses primarily on short-term moves with some intermediate-term moves.
What is Jeff Clark's track record?
Since 2005, members who subscribed to Clark's services supposedly had the opportunity to make triple-digit gains over 50 times and double-digit gains more than 160 times.
Who do I contact to discuss any concerns regarding my subscription plan?
To address any concerns regarding the subscription plans, it is best to contact customer service at 1 (833) 815-2795 or by emailing here.
How does canceling my subscription plan work?
To cancel the Jeff Clark Trader subscription plan without incurring any renewal fees, investors are advised to do so two to three business days before the renewal date.
Is there a return policy in place?
Jeff Clark has since included a 60-day money-back guarantee. Should his approaches or recommendations bring dissatisfaction, as long as customer service is contacted within the first 60 days of purchase, a full refund will be granted.
How much does it cost to become a member of Jeff Clark Trader?
For a limited time, Jeff Clark Trader will be offered for $19. Every other year into the subscription will cost $199.
Final Thoughts
Based on Jeff Clark Trader's current price of $19, one would assume that there's not much to lose. In fact, it appears as though one can fully assess the service's potential even before the regular prices are activated. Who can forget Clark's teaching experience, being part of a team of program developers for MBA degrees and focusing on options rather than stocks! These points alone are likely to convince investors, however, a number of existing and/or former members have voiced their concerns regarding Clark on Stock Gumshoe.
Overall, it seems like investments' performance, quality of analysis and customer service are all below average. In addition, some investors found it useless to simply have Clark's 3 picks without the process or strategy laid out to them. It was mainly argued that such an approach defeats the purpose of teaching about options, which is one of the main goals of the service. Others found it difficult to opt out of the subscription plans, which is deceiving considering how everything's been advertised.
Hence, prior to subscribing, investors should really consider getting hold of customer service with any doubts, as each individual's experience is likely to vary. This alone will allow one to assess the quality of service that can be anticipated. To learn more about the Jeff Clark Trader service, click here.
Click Here To Get Jeff Clark's Trading Strategies