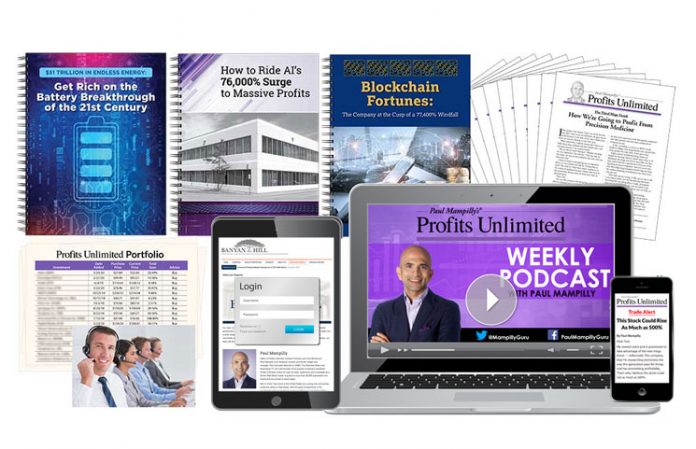 In a recent presentation called, "No.1 Stock for America's New Energy Revolution," investor and editor, Paul Mampilly teases his proclaimed stock pick within the American energy sector. In order to get more information in regard to his pick, one must subscribe to his financial newsletter called, Profits Unlimited. Before diving into the newsletter, let's take a closer look at what Mampilly has been hinting to us.
Which stock has Paul Mampilly been hinting out?
In a recent analysis by the Founder of Stock Gumshoe, Travis Johnson, a closer look at what Mampilly has been hinting out has been provided. Based on the introduction, Johnson was able to decipher that Mampilly has been talking about batteries.
In particular, he reasoned that the editor has been emphasizing the use of a next-generation battery that is considered more efficient. In Mampilly's tease, he says:
"My No.1 Stock Pick – the future of batteries: a company producing THE critical missing link every battery needs to power cars and homes in the new age of energy storage."
In stating this, he gives the example of Tesla, a company that first introduced the grid-scale storage system called the Tesla Megapack. He deems that the company he's focusing on is not that of Tesla, but rather a California company that was founded by Tesla's former employee (i.e. Employee No.7).
Employee No. 7 was all it took for Johnson to reveal Paul Mampilly's stock pick. It is none other than Gene Berdichevsky's company, Sila Technologies. The reason why Mampilly has his eyes set on this company is because they've found a way to use more silicon in the battery anode, which is argued as being more efficient due to its ability to handle energy density in comparison to graphite adds Johnson.
How does one go about investing in Sila Technologies?
According to Johnson, investors can't readily invest in Sila Technologies because it is a private firm. In further reading the teaser, Johnson realized that Mampilly isn't eyeing one company, but several providers who are either in the business of the notable batteries or have invested in the battery technology itself. Who are these so-called suppliers? They are all directly related to Sila Technologies through partnerships:
Contemporary Amperex Technology Ltd. (CATL)
Daimler (DDAIF or DMLRY)
BMW (BMWYY)
TDK (TTDKY)
Eaton (ETN)
Based on the analysis above, it is predicted that Mampilly might be eyeing companies that have ties with Sila Technologies. Obviously, there could be more to the picture than one might have anticipated. If the energy sector is where investors want to put some of their eggs, then subscribing to Paul Mampilly's Profits Unlimited might be a way to get a sense of what his approaches are.
What is Profits Unlimited?
Profits Unlimited is a financial newsletter operated by Paul Mampilly. He claims to hand pick companies that are likely to explode and are rarely considered by investors. While the presentation seems to focus solely on the energy sector, Mampilly affirms that he will cover other industries as well.
Whether it will be blockchain stocks or 5G stocks remain to be seen, but the America 2.0 expert has been long regarded as a top financial investment advisor over the years.
What are the perks of becoming a member of Profits Unlimited?
Some of the perks of becoming a member of Profits Unlimited include gaining access to his model portfolio, which comes with weekly updates and monthly briefing. The latter two will target market trends, news events surrounding his picks and the right time to buy and/or sell.
He will also send out trade alerts, where he'll share his decisions as to whether one must continue to hold or immediately buy and/or sell. Finally, members will also gain access to a 24/7 unlimited website where Mampilly's past and current issues are all stored for safe-keeping and to refer back to.
Final Thoughts
Paul Mampilly's No.1 Stock has been deciphered by Johnson as being a company closely related to Sila Technologies. As the energy sector continues to grow, investment opportunities are likely to rise, and a service like that of Profits Unlimited might be worth considering.
According to existing and/or former members, Profits Unlimited is valued, as it has gotten an overall score of 4 out of 5 stars. This implies that those who voted thus far have been generally happy with the investment performance, quality of analyses, the price of the service, and customer service.
To learn more about Profits Unlimited and Paul Mampilly, click here.