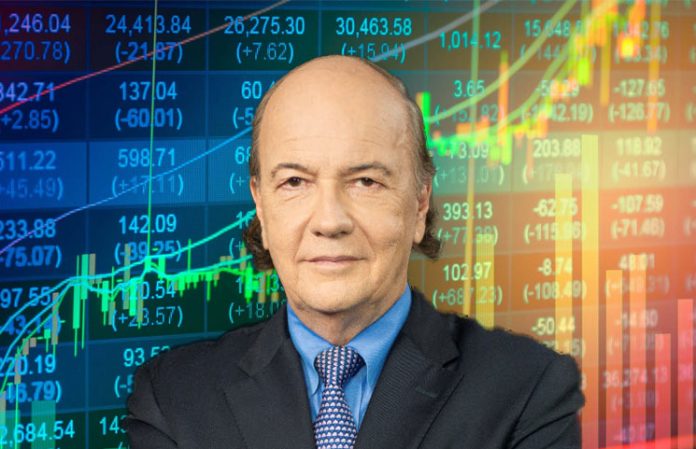 In a presentation called, "The Great Depression of 2020," investor and editor, Jim Rickards informs individuals of the right moves to take to grow wealth. He starts off by disclosing that he has an official government document, highlighting that the coronavirus can last 18 months or longer.
The obvious impact this pandemic has had is towards one's health, as it has managed to take the life of many. That said, its impact hasn't stopped there – many parties including retailers, casinos, universities, the stock market and dollar's value have all been hit really badly.
Within all this darkness exists light that needs to be brought to one's attention. In particular, Rickards believes this is the right time to invest as most stocks are at their lowest. Which industries is he referring to? What are the right moves to make? This is where it is most fit to introduce the Strategic Intelligence.
Check Out Jim Rickards Great Depression of 2020 Presentation Here
What is the Strategic Intelligence?
The Strategic Intelligence is a financial newsletter run by editor Jim Rickards. Throughout this service, Rickards aims to help investors prepare and profit from the potential collapse of the dollar. As shared by the expert himself, he will be using his theory to help build safe investment positions in diverse opportunities including stocks, bonds, cash, precious metals and other hard assets such as blockchain-based cryptocurrencies.
Who is Jim Rickards?
Having served as an advisor to the CIA and The Pentagon in the past, Jim Rickards' 35 years has also been spent in investment banking and international economics advisory roles. Furthermore, he's known as a New York Times bestselling author of a number of books including The Road to Ruin, Currency Wars, The Death of Money and The New Case for Gold.
During the entirety of his career, Rickards has provided service to high net-worth clients and members of the U.S. intelligence community, but this is all about to change with the Strategic Intelligence.
What do I get by becoming a member of the Strategic Intelligence?
Throughout this monthly research subscription, Rickards will be sending members new issues packed with his ideas and strategies that could help grow one's wealth. Moreover, members will have access to a number of reports, which include:
The New Case for Gold
The New Case for Gold is a book written by Rickards. In it he covers a number of topics including trustable gold bullion dealers, an asset that is just as stable as gold, the global threat to the dollar and its impact on gold prices and mistakes made by investors when it comes to purchasing gold.
Crisis Dossier #1: The $3 Company Behind the Last Pure Silver Mine in the World
In this report, Rickards and his team share their success in spotting the purest silver mine in the world. It belongs to a small company with a stock price at as little as $3. Moreover, it is believed that the firm's estimated worth will be $6.9 billion.
Crisis Dossier #2: My #1 Way to Profit from Falling Stocks Even in a Great Depression
The Crisis Dossier #2 is a report that elaborates on the optimal strategy that protects one's upcoming crisis. This investment is expected to serve as insurance and step-by-step instructions will be provided to reap the associated perks.
Crisis Dossier #3: Ticking Time Bombs: Stocks to Avoid During a Market Crash
When the pandemic comes to an end, which companies are surely to overcome the negative impacts? According to Rickards, companies with low cash available are likely in debt and can "go belly up". So, he plans to find all these companies that could go to zero and by informing investors of these companies, their portfolios could be saved.
Crisis Dossier #4: Five Recession-Proof Stocks to Buy Right Now
Although many stocks have hit rock bottom amidst the coronavirus, Rickards believes that some of them are recession-proof, meaning that they could bounce back up with time. In this report, he will reveal five recession-proof stocks worth investing in.
Crisis Dossier #5: How to Make Your Home Your Personal Fortress
Unlike the four aforementioned reports, this one is a unique one, as it covers basic survival tips. These could include building panic rooms without spending a fortune, the necessary steps to surviving a crisis, increasing one's safety at home, the one item that could protect one in times of the coronavirus and avoiding the #1 social media mistake people make.
How much does the Strategic Intelligence membership cost?
The Strategic Intelligence membership costs $49/year. To ensure that this service does in fact meet investors' expectations, Rickards is also including a six months money-back guarantee. Should one feel dissatisfied with the service within the set timeframe, it is a matter of contacting customer service and requesting a full refund. Here are the ways to get in touch with the team:
Final Thoughts
The Strategic Intelligence is a financial newsletter run by Jim Rickards. Its goal is to help individuals grow their wealth by taking advantage of the underperforming stock market and dollar value. Throughout this service, Rickards will be covering diverse industries worth investing in while educating members on ways to protect their finances and health. Rickards' experience is quite well-rounded considering the unique advisory roles he has served in his 35 years. As for its prices, $49 per year appears to be quite inexpensive given the perks attached, not to forget the money-back guarantee in place as well.
In assessing the experiences shared by existing and/or former members of the Strategic Intelligence, it seems like on average members have been so-so (2.4/5 stars) as seen on Stock Gumshoe. The main concern expressed revolves around his win ratio, as the losses appear to have outnumbered the gains. However, in many corners of the financial investment newsletter sphere, Jim is essentially a legend and a long time pioneer in the space.
While others were surprised to see that his trades weren't placed, but instead were only back tested, which aren't as reliable – Rickards' track record is pretty remarkable for how long he has been in the game and dishing out sound advice to those long time followers. And often, those who benefit and reap the rewards from his intel will not always go on public forums to share their praise either. So even though many found his Bayesian Reliability for Complex Systems as being theoretically sound, they felt it was practically insufficient – it is hard to base any thorough credibility on these select findings. Finally, many were pleased with the quality of analyses but were strongly disappointed with the investment performance.
Ultimately, the purpose of such services is to be informed, but it is entirely up to the member to decide whether they should buy into the investment. Hence, it is always recommended to do one's own research in addition to what's been shared.
To learn more about the Jim Rickards' approach to investing, click here.
Check Out Jim Rickards Great Depression of 2020 Presentation Here