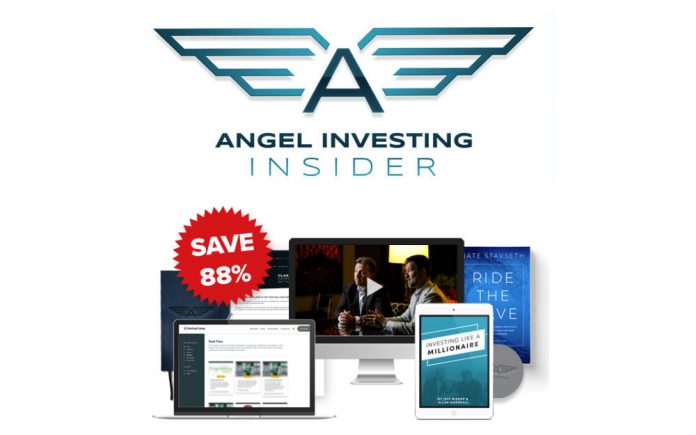 The Angel Investing Insider is Jeff Bishop's latest program where the founder of RagingBull (worth $100M) and XPO Logistics (worth $7B) reveals 7 practical secrets to go from broke to multi-millionaire investor.
Angel Investing Insider greets interested spectators of this Pre-IPO Buzz opportunity in saying a quote by Jeff Bishop, "you don't have to be ultra-rich to invest in startups… for the first time ever, we're opening up the knowledge of our inner circle to you."
An angel investor is someone who is constantly on the lookout for fresh ideas and small businesses that they can provide capital to. Compared to traditional investments, this branch supposedly comes with higher returns. Other perks of becoming an angel investor include money-making potential if the startup succeeds, possible insider information on a company's performance, and the opportunity to learn from people with different perspectives.
Do you want access to everything there is to know about becoming an angel investor? Need guidance on where to start? This is where Angel Investing Insider comes into play.
Check Out the New Angel Investing Insider Now
What is Angel Investing Insider?
Angel Investing Insider is a package consisting of a course and a video series on how to approach investments. Most of all, it informs investors on hand-picked startup deals that could potentially expand one's portfolio. In the process, one will learn the strategies used by the team of millionaire angels who will be providing step-by-step guidance.
Chris Graebe (CEO of StartupCamp) will kickstart the Raging Bull Angel Investing Insider presentation and ensure all visitors were able to download the Six Sectors E-book and then proceed to introduce Jeff Bishop and Allan Marshall to talk about the Pre-IPO Buzz and start sharing angel investing secrets.
Who are Jeff Bishop and Allan Marshall?
Co-Founder and CEO of RagingBull, Jeff Bishop is described as a successful trader in the world of options. As per the claims made, Bishop considers small companies with growth potential as the best investment opportunities for investors to make money. Then there's the Founder of XPO Logistics, Allan Marshall who has well-rounded experience as an entrepreneur and has learned essential tricks in pinpointing startups that are likely to succeed.
Together the duo believes in the following key factors that investors should be on a look out for when it comes to investing in startups:
Whether or not the company has a plan for their exit
Taking the time to understand their plans
Hyped companies are no different than "boring" companies, the story rests in the financials
Invest in a company with a proven track record rather than just a great idea
Connections established with founders and investors are crucial indicators of success
Small investments in smart companies are more likely to contribute to one's wealth
What will I receive upon purchasing the Angel Investing Insider package?
The Angel Investing Insider package will provide investors with a variety of knowledge, some of which include the power of networking, videos, case studies and educational resources on becoming an angel investor, and a community to turn to for growth and learning purposes. Other perks are as follows:
Three Deals in regard to Startups
Bishop and Marshall will reveal three startups that are likely to bring gains. The first deal that investors might want to consider is that of a tutoring app which has apparently exploded in a span of 10 days. As per the claims made, they have doubled their downloads within a day.
The second deal is related to a new gym many believe will become an "iconic fitness brand" within a decade. Big names such as Tony Robbins and Grant Cardone have already backed it up. Finally, the third startup supposedly deals with one of the biggest problems faced by employers and has since grown by 20% on a monthly basis.
New Wave Wealth
New Wave Wealth is a step-by-step investing course that comes with videos, study guides and case studies. This is said to serve as a foundation to one's career as an angel investor. Two guides will be provided here as well, which include Ride the Wave and Investing like a Millionaire.
Insider Secrets and Strategies
In addition to providing guidance, the team of angel investors will share their tricks, tips and strategies used to pinpoint the best investment opportunities out there.
Bonus: Free Gift Box
For the first 100 investors who join Angel Investing Insider, the duo will gift a "one-of-a-kind" investor kit.
How much does the Angel Investing Insider membership cost?
The current going price of the Angel Investing Insider membership is $79, which is currently down from its original $699. In addition to the discount, the duo is also offering a 30-day money-back guarantee. Should the service bring dissatisfaction, then it is a matter of contacting customer service and requesting a refund.
*Unlimited Upgrade Bonus*
Access to Hand-Picked Startup Deals
A-Z Angel Investing Guide
Insider Secrets Interviews
Private Angel Community
BONUS GIFT – Investor Kit (Valued at $109) – UNLIMITED MEMBERS ONLY⭐️
There is also a one-year subscription price of $39.
How do I get started?
To get started, investors are recommended to place an order by clicking here or by phone at (888) 633-6115.
Final Thoughts
Angel Investing Insider is a service that educates investors on the potential startups have in growing one's portfolio. As per Jeff Bishop and Allan Marshall, many investors are so caught up on established firms that startups end up being pushed into the shadows – missing out on fortunes.
In putting together this educational experience, the duo trusts that members will attain the foundation needed to become angel investors. Given the creators' experiences and the membership price, it seems like something worth giving a try. To learn more about Angel Investing Insider, click here.