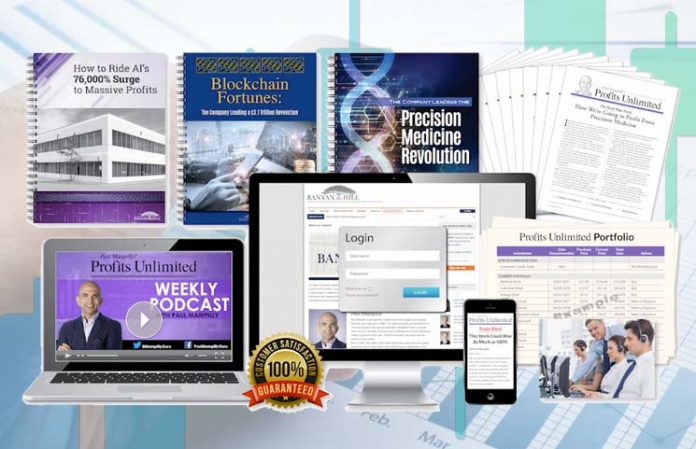 In a recent presentation called, "Wall Street Legend Shocks Audience: Reveals Tech Industry Set to Surge 76,000%," Paul Mampilly affirmed that he could help investors potentially make profits off of a new technology. He reasoned it as being a "miracle" and the "last innovation we'll ever need." Not only is this technology expected to bring gains, but it may also flourish the economy, as it is projected to introduce nearly 2.3 million jobs over the course of two years.
What is this new technology you may ask? It is none other than artificial intelligence, often referred to as AI. Interested in the possible investment opportunity? Here's what there is to know:
What is Profits Unlimited?
Profits Unlimited is described as a unique research advisory that Paul Mampilly publishes. It is an eight-page newsletter that he personally mails out once a month detailing the number one stock on his radar.
Who is Paul Mampilly?
Paul Mampilly is a known hedge fund manager on Wall Street for 25 years. Back in 2008, he claims to have competed in an investment competition with several of the world's greatest investors. With the $50 million he was provided with, his ROE (return on investment) was up 76% despite the market crashing in the very same year. This milestone led him to manage money for the Royal Bank of Scotland and private Swiss Banks and it allowed him to make appearances on a number of news outlet platforms such as Fox Business News, CNBC and Bloomberg.
What does becoming a member of Profits Unlimited entail?
Here are the listed perks of becoming a member of Profits Unlimited:
Monthly issues of Profits Unlimited, which combines the best stock to buy within the market's various sectors.
Model Portfolio: Stocks on Mampilly's "buy now" list, which have the potential to double, triple and possibly quadruple one's money after a year.
Weekly Podcasts: Becoming a member of Profits Unlimited implies becoming a part of Mampilly's elite group of investors. Through the podcasts, he will share his perspective of the market, his reasoning behind choosing select stocks for the model portfolio and what he anticipates happening in future weeks.
Trade Alerts: Timely trades will be shared via emails. Some of the types of information offered include which stock to sell.
Member's-Only Website 24/7: This has been established to reduce wait time. By having access to this respective website, investors have information on everything from archived to new reports.
Customer service: To clarify any questions or doubts, investors can contact his customer service representatives.
Three bonuses guides/reports (originally valued at $467):
How to Ride AI's 76,000% Surge to Massive Profits
Blockchain Fortunes: The Company Leading a $3.1 Trillion Revolution
Precision Medicine Revolution
Frequently Asked Questions (FAQ)
Is there a return policy on Profits Unlimited?
Should one not be satisfied with the research provided, investors have up to one-year upon purchase to request for their money back. In fact, a 100% refund on subscription payments will be offered.
What currency will I be charged in?
All processed orders will be charged in U.S. Dollars and will take place in 2 to 4 days from the date it was placed. Many also ask under what name will the charge be made on my credit card statement? The transaction will be reflected on one's credit card statement in the following way: PSV* (Publication Name) 866-584-4096 MD.
Who do I contact to ask for a refund?
For such matters, customer service can be reached at either https://banyanhill.com/contact-us/ or by calling 1 (866) 584-4096 between 9 AM and 8 PM EDT. If the original payment was made on credit then the refund will be available within 7 business days, all other payment methods require a wait time of 2 to 6 weeks.
Do you collect VAT?
Since Sovereign Offshore Services, LLC is registered in the European Union, they are required to charge VAT on digital items sold to customers in EU.
How much does it cost to become a member of Profits Unlimited?
Normally, for a one-year membership, the current going price is $299. However, it seems like investors have the following options to choose from:
Premium Subscription ($79): digital and print subscription to Profits Unlimited along with 3 Bonus Reports (The Insider Code to Stock Market Riches, 5 Technology Stocks that Will Power the Next Industrial Revolution, and 3 Ticking Time Bombs to Avoid).
Deluxe Subscription ($129): Includes digital and print subscription to Profits Unlimited
Standard Subscription ($47): Includes digital only subscription to Profits Unlimited
Final Thoughts
Overall, given Mampilly's experience, this service appears to carry value. Additionally, the money-back guarantee is definitely one that investors can take advantage of, as no subscription service of this sort typically offers 12 months' time to reflect on what's being offered. That said, it is believed that Profits Unlimited reaches a large audience of investors, which means the suggested stock prices may have already gone up.
However, compared to other services, the performance rate is deemed fair (i.e. 4 out 5 stars) for Profits Unlimited. One thing investors should watch out for is the fact that Mampilly has two other services that run similar ads, as per the author of Stock Gumshoe, adding that most of his picks are usually highly volatile stocks.
To learn more about Profits Unlimited, click here.