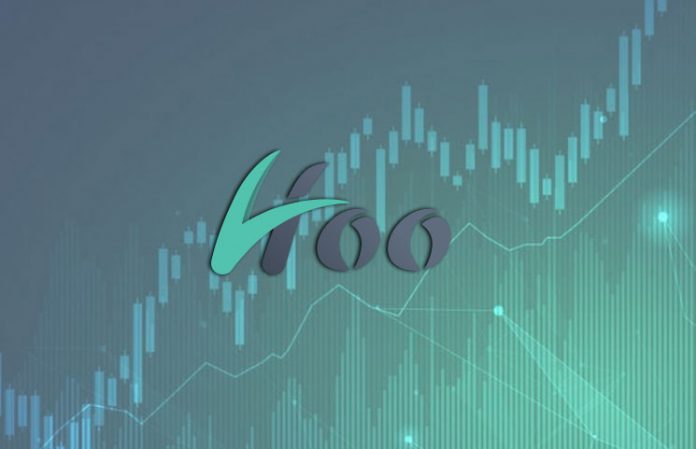 Hoo is a digital currency platform found at Hoo.com. The cryptocurrency platform includes an exchange, wallet, and custody solution and also made headlines when Hoo Labs launched the HyperDAO (HDAO) Token Sale.
You can trade via the website. Or, you can download the Hoo app for Android or iOS. The exchange aims to be a one-stop trading platform, integrating with four leading exchanges for better liquidity and depth. There is also the HOO VIP Center where individuals can refer users to gain points in different ways and enjoy multiple benefits of the "world's leading digital assets service platform."
But is Hoo.com legit and the HyperDAO (HDAO) token a real cryptoasset? Should you trade cryptocurrencies on Hoo? Let's take a closer look at what Hoo is and how it works as well as whether or not the HyperDAO complete DeFi (Decentralized Finance) ecosystem is an authentic token to invest in today.
What is Hoo?
Hoo Exchange is a cryptocurrency exchange platform found at Hoo.com. The company describes its platform as the "world's leading digital assets service platform".

You can trade most major cryptocurrencies on Hoo, including BTC, ETH, USDT, LTC, DASH, TRX, BNB, and many others. You can also trade lesser-known altcoins such a their HyperDAO (HDAO) which claims to be an open, fair and interconnected system.
Hoo was founded as a cryptocurrency wallet in 2017. In June 2017, the Hoo wallet team acquired two Chinese startup exchanges, Chaince and OAX. Today, Hoo is an all-in-one blockchain assets service platform that includes a crypto exchange, wallet, custody service, and mining.
In September 2019, Hoo launched an initiative called Hoo Power, which digitizes the asset rights of Hoo users. Those asset rights include your right to a refund. By digitizing these asset rights, Hoo turns asset rights into tradable tokens that can be circulated and transferred in secondary markets. Hoo's digitized right tokens have a ticker name starting with a T.
Hoo Products
Hoo offers four core products, including the Hoo Exchange, Hoo Financing, HD Wallet, and Hoo Custody:
Hoo Exchange
Hoo Exchange is a cryptocurrency exchange with 70+ coins and 80+ trading markets. Users can swap their tokens for free using Quick Swap via Hoo.com or the Hoo mobile apps for iOS and Android. The exchange supports spot and margin trading and claims to offer fast deposits and withdrawals. Hoo has also partnered with four other exchanges for maximum liquidity and depth.
Hoo Financing
Hoo offers financing using several major cryptocurrencies, including BTC, ETH, EOS, and USDT. Hoo's collateral lending lets you stake blockchain assets as collateral, then pay interest fees as low as 0.005%. Coins used for staking include BTC, ETH, EOS, HC, USDT, BCH, and LTC. If you have cryptocurrency and want to access money without selling that cryptocurrency, then you can utilize Hoo Financing to do so.
HD Wallet
HD Wallet is an on-chain Hoo wallet where users control their private key and can manage a multi-chain wallet with a single set of mnemonics. Hoo's HD Wallet supports bitcoin, Ethereum, EOS, Ho, and BCH. It also integrates with DApps and LApps.
Hoo Custody
Hoo Custody includes commercial wallet services and large asset trusting services. It's a custody solution catered to larger companies who want to store crypto securely.
Hoo Trading
Hoo's core service is a cryptocurrency exchange. The company offers spot trading and instant trading via Hoo.com or the Hoo mobile apps. There are 70+ cryptocurrencies listed, including all major cryptocurrencies.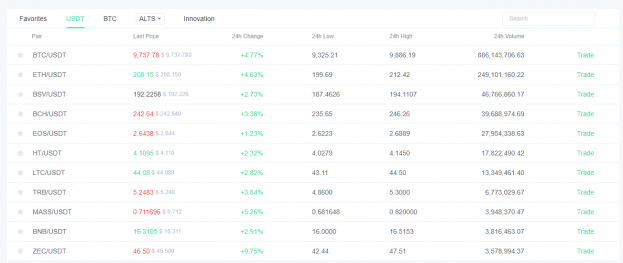 In addition to ordinary trading, Hoo offers futures trading, over the counter (OTC) trading, and options trading, among other trading products. Here's a brief explanation of all Hoo trading services:
Spot Trading: Hoo offers spot trading, letting you easily trade one cryptocurrency for another in a conventional trading interface, similar to any other exchange.
Quick Swap: Hoo offers quick swap trading for free, letting you instantly trade one cryptocurrency for another with no fees.
Futures Trading: Hoo offers a futures trading platform where users can trade USDT perpetual futures and inverse perpetual futures with coins like BTC, ETH, LTC, EOS, XRP, BCH, and ETC.
Over the Counter (OTC) Trading: Hoo offers over the counter (OTC) trading, allowing larger traders or firms to make big trades without using the main exchange order book.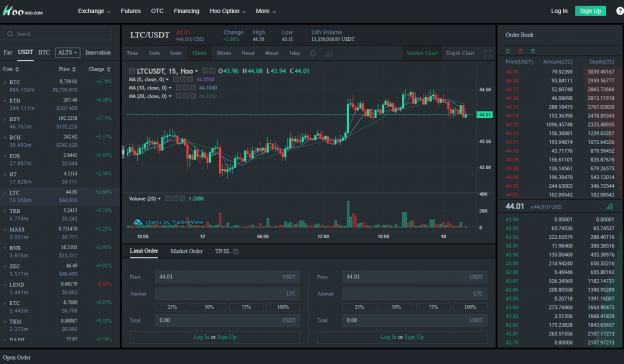 Hoo Digital Assets Rights
Hoo has launched a unique product called Hoo Digital Asset Rights or Digitalized Right Tokens. You can launch a project on Hoo, then take advantage of digital asset rights.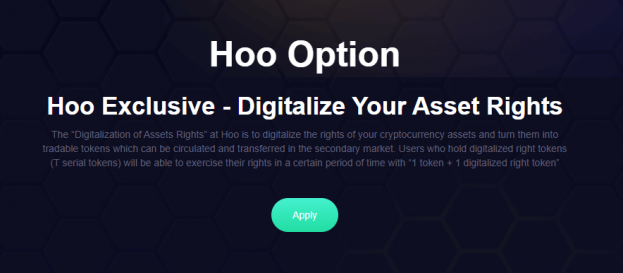 Hoo has digitized certain asset rights, turning asset rights into tradeable tokens. You can buy and sell these tokens as easily as you would buy and sell any digital currency.
Hoo claims these digital asset rights come with specific advantages, including:
Right Guarantee: Digitalized Right Tokens guarantee the rights of users. It guarantees your right to a refund, for example.
Right Transfer: These tokens can transfer rights between users. These rights can circulate and transfer in the secondary market just like any digital asset.
Hedge Risk: Digital tokens like a refund right are like put options, hedging the downsides of markets.
Assets Gain: Digital rights tokens add value to assets, giving users extra returns.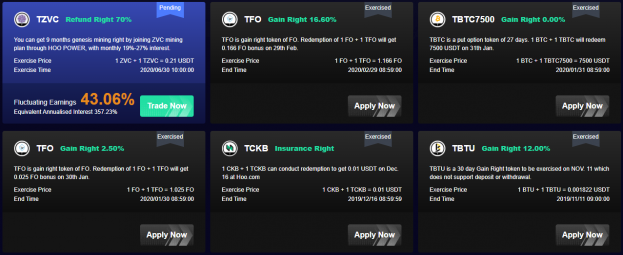 Hoo offers four categories of digital asset rights, including:
Refund Right Tokens
The price of a Refund Right token is often slightly lower than the fundraising price. The refund token protects investors from great loss in a severely fluctuating market.
Dividend Right Tokens
Dividend Right tokens are granted to investors for holding a coin at a specific period of time. TI's similar to a Demand Financing Product of a digital currency.
Gain Right Tokens
Gain Right tokens are risk-free investments that cover investment costs. The price of the token fully covers the investment cost.
Buy Back Right Tokens
With Buy Back Right tokens, projects can issue a token and promise to buy back the token regularly, or when the token drops to a certain point.
Future Hoo Products
Hoo has plans to launch several more products, including:
Full tokenization of blockchain asset rights
A free trade P2P platform
Digital assets right lease
Assets right digitized financing products
Hoo VIP Center
Hoo crypto exchange platform also opens up an affiliate program to refer traders to sign up and use the Hoo trading system. The guide says to invite now via an invitation link code where market makers can enjoy 0 trading fees by signing up more users to get rewards. It goes on to say a maximum of 20% trading fee will be rewarded per signup.

Who's Behind Hoo?
Hoo was founded in 2017 by a team of "early bitcoin lovers, blockchain developers and technicians" with experience in bitcoin development and marketing, according to the official website.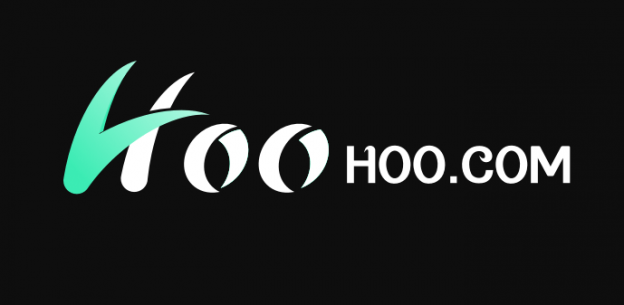 Key members of the Hoo team include Ruixi Wang, a Chinese crypto investor and entrepreneur. He's the founder and CEO of Hoo.com. Wang first encountered bitcoin in 2013, then started a blockchain explorer called BtcMini soon after. Wang launched Icooo.com in mid-2017, which was forced to close when China banned crypto companies in fall 2017.
Other key members of the Hoo team include Chaohua Deng (COO) and Xiaohai Chen (CMO).
Hoo is registered in Hong Kong.
Final Word
Hoo is a Hong Kong-based digital assets exchange and blockchain services company. The company has standard cryptocurrency trading and wallet services. It also has unique services – like digitalized asset rights.
To learn more about Hoo and how it works, visit online today at Hoo.com.