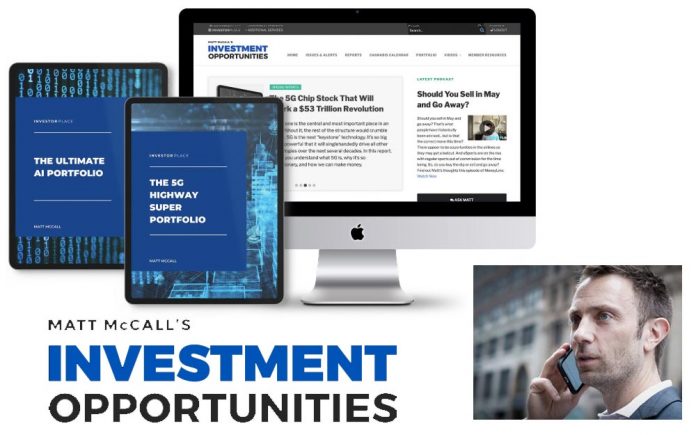 Investment Opportunities: Matt McCall's Research Service With Tips on 5G and AI Stocks
In order to create a healthy financial portfolio, consumers need to find opportunities before they become lucrative. The tech world has had a few major booms that have made the earliest investors rich, like the dot-com boom or even the rise of the internet. Finding these chances before they boom is difficult, but the creators behind InvestorPlace have a new opportunity that can help in Matt McCall's Investment Opportunities that reveals the untold truth about 5G wireless network technology.
What is Investment Opportunities by Matt McCall?
Matt McCall, the Chief Technology Analyst of InvestorPlace, believes that he has found the truth about 5G that could offer investors a highly lucrative opportunity. His financial research firm has already been a part of the predictions that have rocked the tech worked when the computer revolution started, including their recommendations of Microsoft, Intel, and Apple. Now, McCall is drawing attention to the world of 5G technology and other stocks with the bonus content that comes with an InvestorPlace subscription.
The InvestorPlace research firm offers a different approach to investments, looking for ways to beat the stock market system with fresh and new ideas to make money. Subscribers end up staying with the company for the fast results they elicit, bringing them gains that have since paid off big time for their original members. One of their recommendations – Apple – started off as just a $1.49 stock, and it has since risen by almost 20,000% in value.
One of the ideas that they are working to capitalize on for interested investors is 5G technology, which McCall claims will make huge waves around the world. With a membership to InvestorPlace, consumers are given access to an exclusive guide – The 5G Highway Super Portfolio – that reveals six of the most disruptive stocks that he's seen on the market. Readers can find their ticker symbols, what it takes to allocate for profits and more.
With this technology, McCall states that a wireless communication network is now being built, which will stimulate new revenue to start. After all, the construction alone will require suppliers, laborers, and more, which means that there's another opportunity for profit. As time goes on, the entire network is built, but that isn't the only chance that investors will have to benefit. Businesses that flourish from 5G technology as well create a new chance for profits to be made, and that is where subscribers will be directed to invest. The decision is theirs, but the key opportunities they need to know about are available in The 5G Highway Super Portfolio.
Read on below to learn about the other reports that consumers will have access to with a membership to the InvestorPlace research service newsletter Investment Opportunities by Matt McCall.
Additional Content With Investment Opportunities
With the no-risk trial subscription of InvestorPlace's research advisory called Investment Opportunities, consumer will get access to tech stock recommendations that no other service provides right now. As part of the membership, the second guide available is The Ultimate AI Portfolio, which shows how AI technology is making a change as well. Much like The 5G Highway Super Portfolio, readers will learn about the prices they will need to pay in their investments with the tech, which McCall calls one of two "most important technological trends in America today."
A special bonus report – The Biggest Battery Breakthrough in a Century: How to Cash In on the $3 Trillion Electric Car Revolution – will show another opportunity for consumers to make money off of a company in the center of all of this technological change.
Subscribing to Investment Opportunities
With a subscription to Investment Opportunities, consumers will get monthly updates on the trends found on the 5G and AI portfolios. However, for any sudden changes in the market, McCall will also send an email right away to explain what readers need to do, which means that they won't miss out on the chance to invest in any of these opportunities.
Along with the two guides, consumers will get:
One issue per month of Matt McCall's Investment Opportunities
Updates for urgent new financial opportunities
Access to the support team that is only available to subscribers of Investment Opportunities
All of the special reports and bonus content listed above
To become a subscriber, the basic subscription costs $49, and consumers are able to take part in the program for up to three months if they need a refund. The Pro membership costs $89, adding the access to McCall's MoneyLine podcast. For the most content possible, there's the VIP membership for $99, which adds access to quarterly calls and a stock recommendation that is worth $1,000.
Summary
Matt McCall brings a unique opportunity to the table to learn more about investments as they are getting ready to boom in the tech industry. By identifying specific stock picks, consumers can feel more prepared for their financial future, though they are protected by the trial offer (if they don't get the benefits). Though all of the additional content is technically free, consumers will need to purchase the subscription to Investment Opportunities to get it.
For those interested in watching the The Untold Truth About 5G and see the "The historic 5G buildout is about to create $56 TRILLION in new wealth. And only one stock market guru knows the right way to invest in it," click here to watch Matt McCall's Investment Opportunities.