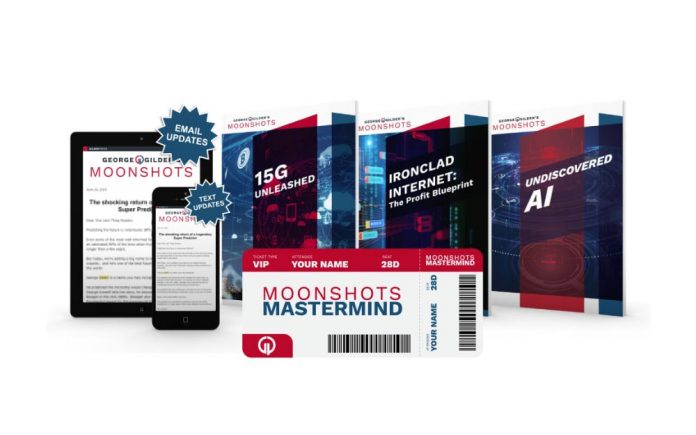 George Gilder Says No to 5G, Introduces "15G" in Moonshots
In a recent presentation called, "Don't Buy 5G stocks. Buy '15G' instead," Doug Hill introduces American investor, writer, economist, and tech advocate, George Gilder. With a lot of hype surrounding the potential 5G networks have in redefining society, it seems like Gilder's not all that interested anymore. In fact, he claims there's a more advanced version that investors should be eyeing, and it is none other than 15G.
Here's an extract where Gilder's strong stance of 15G has been revealed:
"We're on the brink of fundamental change or a "paradigm point as I call it. Maybe one of the biggest I've witnessed in over 40 years of making forecasts and watching markets […] The one centering around what I call "15G"."
This is not to say that Gilder is against 5G entirely, he's actually been holding a lot of discussion on 5G companies such as Qualcomm, but with evolving technology comes new aspects to consider.
Is 15G a thing? It turns out that George Gilder calls his stock picks "15G" because they've got triple potential in generating profits compared to the 5G players that exist today. In addition, they are much smaller, off-radar and are cheaper to invest in than some of the mainstream blockchain stocks available.
Want to know more in regard to Gilder's top 15G picks? This is where it is best fit to introduce George Gilder's Moonshots.
Get The George Gilder Report About the 2020 Internet Reboot
What is Moonshots?
Moonshots is a financial research newsletter where Gilder will give members the names, ticker symbols and step-by-step instructions on how to go about buying and/or selling his preferred technology stocks. In addition to his recommendations and analyses, Gilder will cover paradigm points, the impact select companies have on society and much more.
Who is George Gilder?
George Gilder has been praised as being one of the most knowledgeable men in America when it comes to predicting the future of technology. He has been recognized as not only a successful investor, writer and economist, but also a guru at sharing the impact technology will have well into the future.
With well over 40 years of experience under his belt, the expert has decided to come out of retirement to do what he's best known for: disclosing his insights, ideas and predictions. This is exactly what he will be doing through Moonshots, which is one of three publications available.
What will I get by becoming a member of George Gilder's Moonshots?
Throughout Gilder's Moonshots service, the expert will stay in touch with his members on a weekly basis, where he will either provide updates on his recommendations or add new investment opportunities to his list. Here's a breakdown of the kind of knowledge one will acquire:
15G Unleashed
15G Unleashed is the first briefing offered that covers everything there is to know about 15G opportunities that exist today. In particular, Gilder will cover six companies that he trusts as carrying the most opportunity for investors to take advantage of.
Undiscovered AI
Undiscovered AI is the second briefing offered that covers a company that has supposedly secured contracts with the Department of Defense, smartphone makers and military contractors to name a few. In this briefing, investors will get hold of the ticker associated with the company along with the buy and sell prices and a complete analysis.
Ironclad Internet: The Profit Blueprint
Finally, we have the Ironclad Internet: The Profit Blueprint, which covers companies that highly value the internet. The companies revealed in this report are either specialized in RFID technology, blockchain technology, and/or mobile banking. As per Gilder, these companies are growing beyond the likes of Apple, Google and even Amazon, with each share costing at most $10.
Moonshot Mastermind
Moonshot Mastermind is a private event that Gilder and his team are planning to organize. This will be live and in-person where members will be able to network with Gilder and his closest contacts. Given that the event is in its early stages, the guest list has not been confirmed as of yet. That said, the event is free. The only costs that members will have to incur are that of hotel and flights (if applicable).
Frequently Asked Questions (FAQs)
How long will it take to process my order of Moonshots?
It will take the team anywhere between three to five business days to process the order from the date it was placed. If successful, one's credit card statement should read: "PSV*Moonshots."
Who I do contact in regard to my membership?
For any questions or concerns, members have been encouraged to contact customer service by email at feedback@lfb.org or by phone at (877) 453-1177 between 9 a.m. and 5 p.m. EDT.
Should I decide to cancel my membership, will I receive a refund?
The refund policy states that members have 90 days from the day of purchase to decide whether the service meets their expectations. Even if one decides to unsubscribe to this service, members will still get to keep the aforementioned three bonus briefings. As per the team, refunds are usually processed within 14 days of one's request.
How much does the Moonshots membership cost?
Originally priced at $5,000 a year, Gilder is currently offering a deal in which individuals who join today will only have to pay $2,500 per year.
Final Thoughts
Moonshots is a service that allows investors to see the world of technology in Gilder's shoes. Throughout the service, the expert will be covering his technology stock picks so that members can decide for themselves whether the opportunities align with their goals.
On that note, Gilder is known throughout the financial industry for being one to take risks that others are usually unwilling to take. This means that investors can anticipate a mix of gains and losses, but this is generally expected when it comes to investing.
The major advantage Gilder has is his experience and reputation. He's looked up by many industry leaders including the former head of Google, and billionaire Peter Thiel among many others. As for the price of Moonshot, it is definitely on the higher end, but this reflects the editor's experience. For those who are concerned about prices, there is a return policy in place, so it doesn't hurt to take a glimpse into the service.
To learn more about George Gilder and his service, Moonshots, click here.