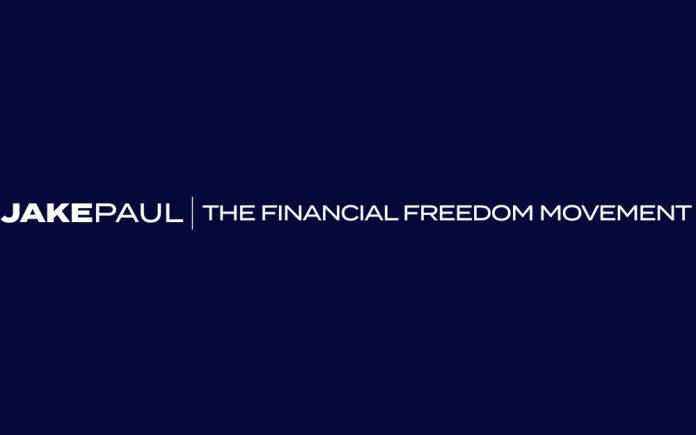 Jake Paul has launched a new coaching and training platform called The Financial Freedom Movement.
You can find the website at FinancialFreedomMovement.com. The website describes how you can "live life on your terms" and "achieve your dream goals". Allegedly, all you need to do is join the movement and pay Jake Paul $19.99 per month.
Essentially, the system teaches you how to be an influencer like Jake Paul. After you join, you'll find a series of online courses and training modules taught by prominent internet marketers and influencers in the space.
Jake Paul launched The Financial Freedom Movement in mid-February 2020. The course is already generating some controversy – so let's take a closer look at The Financial Freedom Movement and everything you need to know about it.
Learn About the Number One Investment of the Decade Here
What is The Financial Freedom Movement?
The Financial Freedom Movement is an online training program launched by YouTuber Jake Paul.
Jake Paul launched The Financial Freedom Movement on Saturday, February 15th, 2020. He held a glitzy event in Los Angeles to announce the program, which he is also calling FFM.
Essentially, You pay $19.99 per month to join. Then, you gain access to FFM training programs.
The Financial Freedom Movement seems very similar to a project called Edfluence that Jake Paul quietly launched in early 2018. Edfluence launched with similar goals to FFM: to teach Jake Paul's young followers how to build an online presence and capitalize on it.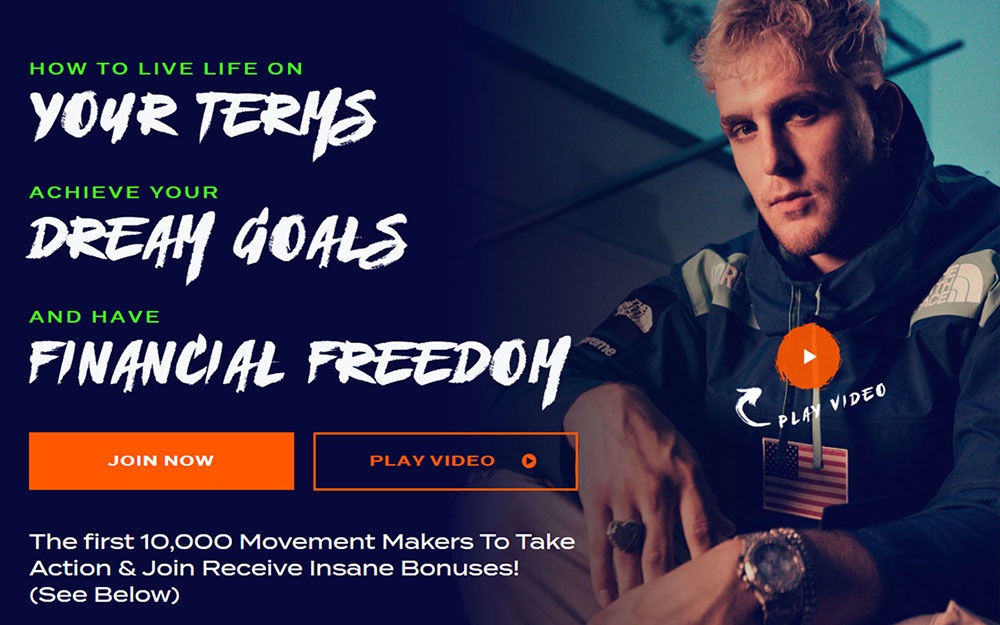 What Will You Learn with The Financial Freedom Movement?
The Financial Freedom Movement teaches young people how to establish an online presence and then monetize it.
Jake Paul claims there's no set curriculum for the course. However, Jake Paul promises to share his "personal experience, rituals and secret formula" while offering access to "cutting edge mentorship, coaching, and training from multiple millionaires, expert trainers and thought leaders on how to achieve financial freedom using social media and the internet."
Members will also get access to weekly video coaching calls with Paul along with "guest expert trainers, influencers and leaders hand-selected by Jake himself."
We already know some other guests who will be part of the program, including Dan Fleyshman (who created the Who's Your Daddy energy drinks and "spent over $60M on influencer marketing"), Billy Gene (whose ads have been seen over 600 million times), and Cole A. Hatter (who "sold over $150M" and is an "expert on sales & real estate").
The Financial Freedom Movement Pricing
The Financial Freedom Movement is priced at $19.99 per month.
Jake Paul claims that price is discounted from the regular price of $40 per month, which suggests that the price could increase in the future.
The first 10,000 "movement makers" who join the program will receive "insane bonuses", according to Jake Paul.
Jake Paul's previous online education attempt, Edfluence, had different pricing. Edfluence sold a package of starter videos for $7, while the full program cost an additional $57. The Edfluence website has been down since January 2020.
Who Created The Financial Freedom Movement?
To launch The Financial Freedom Movement, Jake Paul teamed up with a business partner called GenZ Holdings Inc.
That company describes itself as "a collection of high-visibility consumer brands and media properties designed for the Millennial and GenZ demographics".
Jake Paul has teased the launch of The Financial Freedom Movement in recent weeks. In social media posts, he has lamented that "our education system is worthless" and that it's "teaching kids 0 real life skills for them to secure their own future [sic]". Paul, by the way, dropped out of high school in grade 11, finishing his diploma online instead.
our education system is worthless

i'm fed up

if I die i want to die having made a REAL difference on the world pic.twitter.com/sS0KYN9jcy

— Jake Paul (@jakepaul) February 15, 2020
"I just got the answers from a cheat site and put it in and didn't have to do any work," explains Paul on how he graduated high school.
The Financial Freedom Movement is marketing itself to young people who feel the same way as Jake Paul: if you're frustrated by the education system and want to learn influencer-related skills, then Jake Paul's The Financial Freedom Movement may be the right choice for you.
What's Included with The Financial Freedom Movement?
So far, it's not clear what's included with The Financial Freedom Movement. We know little about the types of lessons people will learn, or how those lessons will be delivered.
The FFM website does warn visitors that the platform is not for people "looking for a magic pill to success" because "There isn't one". It's also not designed as a "get rich quick" plan; instead, it's about "long term wealth and freedom".
These are all the same types of phrases you see on multilevel marketing websites, pyramid scheme websites, and online scams.
Fortunately, BuzzFeed News reporter Lauren Strapagiel joined The Financial Freedom Movement and shared her findings. Strapagiel claims she was "underwhelmed". Here's what she discovered:
The program consists of a series of courses starring different experts
There are 20-plus hours of content in total
Each course is introduced by Paul stating "whaddup, freedom fam!"
Courses are themed around concepts like social media, e-commerce, or making money
Some courses are long and have multiple parts, while others are short and have just one video
The first video is an introduction from Paul where he encourages subscribers to "quit your job and fire your boss, or quit school because you've been lied to". Paul goes on to explain that "The system is broken" because there are teenagers making millions of dollars and broke 40 and 50-year olds"
One course, called "Money-Making Machines With Jake", is a 1h49m long course featuring Dan Fleyshman, the guy who started an energy drink company and has purportedly spent over $60 million on influencer marketing.
The six-part course covers random moneymaking topics. It starts by telling kids to drive for Uber or deliver food to make money on the side, for example.
Jake Paul shares bizarrely simplistic tips, like "I would just make art – make it good". He also claims that if he had a clothing brand, he would simply cold-email Costco to get the brand listed on store shelves.
Another section is titled, "What Jake Paul Wishes He Learned in School: Shave Years Off Your Learning". That section includes advice about living with roommates. The last section of the lesson, which covers social media, includes Jake Paul's formula for success, which includes having high watchtimes on YouTube.
Other courses that don't include Jake Paul reportedly contain more concrete information about marketing yourself on YouTube and capitalizing on social media and e-commerce. However, Strapagiel describes the information as "nothing groundbreaking that you can't already find on the video platform [YouTube] for free".
Subscribers also gain access to the discussion forums, which Strapagiel describes as "right now is a mix of trolls and teenagers posting about how they want to make it big online".
"I'm 20 years old and love Jake and everything he's about. I've spent the past year or so learning everything I can about business/social media/time management/personal development and I'm ready to take on the world and become one of the biggest on all platforms! Lets do this!" wrote one poster, according to Strapagiel.
Who is Jake Paul?
Jake Joseph Paul is a 23-year old YouTube star with 19 million subscribers and 25 to 50 million views per month.
Paul rose to fame on Vine, then rose to further prominence playing Dirk Mann on Bizaardvark, a Disney channel series. Today, he's best-known for his YouTube channel and social media presence.
Paul was born on January 17, 1997 in Cleveland and grew up in Westlake, Ohio. His brother, 24-year old Logan Paul, is also a social media celebrity with a similar rise to fame.
Jake Paul is controversial, to say the least. He was reportedly fired from his Disney Channel show after becoming a nuisance in his Los Angeles neighborhood. Neighbors had met with city council members and police officials about filing a class action public nuisance lawsuit against Paul. Paul had made his home address public, leading crowds of fans to gather outside Paul's residence.
Is The Financial Freedom Movement a Scam?
Jake Paul is a controversial figure, so it makes sense that some are calling The Financial Freedom Movement a scam.
YouTuber h3h3productions, for example, described Jake Paul's FFM as a "scam" in a recent show.
Many have also criticized the program for sending the wrong message to kids. Jake Paul has plenty of dedicated, young, impressionable followers. Many claim that Jake Paul shouldn't be telling these kids to drop out of school.
The final problem with The Financial Freedom Movement, of course, is that chasing YouTube stardom is not a realistic goal for most people. The market is saturated. There will always be fast-rising social media celebrities, but it's certainly not a reliable career decision for a young person to make.
Some of the earning claims – like that young people can earn "financial freedom" through a YouTube channel – may also seem misleading.
However, is The Financial Freedom Movement really a scam? Not really. Jake Paul is charging $20 per month to hear his basic advice on achieving success with YouTube. He's upfront about what's being offered. Also after all of his success it may be worth to pay $20 to get his tips and insights.
Final Word About FFM
Internet celebrity influencer Jake Paul has launched a new online training program called The Financial Freedom Movement. Jake Paul is a 23 Year old YouTube start who has more than 19 million subscribers and more than 50 million views per month. He was briefly part of a Disney channel series but today He is best known for his social media presence.
Priced at $20 per month, the training program features 20 hours of videos and interviews. Some of the videos feature Jake Paul, while others feature other entrepreneurs or social media experts.
You can learn more about the controversial program online today by visiting the FinancialFreedomMovement.com website here.