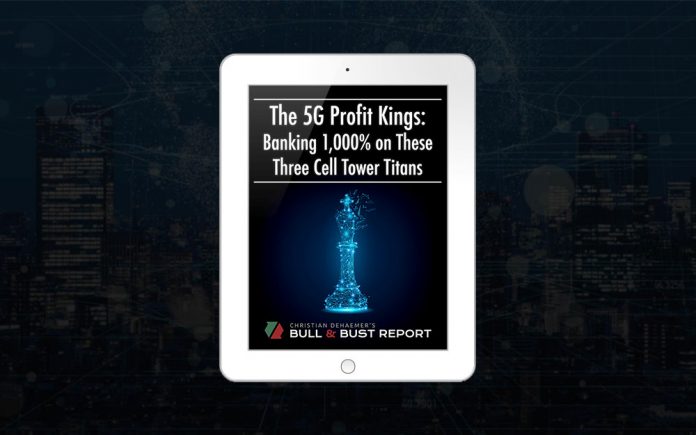 5G, also referred to as the fifth-generation wireless technology was initiated in 2019. Compared to the previous generations, 5G is anticipated to play a vital role in not just cell networks, but possibly other devices and even machines. Given its rather novice market, wouldn't it be great to invest in some technology stocks. If questions like, "which 5G network provider is likely to bring in more gains?" or "how to go about investing in 5G-related stocks?" have risen, 5G Profit Kings claim to have not one, but three answers.
The following review will look closely at 5G Profit Kings in relation to its purpose, the role it plays in helping investors increase gains, and what it has to offer among others.
What is the 5G Profit Kings?
The 5G Profit Kings is a described as a step-by-step guide that will help investors generate revenue based off of their investments in the 5G industry. This respective, special report written by Christian Dehaemer of the Bull and Bust Report, titled "The 5G Profit Kings: Banking 1,000% on These Three Cell Tower Titans", is mixed in among other added bonuses will expound on three stocks investors should buy.
What is expected of 5G Profit Kings?
A number of different knowledgeable reports will be offered. First comes the "5G Profit Kings: The Fastest Growing Player in 5G." With this report, investors will be informed of the dominant player in the 5G industry to date. As per the claims made, this company has 40,000 cell towers in the U.S. alone, with a total of 170,000 globally.
The second report, "About to Witness Huge Growth," looks at another company that has been around for nearly two decades. So far, they have 30,000 towers around the world and have recently invested in building 72 new towers. Hence, the second firm is working on expanding, which, as per the claims made, is THE time to invest.
Finally, 5G Profit King's "Decades of Opportunity", looks at the final company that has established a name for itself in the U.S. market. Turns out, they've recently made a deal with big names such as AT&T, T-Mobile, Sprint and even Verizon.
In addition to the aforementioned three reports, investors will be offered the following bonuses:
Bonus #1: How to Lock in "Coal Contracts" Every Single Month
Bonus #2: Get Paid to Own Farmland
12 Issues of Bull and Bust Report, which is a monthly report that lists profitable investment strategies
Portfolio Updates
The Complete Bull and Bust Report Portfolio
Support Staff Access
Free Subscription to Energy and Capital
Urgent Email Alerts
One thing to bear in mind, is that in order to get access to such detailed information, investors will have to become a member. Given that a number of services of this sort already exist, the creator of 5G Profit Kings, has decided to offer a test drive risk free!
What is the Test Drive of Bull and Bust Report?
To have a better sense of how 5G Profit Kings' services work, their "Bull and Bust Report" is being offered as a 30-Day test drive. Hence, investors will have success to this specific report, for a period of one month. If investors are satisfied with the information and guidance provided by the end of the trial period, then the subscription will be ongoing (until one halts).  For those who would like to have a look at the bonuses along with the Bull and Bust Report, the current going price is roughly $49, which is down from its original value of $545.
Final Thoughts
Based on the analysis above, it is clear that the creator behind 5G Profit Kings is looking to play a positive role in an investor's journey. Instead of reporting on the statistics and projections, the 5G Profit Kings offer knowledge and tips that are typically acquired through trial and error.
With this membership, there's a systematic approach to making gains, rather than watching money fluctuate. Additionally, there's a support team ready to tend to any questions related to the reports or investments. This is the ideal way of learning, for both experts and beginners. In the case of experts, this membership will add to one's existing skillset, while newbies start to create a sound foundation for their recent journey. To learn more about 5G networks and where the money-making potential may exist, visit the AngelNexus website to find out more about the latest edition of Christian DeHaemer's Bull and Bust Report.