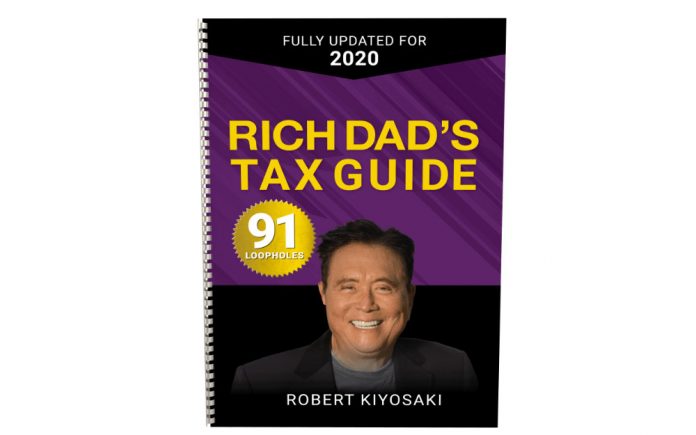 Rich Dad's Tax Guide by Robert Kiyosaki
Back in 1997, Robert Kiyosaki revealed his book, "Rich Dad Poor Dad", which shared his experiences with his father (poor dad) and his best friend's father (rich dad). In particular, Kiyosaki addressed two different perspectives of money and how that helped shape his. Throughout the book, he shared tips and tricks for making money without requiring a high-paid job. His viewpoint is that the money earned should suffice in becoming rich. After over a decade later, Kiyosaki has since come out with, "Rich Dad's Tax Guide", which reveals 91 obscure tax loopholes and strategies that are designed to help boost your bottom line.
What is the Rich Dad's 2020 Tax Guide?
The Rich Dad's Tax Guide expounds on Kiyosaki's best ideas regarding money and his interactions with established figures including Kevin O'Leary, Daymond John, and Ken Langone among others. With 29 books and counting, this one focuses primarily on 91 tax loopholes that can prevent consumers from incurring expenses.
What else is Kiyosaki offering with the Rich Dad's Tax Guide?
In addition to the Rich Dad's Tax Guide, consumers of all ages can gain access to 12 monthly issues of Rich Dad Poor Dad Letter, which is a service that constantly updates those subscribed with the newest and smartest tips for making money. The offers don't stop there, as consumers will also have access to:
Bonus 1: "49 Retirement Income Secrets," which is a 215-page book expounding on retirement secrets, tax-related loopholes, and the payouts that are likely to come out of it
Bonus 2: "The Recession Moneymaker Portfolio," which focuses on ways to make money through investments during the bear market. Three different investments will be provided to consumers.
Bonus 3: "How to Protect Your Retirement from Wall Street's Latest Scam," which primarily focuses on the negative impact of the 401(k) and how to reverse it.
Bonus 4: "Tax-Free Wealth: How to Build Massive Wealth by Permanently Lowering Your Taxes" by Tom Wheelwright
How to Get Started Using The 2020 Tax Guide?
To get started, consumers need to sign up for their subscription plan, otherwise, access to the aforementioned information will not be granted. For a limited time, the current going price of this system is approximately $49, which has been reduced down by 50% of the original retail price.
Based on the analysis above, it is clear that Kiyosaki is looking to keep consumers of all ages updated on becoming financially literate and independent. His "Rich Dad Poor Dad" book has been rated positively and has introduced a number of reasons why saving gets consumers nowhere. Both Goodreads and Investor Junkies have given the book a solid 4/5. Hence, the anticipation for the "Rich Dad's Tax Guide" is nothing but out of the roof.
What makes Kiyosaki's recent offering unique is the different types of information provided, from the do's and don'ts and how the financial system currently operates. Having such well-rounded information allows one to better their financial stance, and to think that this is achievable with $49 is quite impressive. To learn more about Kiyosaki's updated system to making more money, click here.