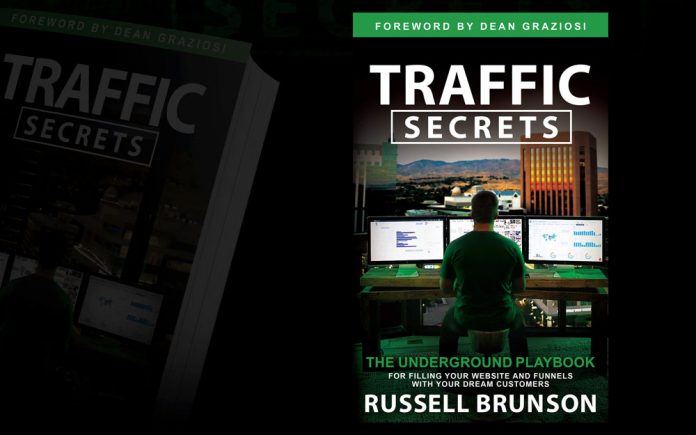 The Underground Playbook for Filling Your Websites and Funnels with Your Dream Customers by Russell Brunson
Traffic Secrets is an upcoming book that details various strategies that individuals can use to create more traffic on their website by customers they want to reach out to. The book is not being launched until March 17th, but consumers can preorder or sign up as an interviewer or affiliate in the meantime. Because of Russell Brunson extensive experience and resources in the marketing world, this could be the ultimate traffic book, that anyone searching for growing their business needs!
Book Name: Traffic Secrets
Book Author: Russell Brunson
Book Tagline: The Underground Playbook for Filling Your Websites & Funnels with Your Dream Customers
Book Description: How to master evergreen traffic strategies using timeless techniques from a $100 million dollar entrepreneur and ClickFunnels software company co-founder.
Book Price: Traffic Secrets Hardcover is $24.29 and Kindle digital version is $16.99
Book Page Length: 256 pages
Book Publisher: Hay House Business, sold by Penguin Random House Publisher Services
Now let's review Russell Brunson's Traffic Secrets book and see the inner workings of the Traffic Secrets training course and how it takes a dual approach to helping people grow their website traffic using a variety of methods and mediums outlined in the program.
What is Traffic Secrets?
Finding the best ways to direct traffic to a website is difficult, especially for new businesses. The process requires substantial knowledge to make sure the website has visitors, becomes popular and known to the general public. While some people have to make a way on their own, Russell Brunson is coming out with a helpful book on the subject called, "Traffic Secrets: The Underground Playbook for Filling Your Websites and Funnels with Your Dream Customers".
Traffic Secrets offers strategies to help users drive traffic to their specific website and products. Russell Brunson is a $100 million dollar entrepreneur, He has extensive experience with driving targeted web traffic. During his time as a co-founder of ClickFunnels, he has made millions of dollars helping people build funnels and search for desire buyers. Brunson has brought many books to the market for individuals that are looking to improve their business's profits. Some of his other books, which can be found on Amazon, include:
DotCom Secrets: The Underground Playbook for Growing Your Company Online (released in April 2015)
Expert Secrets: The Underground Playbook for Creating a Mass Movement of People Who Will Pay for Your Advice (released in June 2017)
30 Days Book – ClickFunnels – You Suddenly Lose Everything… What Would You Do From Day 1 to Day 30 To Save Yourself… (released in 2018)
yeah : How Everyone Can Use The Power Of Words To Get More Clicks, Sales and Profits… No Matter What You Sell Or Who You Sell It To! (released in December 2019)
Through the last 15 years, the techniques that Brunson has released to the public have been pivotal to online marketing. He's even responsible for introducing and popularizing sales funnels for landing pages with his previous works, giving the rest of the public practical knowledge and building a rapport with his ability to bring new keys to success in this book.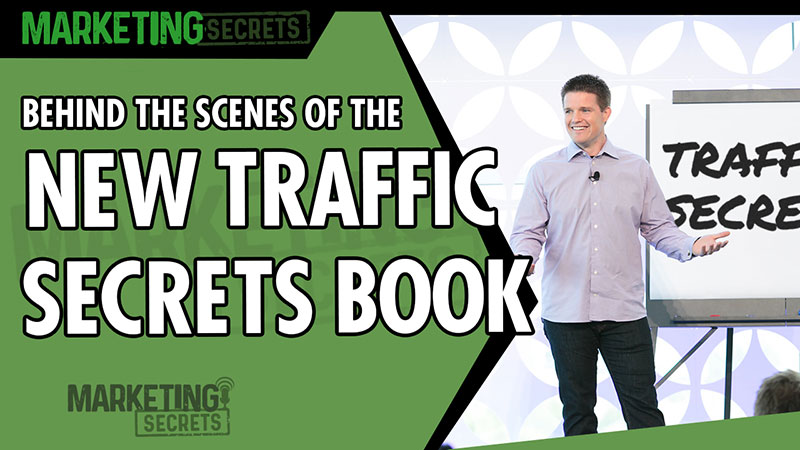 Reviewing the Traffic Secrets Book Program
Originally created by John Reese, the famous online marketer who broke all records and made $1 million in only 18 hours. After his success He end up selling the course to Russell Brunson for a million dollars and now Russell is pairing it up with his new Traffic Secrets book launch.
Traffic Secrets teaches business and website owners the proven strategies on how they can help generate traffic for their sales funnel and how they can grow their business. The course is structured in 24 modules, each available at a very affordable price and offering insights on every strategy that needs to be further developed to drive considerable traffic to websites to increase and generate more sales.
Let's review all 24 Traffic Secret book course modules to see what each has to offer from Russell Brunson's new book launch.
Module 1: The Foundation
The foundation is valued at $47, the Module does exactly what its name says: it sets the foundation for what's about to come next in the course series and addresses concepts like:
Domain names
Investing early
Target markets
In other words, the Foundation is an introduction module that shouldn't be skipped, especially by the online sales beginners. The Google analytics dashboard and setup are also explained, not to mention John explains how to leverage this tool too. It can be difficult for newbies to understand FB pixels, but not at all impossible, so the training on how this tool should be setup is provided.
Module 2: Market Discovery
The Module 2 is valued at $97 and teaches about:
How to define and pinpoint the target market and it's interests.
Places online where the target market likes to hang.
Keywords that should be used in order to find the target market.
Types of ad copies the target market would respond to.
How to always be in line with the trends.
Those who buy the Market Discovery Module will also learn how Google Trends should be used in order to identify the market's gaps. It's a module that teaches how to spy on competitors by joining their emailing list and keeping an eye on their advertising. As soon as Module 1 and Module 2 strategies are put into motion, it becomes next to impossible for internet marketers who have studied them to remain stuck with the niches that are nothing but a dead-end.
Module 3: Copywriting Secrets
For $197, the Copywriting Secrets Module is all about creating the most effective marketing copies that sell. Copywriting is very important for any online business because, even if a website has traffic, the sales copies are the ones that in fact convert this traffic into sales. While Module 3 doesn't offer in-depth information on copywriting because the course's aim is not to turn people into copywriters, it does offer the most important information on how to drive traffic into sales by creating marketing copies that have an impact.
Module 4: Keyword Science
Valued at $97, the Keyword Science Module does exactly what its title says, and that's covering the science behind key-wording. It provides information on how keyword research, targeting and recognizing should be made. The best keyword research tools like Google Keyword Planner, Ubersuggest and Keyword Spy are also introduced in this Module.
Module 5: Email Marketing Tactics
Valued at $147, and considering it's essential, the Email Marketing Tactics Module offers insights on how to grow an email list, the most valuable traffic source and asset. The email marketing tactics and strategies in this module have been proven to work. More on how to turn email subscribers into loyal customers and tricks on how to skyrocket opt-in rates are also provided.
Module 6: Borrowing Traffic
The 6th Module on Borrowing Traffic is available for $147. While many may think traffic can't be borrowed, this is very much possible. The 6th Traffic Reviews Module shows how to get influencers and other websites to borrow their traffic without having to pay for it until it's converted into sales. Affiliate marketing is the most powerful and least costly tool of generating traffic for a site, not to mention it's also very easy to be done properly. Here are the concepts taught in this module:
3 ways to get affiliates to grow a list.
The most effective way to bring in new affiliates.
Creating contests to keep affiliates motivated.
Much more to be discovered.
Module 7: Shopping Engines & Amazon
For $97, the Module 7 on Shopping Engines & Amazon contains the most efficient tactics to be employed in order to generate traffic. It talks about how Amazon's product advertising APIs can be used to make an e-commerce website more credible. As soon after joining an Amazon's affiliate program, it's possible to embed their product listings onto the affiliated site. All in all, Traffic Reviews Module 7 discusses:
How price comparisons can send to an online store millions of clicks
Leveraging Amazon Kindle books to generate free and autopilot opt-in leads
Getting e-commerce products on shopping sites' listings
Module 8: Traffic Formulas
While very important, the Traffic Formulas Module costs only $97. It teaches all the theories and traffic strategies used everywhere, also how to grow an online business by:
Lowering the cost per each visitor.
Increasing traffic volume.
Raising the average visitor value.
Aside from all this, expert advice from John is provided on how to mine traffic in individual aid campaigns and to split test.
Module 9: Buying Media & Sponsorships
Valued at $97, the 9th Module on Buying Media and Sponsorships talks about exactly that, buying media Ads and sponsorships. John knows how to make Ads run across the most well-known news websites like the ones of CNN, ESPN and Fox News. The proven techniques when it comes to running ads such as banner ads, text ads, sponsorships, buttons, interstitials and many others will also be taught in this Module. Besides, it offers information on how to spy on competition and find the best creatives in a market.
Module 10: Google AdWords
The lengthiest module in the Traffic Reviews course, the Google AdWords Module costs $247. It contains more than 2 dozen separate lessons on leveraging and being a master of Google AdWords, not to mention it presents this tool's amazing power to drive more traffic to a website. Module 10 will cover:
How to earn high-quality scores for landing pages.
How to drive a lot of laser-targeted traffic.
How to use different keywords in a strategical manner.
John himself teaches in this Module how to optimize Ad copies in order to get the maximum number of clicks, not to mention other very useful tricks.
Module 11: Podcasts & Broadcasts
Podcasts can bring a website enormous traffic, so for $197, Module 11 reveals how to start podcasts in order to drive traffic to funnels. It also contains information on hacking the Apple iTunes podcast directory to rank higher on it. John will as well talk about how the podcasting process can be outsourced.
Module 12: Mobile App Marketing
The Mobile App Marketing is available for $197 and discusses how mobile apps can be used to drive traffic to a sales funnel. Since people all over the world are using apps on their phones nowadays, these apps are essential when it comes to driving traffic to sales funnels and landing pages. This module will teach:
How to create a mobile app
How to use the app in order to get more email subscribers
How to use the mobile app to get more buyers
How to make the app rank high in the App Store
In other words, John uses this Module to teach how mobile apps are turned into another traffic stream.
Module 13: Software & Widgets
Different than other Modules and costing only $47, the 13th Module in the Traffic Reviews course is all about leveraging software and widgets in order to drive traffic. The concepts are easy to understand.  Software has to be given out as a lead magnet and used to generate more leads. After that, the traffic can be driven from the software to a sales funnel or a landing page.
Module 14: Facebook Ads
Module 14 costs $247 and teaches how Facebook Ads can be crushed. It has to be mastered. At the same time, it's quite complex yet not impossible to understand. Here are a few of the things it teaches:
Creating high-converting Facebook Ads
Creating Facebook Ads according to demographic groups
Tracking Ads that are converting
Strategies of retargeting with Facebook
Many other tricks for Facebook Ads
Module 15: Traffic Retargeting
For $147, the Traffic Retargeting Module teaches everything about retargeting, so how to show the ad again to people who visit a landing page or sales funnel and leave without buying. Retargeting can be done at a very low cost if the rules in this Module are being followed when doing it. Besides, it needs to be done properly and to show Ads to people who have interacted with the brand being promoted before. It can help conversions skyrocket while keeping the customer acquisition costs very low.
Module 16: International Opportunities
Module 16 costs $97 and teaches everything about how to penetrate the untapped markets and to get traffic from many different other countries. This part of the Traffic Reviews course is all about expanding to foreign markets, not to mention that it gives information on how to find affordable translators.
Module 17: Social Media Strategy
The Social Media Strategy Module can be bought for $197. Since social media is the backbone of the online advertising and marketing worlds because it's a major source of traffic that generates leads, John wants to make sure that by learning this part of the Traffic Reviews course, his students know how to use the social media platforms in order to do just what they're supposed to do. He presents every peculiarity on how to get high-quality traffic that turns into leads. The platforms learned in this Module are:
Facebook
Instagram
Twitter
LinkedIn
Pinterest
Buzzsumo
Module 18: Traffic Recycling
Valued at $147, the Traffic Recycling Module provide information on how to turn visitors into lead magnets. The strategies discussed in this 18th Module are:
Amplifying likes and shares on Facebook
Integrating more social media accounts into one promotional "destroyer"
Running email into a traffic-generating machine
Using a Rafflecopter for hosting promotional contests on social media platforms
Plus, much more
Module 19: Google SEO
Since knowing SEO strategies and tactics can generate tons of traffic, John has decided to keep this Module that talks about SEO at $197. Both on and off-page SEO tactics are covered and explained in a way that anyone can understand them.
Module 20: Building a Content Factory
Perfect to follow the SEO Module, Module 20 costs $97 and talks about how to build the most high-quality content that ranks well on Google and attracts many readers. Good content drives the organic traffic that costs less and gets website ranked higher on search engines. Therefore, knowing everything about how to create the best content is taught in this Traffic Reviews Module in a very clear manner. The module also teaches outsourcing to writers and becoming a machine that generates only good content.
Module 21: Content Curation Methods
In the Module 21 of the Traffic Reviews course, internet marketers are being taught how to legally leverage others' content in order to get more traffic and leads. In other words, this module talks about:
Creating round-up posts
Using infographics to get more links and shares
Using YouTube videos to attract more traffic
Module 22: YouTube Marketing
As the world's biggest search engine, YouTube needs to be mastered in order to drive more traffic stream to a business. For $197, Module 22 shows how YouTube can be used in order to get to massive numbers of audiences. It discusses:
Target keywords
The optimization of YouTube channels
How to conquer YouTube algorithms to rank higher on the platform
Module 23: Expansion and Scalability
Expansion to other markets and different new traffic generation strategies, split test included, are being taught by John in the Module 23 of the Traffic Reviews course, for only $47.
Module 24: The Master Plan
Module 24 ends the series of modules in the Traffic Reviews course series and costs $97. It's a master plan conceived by John to help internet marketers and online business owners focus and implement the strategies they have learned in the previous 23 Modules.
Where to Buy Traffic Secrets
Technically speaking, this book is not yet available for purchase, considering that the pre-release isn't until March 17th. However, the official website allows consumers to sign up for a reminder when the launch happens.
Consumers that want a little more security in their ability to get this book can pre-order it directly on Amazon, but they won't be able to get it by the launch date. The Kindle version can be pre-ordered for $16.99, automatically delivering the digital copy to the user's Kindle on May 5th, 2020. The hardcover option will be released on Amazon on the same day, but for $24.29. As it is sold directly by Amazon Prime, users have the option of choosing their free Two-Day Shipping (if they are a member), and they will get a copy on the day that it comes out.
Even though the book launches in March, none of the pre-orders will be provided to customers before May 5th.
Additional Traffic Secrets Opportunities
Along with the chance to purchase this book, consumers are given a unique opportunity to join the launch as an affiliate. The top 20 affiliates will be invited to attend the event for the book, and signup can be done inside the members area for ClickFunnels.
Another opportunity that is only afforded to consumers that sign up early is the chance to publicize the launch by interviewing author Russell Brunson. By visiting , consumers can request an interview, podcast, or blogging opportunity to get the message out about Traffic Secrets. Right now, the author has a total of 20 days available for these engagements and aims to do as many as possible.
Final Word on Traffic Secrets Book
The new Traffic Secrets book by multi-millionaire entrepreneur Russell Brunson is bound to bring fireworks to the internet marketing community and online marketing industry. As a leader who has rubbed shoulders with giants of old and new, the ClickFunnels innovator is putting in an extreme amount of effort and detail into the release of his 256-page book, Traffic Secrets.
Anyone involved in the Internet marketing and online advertising worlds should strongly considered looking at the Traffic Secrets book as the real underground playbook to implementing and applying winning strategies to boost your business exposure or company's audience.
FAQ About Traffic Secrets Book
Here is a recap summary of all the most commonly asked questions about the upcoming Traffic Secrets book launch from Russell Brunson.
Q: What is Traffic Secrets Book?
A: Traffic secrets is a new book that details the best ways to drive traffic to your website and funnels. The content inside the book focuses on teaching evergreen traffic strategies to drive targeted customers.
Additional to the book, traffic secrets includes 24 modules detailing the best practical knowledge on getting traffic online from multiple channels.
Q: Who Is Russell Brunson?
A: Russell Brunson is a successful marketer, multi-millionaire entrepreneur, creator of click funnels. Clickfunnels provides an easy-to use platform, to market, showcase and sale products online.
Q: How much Does Traffic Secrets Cost?
A: The price of the Traffic Secrets Hardcover book is $24.29 and the Kindle digital version is $16.99. Traffic secrets is a 256 pages book. Additional to the book you can purchase 24 different modules about specific traffic sources and strategies.
Q: Who is Traffic Secrets Book For?
A: Traffic secrets is for individuals, businesses, and product creators, looking to bring more visitors to their products or services. The traffic secret book goes over the best multiple traffic resources available. Also practical strategies to get targeted traffic to your offers and products.
Q: 
What is ClickFunnels?
A: Clickfunnels is an online website builder to help product owners and creators offer there goods and services to the work in a drag and drop fashion. The software was created by Russell Brunson and has transformed into a multimillion-dollar software company  that helps entrepreneurs create direct marketing campaigns based on their products and programs.
Q: When is the Release date for the Traffic Secrets book?
All preorders of Traffic Secret booms will officially start shipping and available tp download on Kindle, May 5th. The book launch goes live March 17th. 2020.
Q: How many pages is the Traffic Secrets book?
A: The traffic Secret Book is 256 pages.
Q: Can you buy Traffic Secrets book on Amazon.com?
A: Yes you may buy traffic secrets on amazon o an after its official launch date, May 5h, 2020.
Q: Does Traffic Secrets book come in hard cover or kindle?
A: Yes traffic secrets can be order as a physical hardcore book or download online on the amazon kindle platform.
Final Words on Traffic Secrets
Once more information is made available about the inner workings of the Traffic Secrets book launch we will update this post with the latest announcements and updates. One thing is for certain, Russell Brunson is, has, and will continue to be successful in his endeavors as he has put up nearly multiple decade long stretches of creating winning programs, products and services; and now he has his own book called Traffic Secrets, a winning playbook taken right from first-hand experience of one of the leaders in the online entrepreneurial community since the Dot Com Secrets and ClickFunnels explosions.
The Traffic Secrets book launch of the pre-release starts on March 17th, be ready.