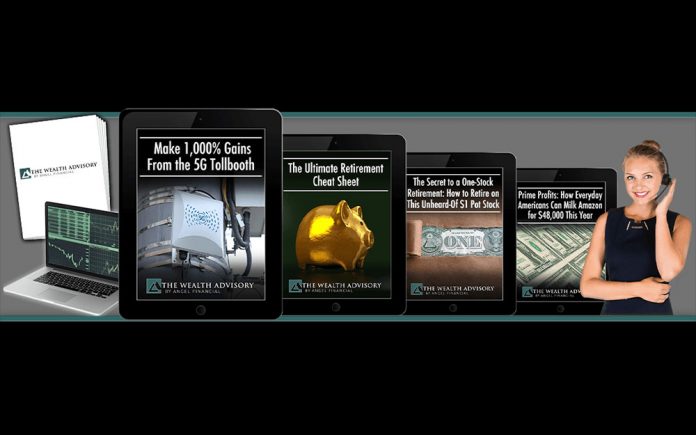 5G, also referred to as the fifth-generation wireless technology for digital cellular networks, has garnered the attention of many, especially the likes of T-Mobile, Verizon, Apple and even regions in China. 5G is deemed more spectrally efficient that the former wireless technology generations that exist. Additionally, it is expected to be smarter, faster and higher in frequency. This is good news for investors as 5G is still novice. Hence, this review aims to introduce the "Make 1000% Gains From the 5G Tollbooth."
What is the "Make 1000% Gains From the 5G Tollbooth"?
Make 1000% Gains From the 5G Tollbooth is a research-based, step-by-step guide that covers details regarding a specific company projected to bring investors profit from their 5G solution. The firm's shares can supposedly be picked up at $10 and is expected to reach a minimum of $68 by year-end.
What does The Wealthy Advisory's 5G Tollbooth Guide come with?
Along with the Make 1000% Gains From the 5G Tollbooth guide, investors will be offered two bonuses. Here's an overview of each one and how it contributes to one's investment opportunities:
The Ultimate Retirement Cheat Sheet
According to the Ultimate Retirement Cheat Sheet, consumers no longer need to worry about savings and starting early. Instead, one will be required to set up a steady income stream and this is the type of information that will be provided throughout this bonus. More specifically, there are 21 opportunities listed, which are likely to lead one straight to retirement.
Prime Profits: How Everyday Americans Can Milk Amazon for $48,000 This Year
Amazon's CEO is targeted here, as the firm is known for dodging payments. That said, this guide shares the fact that not all fines can be escaped and how investors can make gains from the firm.
The aforementioned three guides are just a sample of the types of money-making secrets that investors can gain access to and this is achieved by signing up to The Wealth Advisory subscription plan.
Who is Behind "Make 1000% Gains From the 5G Tollbooth"?
The creators behind the aforementioned guides is none other than The Wealth Advisory. With their subscription plan, investors will learn about a number of wealth-building tips and tools. To be more specific, here's a quick list of additional tools:
One full year of The Wealth Advisory (12 issues)
Portfolio updates on the market
Confidential Wealth Advisory Alerts, which expound on changes in positions that investors will be informed of
Unlimited access to the private Wealth Advisory, which is a members-only website that has back issues and reports
World-class customer support for those who require clarification. This service will be up and running Monday through Friday between 9:30 AM and 4:30 PM EST
How much does the Wealth Advisory Subscription cost?
For the first year of the Wealth Advisory Subscription plan, investors can expect to invest roughly $49. The price is definitely fair considering the work that goes into creating guides, keeping investors informed by the second and offering support as needed.
Final thoughts
When it comes to investing in the stock market, investors are required to do background research, identify peaks and valleys and the reasons behind them, and consider the associated risks. Sometimes it is not so obvious what the next big market trend is or what might have forced a stock to drop. And you combine it with the fact that 5G cellular network technology for wireless communications and the immense amount of potential it has to transform world-wide connectivity and there is a reason why fifth-gen stocks are all the rage in 2020.
This is where a group like The Wealth Advisory comes into play, as their profession involves research and understanding what's in trend. With their Make 1000% Gains From the 5G Tollbooth, investors can anticipate profits from a firm that specializes in 5G (a rather novice technology). Additionally, two other bonuses are offered in which investors get to build upon their investing skillset. Finally comes their subscription plan, which is equivalent to having one's hand-held throughout the process. This is definitely a learning experience that cannot be missed, as investors will have access to information from experts and the opportunity to potentially communicate with them.
To learn more about what The Wealth Advisory's Briton Ryle 5G Tollbooth special report has to offer, click here.