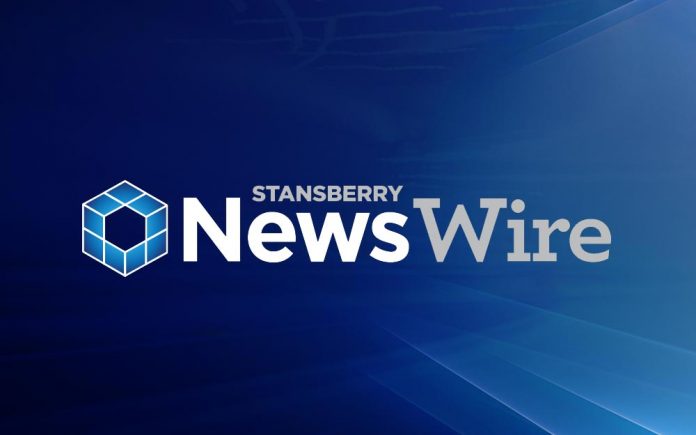 Stansberry NewsWire is a subscription service with news, market research, and commentary.
The subscription is available for free online through StansberryNewsWire.com. Just enter your email address, and you'll receive daily alerts and trading recommendations.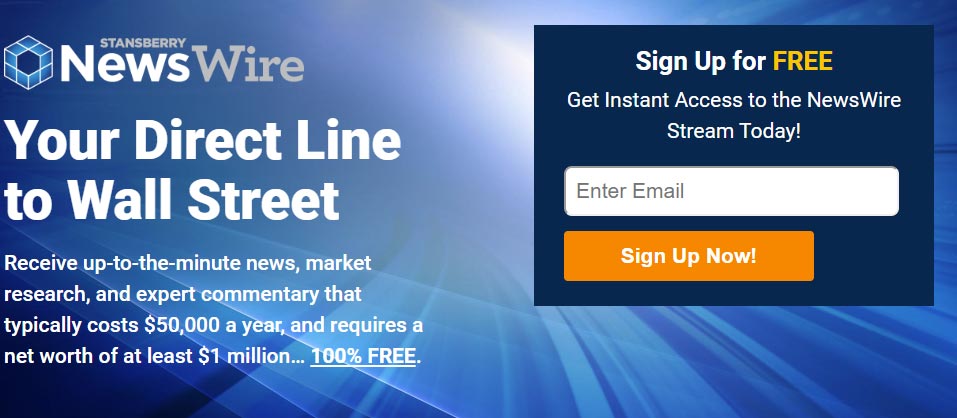 Is Stansberry NewsWire worth the subscription? Should you sign up for Stansberry News Wire? Find out everything you need to know about Stansberry News Wire today in our review.
Check Out the Stansberry Innovations Report Today
What is Stansberry NewsWire?
Stansberry NewsWire is a free subscription that helps investors make intelligent investment decisions. Subscribers receive daily alerts, trading tips, and actionable recommendations.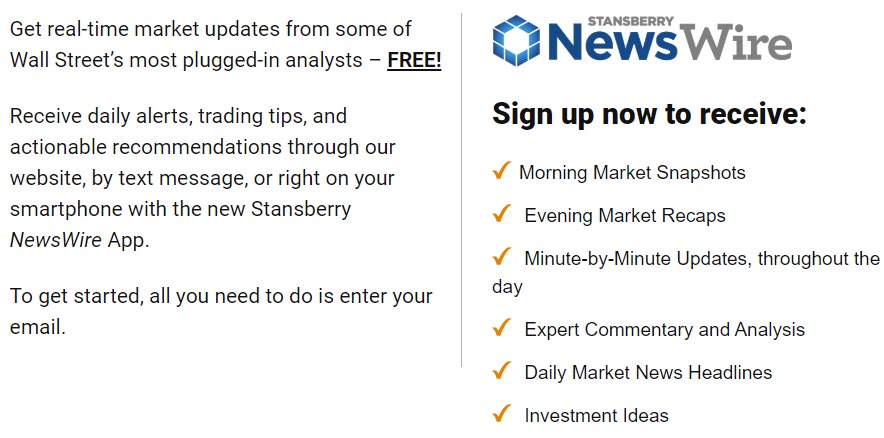 Subscribers can get daily recommendations through the StansberryNewsWire.com website, by text message, or through the Stansberry NewsWire app.
The newsletter comes from Stansberry Research, a Baltimore-based financial analysis company. That company is known for offering free and paid email newsletters.
Stansberry Research makes bold claims about its Stansberry NewsWire subscription. The company claims that the free subscription "typically costs $50,000 a year and requires a net worth of at least $1 million". Much like the Morning Profits rush so many top shelf traders and investors are looking to produce, they rely on news, headlines and trending current events to help forecast and predict how the market will shift and move throughout the day and week.
What Will You Learn from Stansberry NewsWire?
Stansberry NewsWire provides all of the following to subscribers:
Morning market snapshots
Evening market recaps
Minute by minute updates throughout the day
Expert commentary and analysis
Daily market news headlines
Investment ideas and stock tips
Here is a sample email format that gives an entire breakdown of the relevant, current and most important morning market news updates: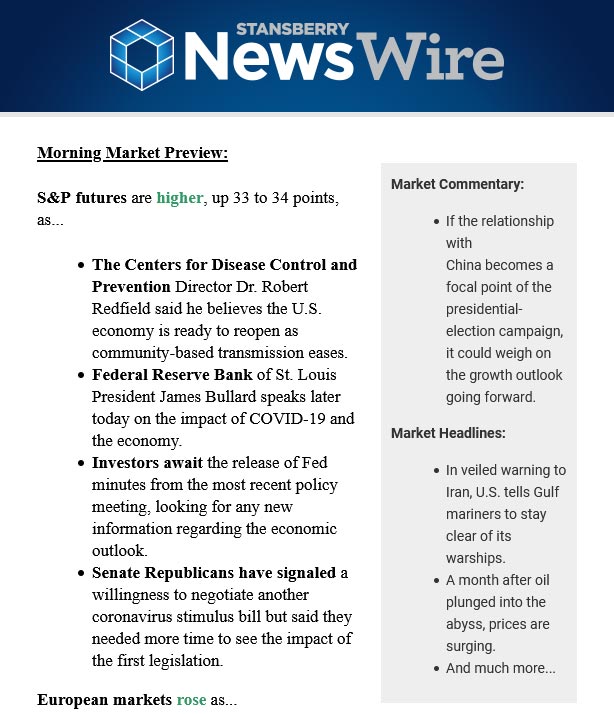 Overall, Stansberry NewsWire wants to give investors daily, immediate access to actionable market research. They claim the most successful investors have access to this information – so why shouldn't you?
"With NewsWire, you'll receive the same research – free. And it's all put together by a team of Wall Street veterans with 50+ years of combined experience."
Who's Behind Stansberry NewsWire?
Stansberry NewsWire is led by three analysts, including Scott Garliss, Greg Diamond, and John Gillin.
Scott Garliss is a former investment banker who has previously worked for First Union Securities, Wachovia Securities, Stifel Nicolaus, and FBR Capital Markets. Garliss specializes in explaining what's going on behind the scenes in the political and economic world.
Greg Diamond, meanwhile, has 13 years of trading and portfolio management experience. He has previously traded for a $3 billion hedge fund and a $35 billion pension fund. With NewsWire, Greg is in charge of technical analysis, global macroeconomic events, currencies, commodities, futures, interest rates, and more.
John Gillin is a stock picker with 23 years of sales trading experience at some of the world's largest hedge funds and mutual funds, including T. Rowe Price and Wellington. Gillis started his own hedge fund in 2013, raising $10 million for the fund. He beat the S&P 500 every year the fund was operational.
About NewsWire Premium
After signing up for Stansberry NewsWire for free, you'll receive advertisements for NewsWire Premium, a paid subscription services.
NewsWire Premium is a subscription service that sends alerts throughout the day, giving you actionable market recommendations and stock tips all day, every day the markets are open.
Stansberry Research describes NewsWire Premium as "like a professional blog where we offer safe, proven methods of intra-day trading to help you build your wealth".
Subscribers receive a daily Market Snapshot email in their inbox every morning. The email explains what happened overnight in global markets, recommendations on current market conditions, and links to today's relevant financial articles.
Subscribers also receive a Market Recap email every afternoon. This email summarizes all NewsWire Premium real-time posts from the day.
There are also daily morning videos to explain what's happening before the market opens, intra-day videos for the middle of the trading session, and general informational videos to help you understand the markets.
You can access all of the NewsWire Premium information through the website or the mobile app for iOS or Android. You can enable push notifications to get alerts throughout the day. Or, you can check into the platform whenever it's convenient to you.
Benefits of Short Term Trading
Stansberry NewsWire and NewsWire Premium do not advocate long-term investing with 20 or 30-year horizons. Instead, the newsletters cater to short-term traders who want quick, fast gains.
Stansberry Research is quick to explain that it's not a "get rich quick" service:
"We don't look for "home run" trades. This isn't a "get rich quick" service. We hit singles and doubles to take advantage of short-term market fluctuations and increase your active return on investment (or "alpha")."
Stansberry Research later explains that short-term trading "can be very profitable", but that most traders fail because they don't have a system in place.
When you subscribe to NewsWire Premium, you can discover this system. The analysts provide specific recommendations to maximize your short term gains.
Stansberry Research describes its short-term trading strategy as a combination of "price, time, and a low-risk/high-reward profile". They monitor markets when there is too much euphoria on rallies and too much doom in declines, as these markets represent the best trading opportunities.
Some of the recommended short term trades traders will receive through NewsWire Premium include:
Long stock trades
Short stock trades
Selling calls
Buying calls
Selling puts
Buying puts
Pairs trades
About Stansberry Research
Stansberry Research is a Baltimore, Maryland-based financial analysis company with a range of free and paid subscriptions available online. The company offers dozens of subscriptions catering to different types of investors, including investors who want to 'get rich quick' and beat the market, or investors looking for long-term wealth.

You can contact Stansberry Research via the following:
Phone: 888-261-2693
Email: info@stansberrycustomerservice.com
The company offers several financial newsletters and subscriptions, including Stansberry NewsWire, Stansberry Investor Hour, Stansberry Digest, Stansberry Innovations Report and Stansberry's Investment Advisory.
Final Word
Stansberry NewsWire is a free email newsletter available through Stansberry Research. As a subscriber, you receive daily email updates and alerts about market conditions, including actionable investment recommendations.
Stansberry NewsWire provides basic advice, and the goal is to convince you to sign up for paid subscription services like NewsWire Premium or other Stansberry Research products.
To learn more about Stansberry NewsWire or to sign up today, visit online at StansberryNewsWire.com.