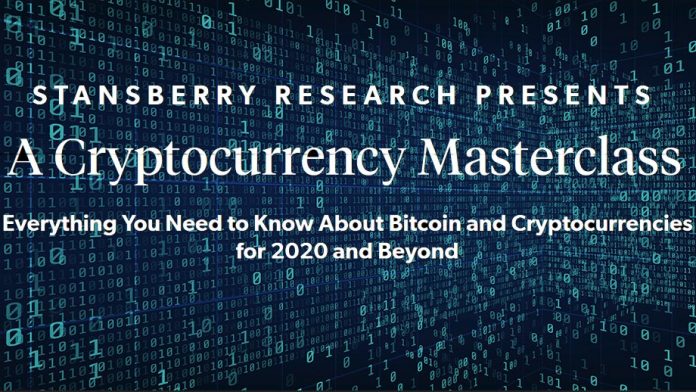 Stansberry Research has released a new online bitcoin training course called the Cryptocurrency Masterclass.
The course is led by prominent financial advisor and crypto analyst Eric Wade. In the class, investors will purportedly learn how to invest "a mere $100…and see gains as high as 1,198%… 2,900%… and even 3,400%", according to the official website.
The Cryptocurrency Masterclass by Stansberry Research group was meant for any level of experienced investor no matter for those who got in early, those who feel they missed the best chance to invest into this emerging digital asset class, or the ones still trying to wrap their heads around this growing global phenomenon.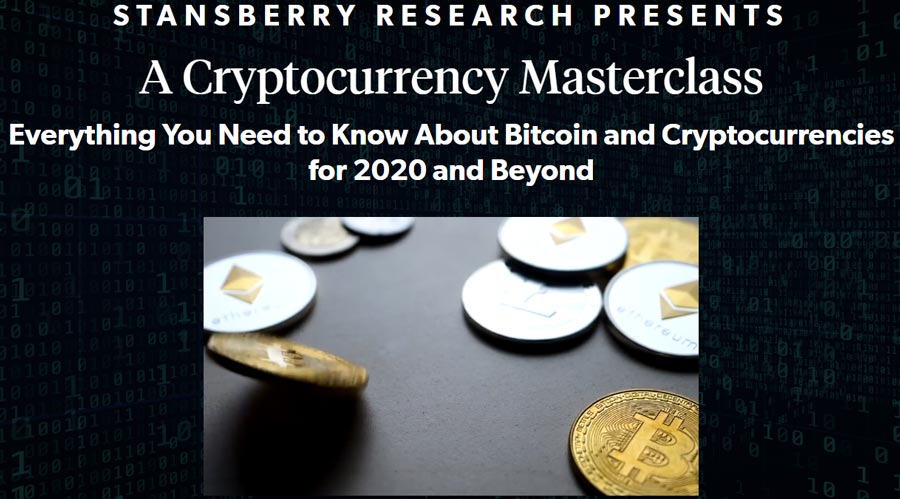 Is Stansberry Research's Cryptocurrency Masterclass worth attending? Should you sign up for the Cryptocurrency Masterclass and find out everything you need to know about bitcoin and cryptocurrencies for 2020 and beyond? Find out today in our review of the Stansberry Research Cryptocurrency Masterclass with Eric Wade to see whether or not there is any actual opportunity to start building a fortune with as little as $100.
Get Stansberry Research Cryptocurrency Masterclass Here
What is the Cryptocurrency Masterclass?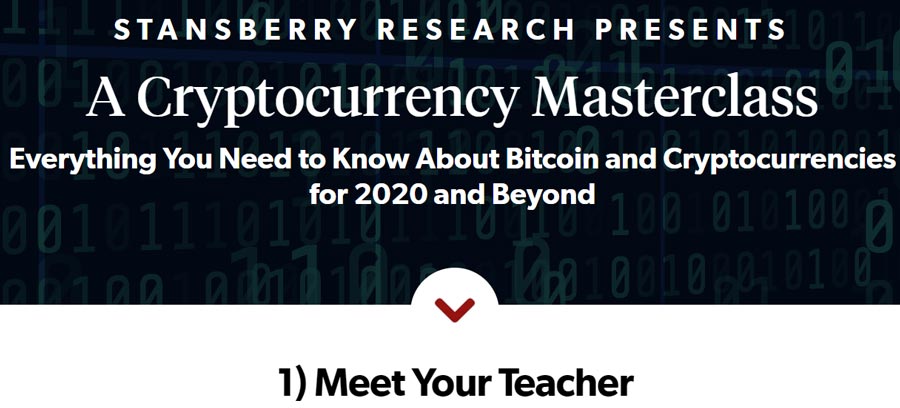 The Cryptocurrency Masterclass is an online course offered by Stansberry Research. The course consists of a series of online products, including PDF guides, step-by-step tutorial videos, and more.
You can get access to the Cryptocurrency Masterclass by signing up for Crypto Capital, a crypto investment analysis newsletter. The newsletter is priced at $1,500 per year.
The Cryptocurrency Masterclass is led by Eric Wade, a crypto analyst and former finance company executive. Wade claims "some of the smartest minds in finance are just now entering this space", and that there are still opportunities to earn 1,000% returns in crypto.
Wade claims the potential for gains is huge in cryptocurrency right now "because so few folks are willing to take a change on cryptos as a new asset class". He mentions one of his subscribers knew nothing about cryptocurrency in January 2019, but then "tripled his money in 6 months" by following Crypto Capital's investment advice.
Clearly, Wade believes average investors can generate profit from cryptocurrency. Next, we'll talk about what you'll learn in the Cryptocurrency Masterclass.
What Will You Learn in the Cryptocurrency Masterclass?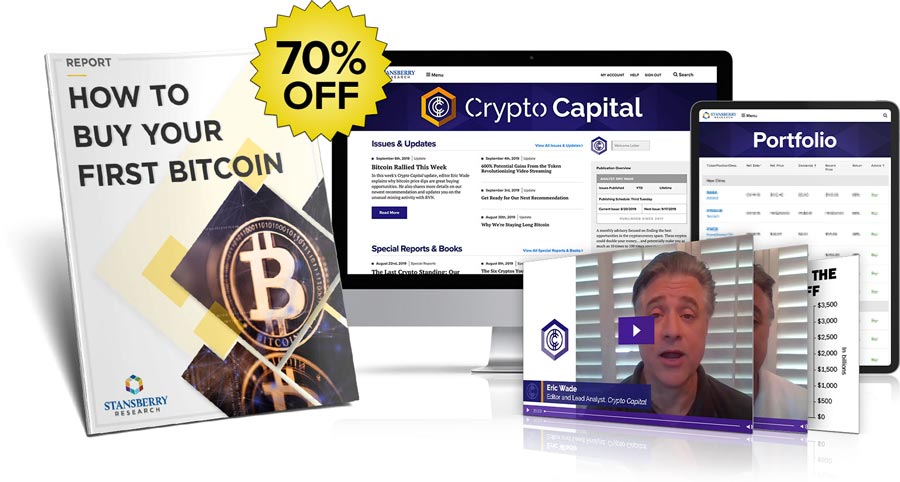 The Cryptocurrency Masterclass consists of three core components, all of which are included with your subscription to Crypto Capital:
How to Buy Your First Bitcoin Report: Wade claims that bitcoin is "the one investment that you must make in 2020", claiming that he "wouldn't be surprised if bitcoin 10x from here". This report explains how to buy your first bitcoin, where to buy it, and how to store it. By following this advice, you can purportedly "get a piece of this massive wealth shift that's going to take place over the next few years".
Crypto Capital Subscription: Your 12 month subscription to Crypto Capital is listed as part of the Cryptocurrency Masterclass. Crypto Capital is a monthly newsletter with predictions, investment recommendations, buy and sell alerts, and more. The newsletter is delivered on the third Tuesday of each month.
Step-by-Step Video Tutorials: The Cryptocurrency Masterclass includes video tutorials explaining how to invest in more speculative cryptocurrencies. Wade claims that "anyone can learn how to make money with smaller, more speculative cryptos". These videos explain how to invest in smaller altcoins if you already know how to invest in bitcoin.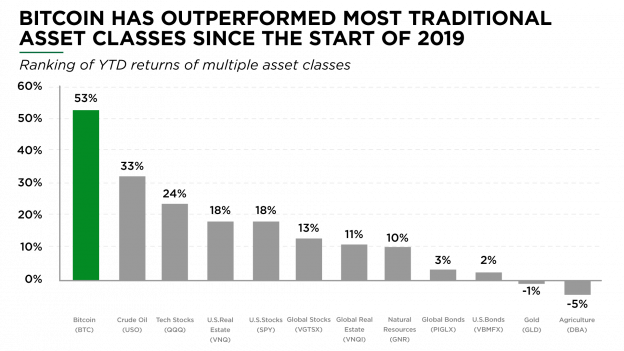 What is Crypto Capital?
Crypto Capital is a cryptocurrency-focused newsletter published by Stansberry Research. It's a monthly newsletter that emphasizes finding the best opportunities in the crypto space.

The newsletter emphasizes fast gains and huge returns by investing in the right cryptocurrencies:
"These cryptos could double your money…and potentially make you as much as 10 times to 100 times your money," explains the official Crypto Capital website.
The newsletter is published on the third Tuesday of every month, with a weekly update every Friday. Subscribers get access to a model portfolio. The average holding period for the recommended cryptocurrencies is 6 months.
Crypto Capital is led by editor Eric Wade and analyst Fred Marion. The pair use their unique strategy to find the best opportunities in the cryptocurrency space, then share this information with subscribers via videos, guides, and newsletters.
About Eric Wade
Eric Wade is the editor of Crypto Capital. He's also behind the Cryptocurrency Masterclass. So who is Eric Wade?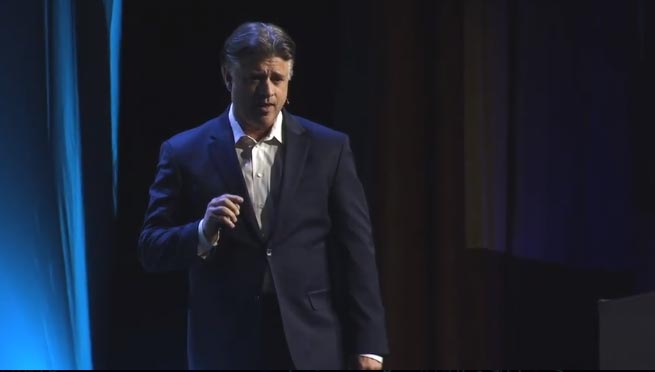 Eric is an internet entrepreneur and investor who began picking stocks and trading futures contracts in college. He famously sold an internet domain, WallStreet.com, for over $1 million.
Eric began mining bitcoin in 2013, then expanded his mining operation to dozens of other cryptocurrencies in 2016 and 2017. He made 30x profit by buying Verge for under a penny, a 22x profit on SiaCoin, 30x profit on the Substratum ICO, and a 4x return on Stratis and Civic in 60 days, among other notable investments.
Eric is also an angel investor, movie script writer, and the founder of a family business.
Crypto Capital and Cryptocurrency Masterclass Pricing
To gain access to the Cryptocurrency Masterclass, you need to subscribe to Crypto Capital. The newsletter is priced at $5,000 per year:
1 Year Subscription (12 Issues): $5,000 per year
If you sign up through the Cryptocurrency Masterclass sales page, then you'll pay $1,500 for your first year. However, you are also automatically subscribed to an automatic renewal program at $5,000 per year. One year after your $1,500 subscription purchase, your credit card will be charged another $5,000.
If you want to avoid a second year subscription and the $5,000 renewal fee, then you'll need to contact the company to cancel.
About Stansberry Research
Stansberry Research is a financial analysis firm founded in 1999. The Baltimore, Maryland-based company provides actionable investment recommendations and research for individuals self-managing their portfolios. Today, the company has 500,000 subscribers worldwide, including both free and paid subscribers.

Stansberry Research offers a variety off free and paid newsletters, including True Wealth, Retirement Millionaire, Daily Wealth Trader, Stansberry Newswire and Stansberry's Investment Advisory, among others. Different newsletters are catered to different investors. There are newsletters like Crypto Capital for crypto investors, for example, and newsletters like Cannabis Capitalist for pot stocks.
You can contact Stansberry Research via the following:
Phone: (888) 261-2693
Email: info@stansberrycustomerservice.com
Mailing Address: 1125 N Charles St, Baltimore MD 21201
Final Word
Stansberry Research has launched a new series of online products called the Cryptocurrency Masterclass. The Cryptocurrency Masterclass includes digital guides and videos explaining how to invest in bitcoin and other cryptocurrencies for the first time.
To get access to the Cryptocurrency Masterclass, you need to subscribe to Crypto Capital, a $5,000 per year newsletter from Stansberry Research.
The creators of the Cryptocurrency Masterclass make big claims about the potential earnings, claiming that their investment advice "could help you make as much as 20 times your money (or more) in the coming months".
To learn more about the Cryptocurrency Masterclass and Crypto Capital, visit online today at the official website and be sure to check out the Stansberry Innovations Report too.