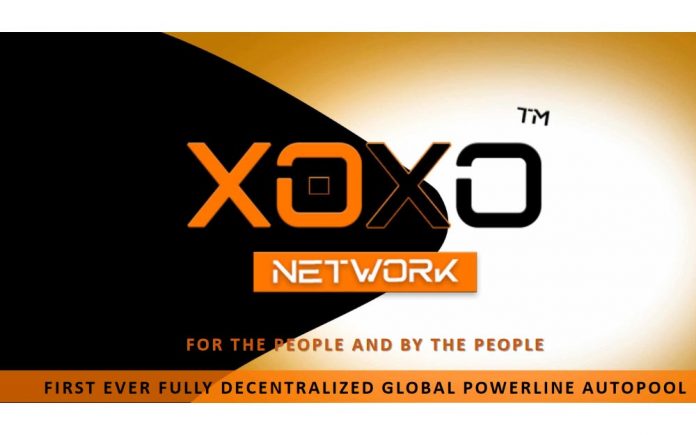 XOXO Network is a multilevel marketing company launched on May 20, 2020 that claims to be the first-ever fully decentralized global powerline autopool.
The company uses the Ethereum blockchain to eliminate administration. Unlike a traditional MLM, XOXO Network is decentralized and claims to be much like Forsage. The company also claims to be transparent and un-cheatable, so "everyone wins" using their "simple, secure and lucrative" system.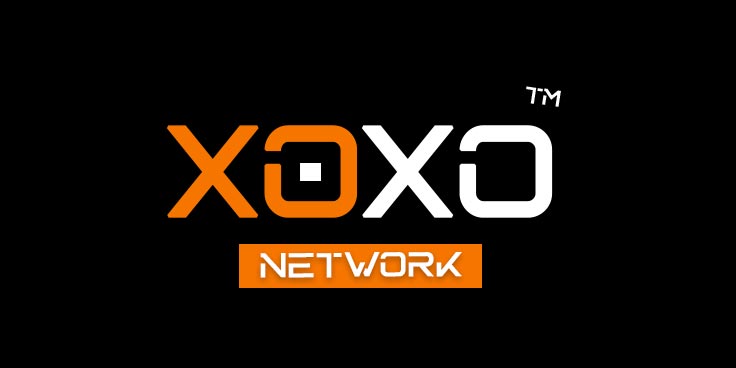 In a bitcoin-led industry that has been going on since 2009, not once as a multi-level marketing opportunity and cryptocurrency business worked for the long haul. From the dangerous debacles of PlusToken, Wotoken, USI Tech, BitConnect and many other network marketing cryptocurrency MLMs, how will XOXO Network fare any better in the end?
Time will certainly tell if XOXO Network is too good to be true? Is XOXO Network another MLM scam or a legitimate network marketing business opportunity? Should you sign up for XOXO Network and try to earn daily Ethereum commissions paid out directly to your ETH wallet via a blockchain-based smart contract? Let's take a closer look at everything you need to know about XOXO Network that is officially launching on May 20, 2020.
What is XOXO Network?
XOXO Network is a multilevel marketing company based on the Ethereum blockchain. The company claims to use smart contracts to automate everything. Instead of a traditional company leadership or administration, XOXO Network claims to run everything using smart contracts.
Here's how the company describes itself:
"XOXO Network is the ultimate decentralized P2P global powerline networking system, built on an Ethereum blockchain technology. The system is simple, secure and lucrative."
News about XOXO Network first started appearing online in April 2020. The company is scheduled to launch on May 20, 2020.
XOXO Network Features & Benefits
XOXO Network advertises all of the following features and benefits: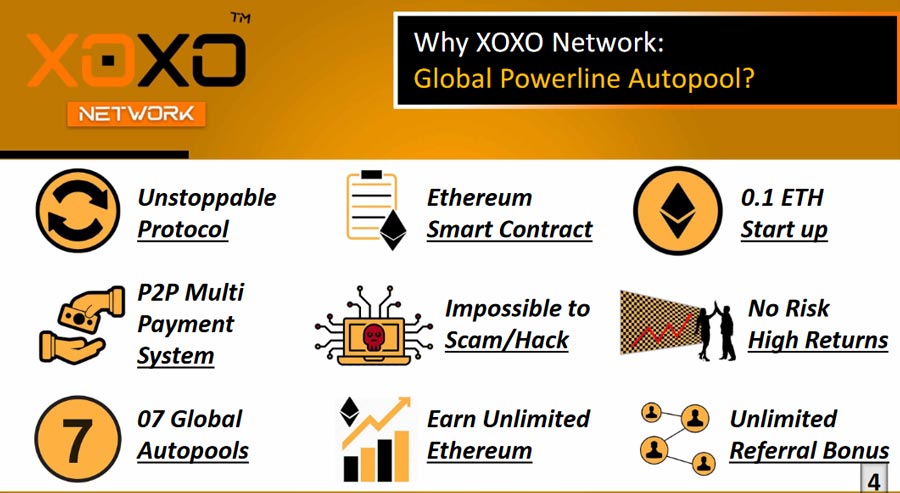 100% decentralized MLM with no company or administration
Transparent, un-erasable, and un-cheatable
Simple, secure, and lucrative system where everyone wins
Impossible to scam or hack
High returns with no risk
Earn unlimited money
0.1 ETH ($21 USD) joining fee
How Does XOXO Network Work?
XOXO Network claims to be a lucrative moneymaking system for everyone involved. It also claims to offer "high returns" with "no risk" whatsoever, allowing everyone involved to "earn unlimited Ethereum". Obviously, you should be skeptical anytime somebody uses language like this online.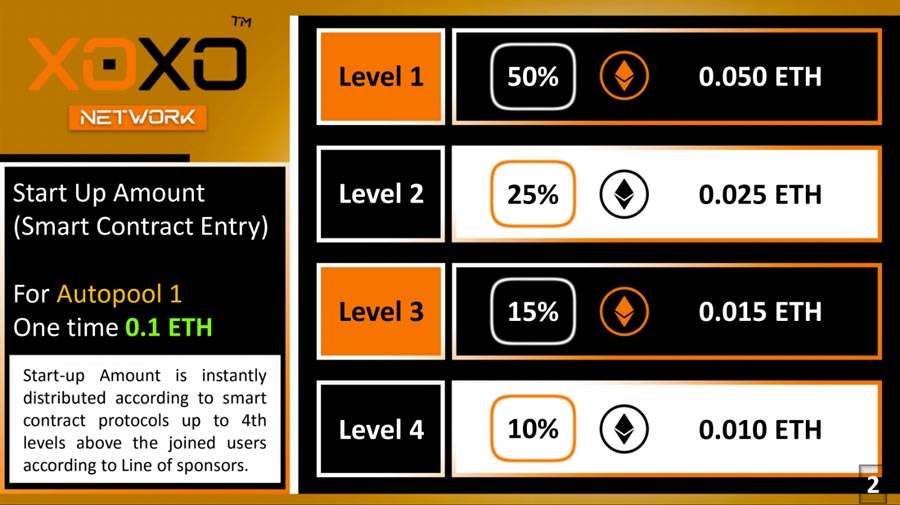 So how does XOXO Network claim to provide zero risk returns to every investor? How do XOXO Network members make money?
XOXO Network is based on several "autopools". You pay a 0.1 ETH membership fee, then join Autopool 1. Your membership fee is passed up the pyramid according to the smart contract, which has encoded rules about how membership fees are distributed. Your membership fee rises as high as 4 levels above you.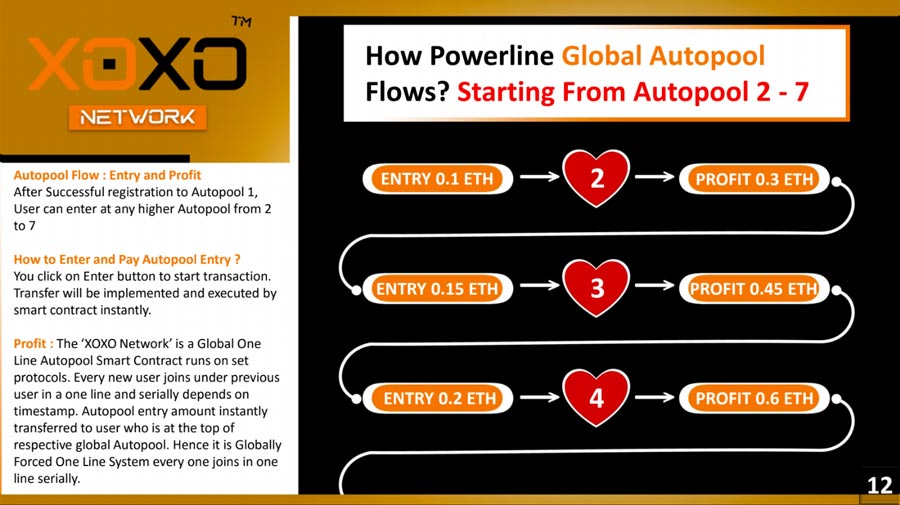 Once you are a member of Autopool 1, you can refer people to join. You will receive 50% referral commissions every time you convince someone to pay the 0.1 ETH membership fee. The rest of the membership fee gets passed 4 levels up the pyramid.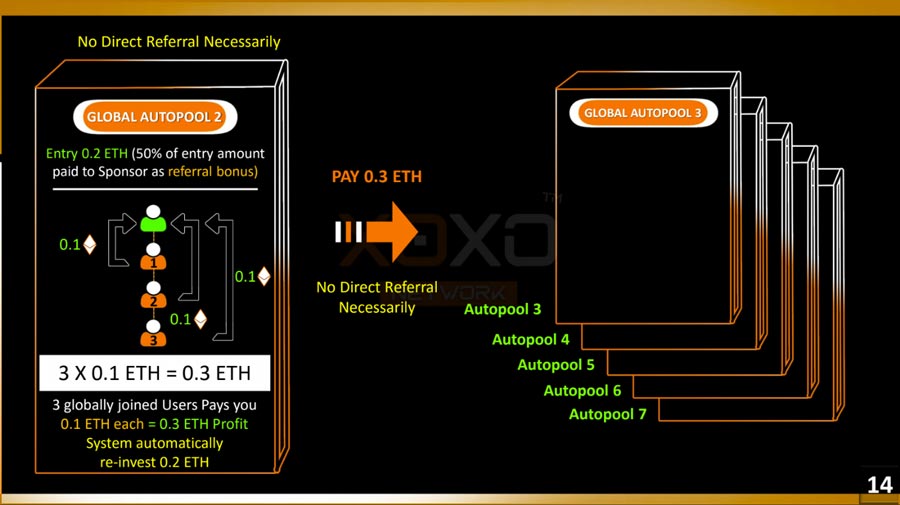 Membership is tracked via timestamp within the smart contract. Every new user is placed under the previous joined user according to this timestamp. The timestamp is recorded on the Ethereum blockchain, making it easy to see which member joined at what time.
As you refer more people, you earn a portion of entry fees from all members of your pyramid, down 4 levels:
50% commission from all level 1 referrals
25% commission from all level 2 referrals
15% commission from all level 3 referrals
10% commission from all level 4 referrals
After joining Autopool 1, you can pay a higher membership fee to join Autopools 2 through 7. Here's how membership tiers and joining fees break down:
Autopool 1: 0.1 ETH
Autopool 2: 0.1 ETH
Autopool 3: 0.15 ETH
Autopool 4: 0.2 ETH
Autopool 5: 0.25 ETH
Autopool 6: 0.35 ETH
Autopool 7: 0.5 ETH
Autopools 2 through 7 have a re-entry smart contract protocol on Ethereum. It's not totally clear how this re-entry system works, but here's how the company describes it:
"Once a member earn and cycle out from a particular Autopool, part of their earnings is paid back into that same Autopool to earn over and over again as a passive income and as well to keep the network of that particular Autopool moving consistently. No more hit and run or fat cats at the top. Everyone wins!"
You do not need a direct referral to join levels 2 through 7.
XOXO Network claims that you can earn guaranteed profit of 0.3 ETH to 1.50 ETH ($60 to $315) by referring just three global users to the platform, depending on your level.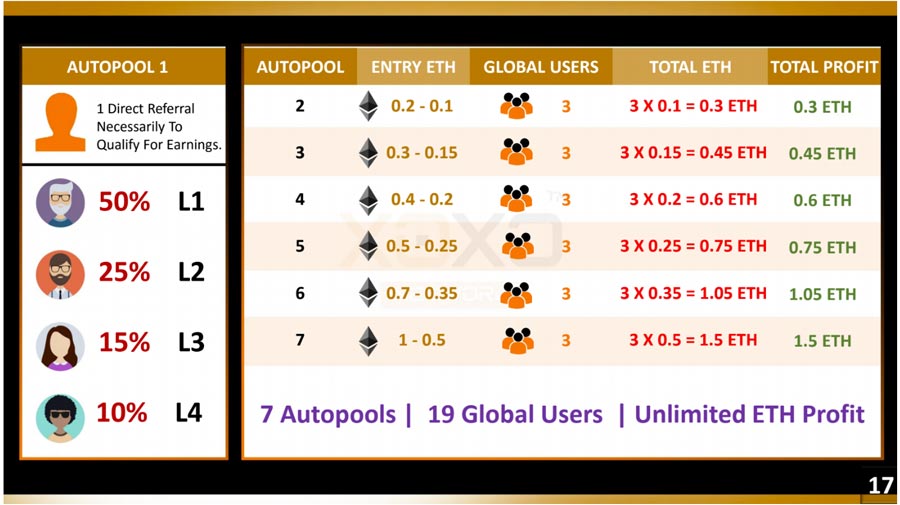 There's no limit to the number of users you can refer to the platform, which is why XOXO Network claim moneymaking potential is "unlimited".
XOXO Network Products & Services
XOXO Network appears to be a straight-up pyramid scheme: the company has no products or services whatsoever. It's just a pyramid scheme based on membership fees.
You pay a fee to join the company, and your fee gets passed up the pyramid. The only way to make a return on your investment is to convince other people to join the scheme.
The only real "product" from XOXO Network is the smart contract. The smart contract is encoded with all company rules and distribution protocols. You pay your membership fee into that smart contract, and the smart contract distributes money to higher levels of the pyramid.
How to Join XOXO Network
To join XOXO Network, you'll need to download an Ethereum wallet and add at least 0.1 ETH to that wallet.
The company recommends using the Metamask wallet (Metamask.io) if using a computer, or the Trust Wallet if using a mobile device. These are two of the most popular and best-rated Ethereum wallets in the industry, and they're not affiliated with XOXO Network in any way.
Download the wallet, add Ethereum to it (by buying ETH from an exchange or using the in-app exchange service), then send your 0.1 ETH joining fee to the XOXO Network smart contract.
The person who referred you to the XOXO Network will give you an ETH address for the smart contract. You send the 0.1 ETH to that smart contract, and the smart contract handles the rest.
How Does the XOXO Network Smart Contract Work?
XOXO Network claims to be built on a series of smart contracts. These smart contracts are on the Ethereum blockchain and control all XOXO Network administration – including payment and Autopools.
Smart contracts may sound fancy, but they're really just software applications. You code a smart contract to perform a certain task, and that smart contract executes that task – just like an ordinary program.
With smart contracts on the Ethereum blockchain, you can use an Ethereum blockchain explorer to verify certain details. You can check the smart contract code to verify its authenticity, for example, and ensure the code legitimately distributes payments.
Smart contracts can hold funds. A smart contract might hold funds until a certain trigger, for example, at which point the contract releases funds.
However, XOXO Network claims their smart contract does not hold any funds. Instead, it pays funds instantly and directly into users' wallets, with no funds held or stored by smart contracts.
Unfortunately, XOXO Network has not disclosed its smart contracts, and we cannot verify any of the information in the XOXO Network whitepaper.
Instead of providing detailed technical information about its smart contracts, XOXO Network seems to throw around random blockchain words like "open source", "decentralized", and "Ethereum virtual mining machines".
Review of Why XOXO Network "Works" – 10 Reasons
In order to complete this initial review of XOXO Network, our team sought to ask members of the "ultimate decentralized smart contract networking system" about why they thought this multi-level network marketing opportunity is a legitimate business to get involved with.
Here is an exact copy paste snippet from an affiliate who actively refers individuals into the XOXO Network business opportunity as to what they told our lead researcher on how the XOXO Network marketing scheme operates:
---
1. This is the first ever powerline network built on a smart contract, it protocol its unshakable and unstoppable it will continue to work and serve everyone right and equally.
2. Only 1 referral needed to qualify for earnings and participation. Not like other smart contracts that requires you to refer Two or More people to begin earnings and participation.
3. You earn unlimited earnings of Ethereum for a lifetime. Whenever you cycle out from a certain autopool from autopool 2-7 the system automatically place you back into the program to earn over and over again (passive income!)
4. You earn unlimited 50% referral commissions forever. Whoever you invite into Xoxo network becomes coded to you for life and whenever they make payment to activate a certain autopool you will be paid 50% of that as a referral bonus.
5. Automatic re-entries no more hit and run, once a member cycles out the system automatically put them back into the system to contribute to someone else success, to keep the system moving and help everyone to win. This is an unstoppable protocol and even the last person to join the system makes money. So how can this be a Ponzi scheme and beside this is not a matrix structure or binary system, it's a global powerline network similarly to straight line network but more effective than the regular straight linear systems.
6. You earn upto 50% matching bonus whenever your referrals are recruiting. Even with a single referral can make you hundreds to thousands of dollars without your effort.
7. Re-entry bonus, whenever your referral/referrals cycle out from an autopool and the system automatically put them back into it again, you as the sponsor will continue to earn that 50% referral commissions for life and it doesn't matter whether you're on that autopool or not you will make that referral bonus from their purchase. And if you don't like this then what else do you want?!
8. Payment are made instantly to individuals Ethereum wallets peer to peer. No centralized system or accounts to regulate funds. This is fully a decentralized system.
9. It's impossible to scam, hack or change something written on a blockchain network. In our case this is smart contract and most smart contracts are built on an Ethereum blockchain network. So that make it safe and secured, zero risks!
10. Xoxo is not just a money making machine, this involves wealth, love, faith, family, happiness, teamwork and fun. It's the only smart contract networking project with a heart and a mission to eradicate poverty from the world in this time of crisis. We are here to give back hope to the hopeless and to show love to everyone that we are still here, thankful and alive to cherish life. Xoxo is here to change many lives around the world financially.
---
The team member, who was eager for everyone to join the XOXO Network Telegram Channel and "Crypto Team Connectz" group, finished in saying:
"The Choice is yours to make whether you join something that means the well being of humans and not just to make money."
"We're a family and of course we will make fun of each other at some points but that does not mean we hate you. All is part of us having fun and entertaining each other and as well drawing others attentions away from what is happening in the world. We need to be happy and enjoy life at any cost because that's what we are brought on this earth to do, and that's to live it, love it and have fun."
"Lastly Xoxo network is built for you people and by you people. The idea of this system came from each and everyone of us and that makes all of us the founders of this amazing system we've got on here. So there's no head or tail of this system. We are all equal and all leaders, for we are here to create leaders and not followers."
We will leave our initial research on the XOXO Network review above and these comments for you to decide, but let's have a final word about the newly-launched decentralized blockchain global powerline autopool MLM opportunity.
FAQ About XOXO Network Cryptocurrency MLM Scheme
Here is a quick recap summary about the pressing questions for XOXO Network:
Q: When did XOXO Network Launch?
A: The official launch date for XOXO Network is May 20, 2020 and is set to go live at 8PM ET or 5PM PT. It is unclear who or what is actually jumpstarting the global powerline autopool structure given there is no official admin or standing company but somehow the collective community all seem to have agreed upon this exact date and time.
Q: Who's Behind XOXO Network?
A: It's unclear who's behind XOXO Network or what their experience is. They appear to be non-native English speakers, as the website and whitepaper are filled with errors. We have no contact information for the creators, nor can we find any social media profiles. XOXO Network has not published its smart contract code online, making it difficult to verify the smart contract works as advertised. Overall, there's no transparency regarding any aspect of XOXO Network, who's running it, or how the smart contract works.
Q: Is it Safe to Join and Sign Up to XOXO Network?
A: The newly-launched XOXO Network is what most investors would consider a high risk high reward multi-level network marketing business opportunity that is based on the Ethereum blockchain using peer to peer smart contract technology. The brief bullet point breakdown of XOXO Network proclaims everyone wins because it is 100% decentralized and transparent.  Additionally, the marketing behind XOXO Network portrays a simple, secure and lucrative platform due to being no company, admin, and is virtually uncheatable due to the unerasable nature of blockchain. Because there is no "single point of failure" narrative being pushed, the XOXO Network affiliate crowd is praising the merits of the platform and claims it is a breathe of fresh air blockchain, networking, and crowdfunding crypto industry.
Final Word About XOXO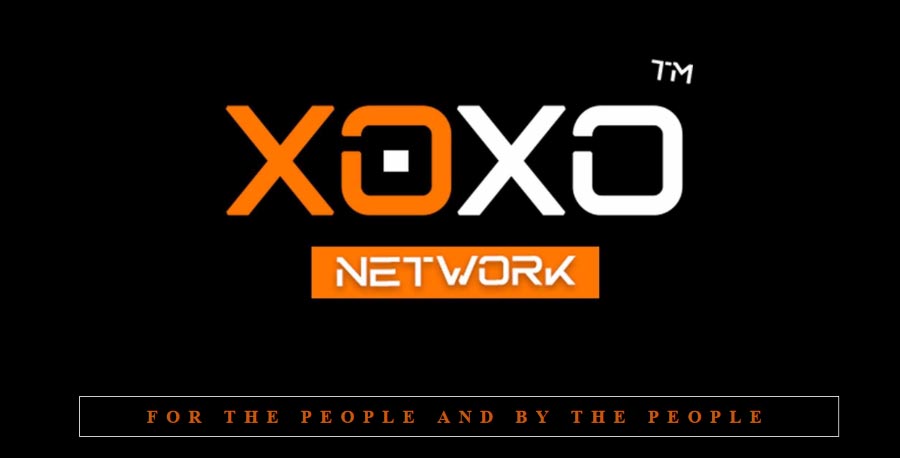 XOXO Network is a multilevel marketing scheme built on Ethereum smart contracts. All payments are handled by smart contracts instead of by company administration based on blockchain distributed ledger technology. You pay a fee to join different levels of the XOXO Network. The only way to make a return on your investment is to refer other people to the scheme. You receive 50% commission from each member's joining fee, while the smart contract passes the remaining fee up 4 levels of the pyramid.
XOXO Network claims to offer zero risk, high reward, and unlimited money to all members. All of this should make you skeptical. There's also no information online about who's running XOXO Network.
In a day in age where blockchain-based cryptoassets are starting to become mainstream, it is important to move slowly and proceed with caution in these type of high risk, medium reward business structures. While the catchphrase "decentralized" is thrown around heavily in the space, it is one of the biggest selling points within XOXO Network as the marketing language will have you to believe that no one controls the outfit or manages the operation. But, someone is organizing the website, hosting account, and compensation plan details. So even though we want to believe blockchain eliminates middlemen and makes it a trustless environment, there is still the inevitability of XOXO Network being a possible ticking time bomb.
However, the long arm of the law moves slow but grinds finely. Many will justify that it will take months if not years to (look at the other cryptocurrency MLM scams and fraud taken place the past decade in the ecosystem) catch on and by then top leaders, affiliates and referral partners will have made out with a lot of Ethereum commissions and rewards earned. The ball is in the users court and while the temptation may be tough to fit and overcome, so far there hasn't been a winning combination between cryptocurrencies and network marketing.
Whether or not the blockchain-based MLM opportunity XOXO Network survives for weeks, months or years will be up for debate, but as the old saying goes – never risk more than you are willing to learn and should you roll the dice in joining and signing up with XOXO Network, this is the first of many warnings you may receive given the heightened risk of this "for the people and by the people" opportunity.
Visit XOXO.RUN website today to learn more about the new XOXO Network.