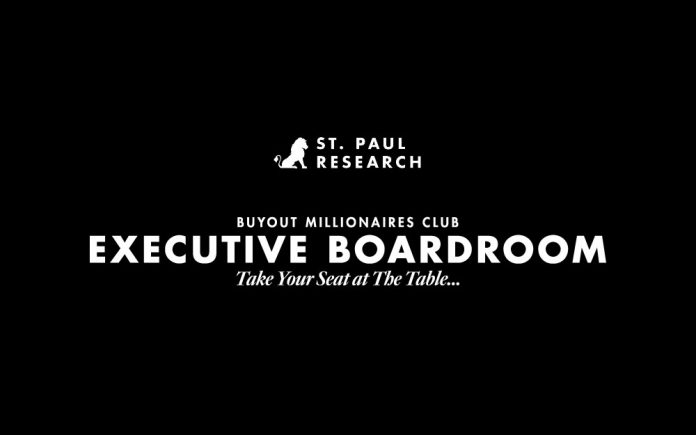 St. Paul Research's advisor and editor, Zachery Scheidt has created a number of services to date including the likes of the Lifetime Income Report, Income on Demand, Buyout Millionaires Club, Weekly Squawk Box, Contract Income Alert and Family Wealth Circle. All have been created with the sole purpose of bringing Wall Street's best yields to investors with optimal payout opportunities.
That said, the purpose of this review is to look closely at the updated version of Scheidt's Buyout Millionaires Club called the "Executive Boardroom". Some of the areas that will be focused on include its purpose, what an improvement means for investors and whether or not it holds value.
See Zach Scheidt's 5G Cash Command Center Here
What is St. Paul Research's Executive Boardroom?
St Paul Research's Executive Boardroom, or more precisely, the Buyout Millionaires Club "Executive Boardroom" is a service created by former hedge fund manager, Zachery Scheidt. In particular, he provides members with weekly newsletters that expound on investments that he deems are of value, low risk and have the potential to grow substantially.
What can be said about Zachery Scheidt's expertise in the field?
Scheidt has earned a Chartered Financial Analyst designation, which is indicative of his ability to predict possible risks and rewards. Besides the contributions made at St. Paul Research, i.e. his Buyout Millionaires Club back in 2018, Scheidt has voiced his viewpoints on many mainstream channels including CNN, BloombergTV, Fox Business Network and CNBC among others.
That said, Scheidt is neither a fiduciary nor is he a personal financial advisor as per Stock Gum Shoe, therefore, investors need to assess how much they plan to invest and whether the education acquired is worthwhile for the prices charged.
How does the initial Buyout Millionaire's Club compare to the addition of the Executive Boardroom?
As per the claims made, the Buyout Millionaire's Club was created with the intentions of providing investors with Scheidt's research on the market and the possible profits that can be generated.
Executive Boardroom is simply a service that takes the Buyout Millionaire's Club service to the next level. In particular, this addition combines his research along with insider strategies that ensure investors have more buyout candidates. Some of the potential benefits that may arise from this include:
Increased potential buyouts, which implies putting eggs into an array of baskets
Live calls every Wednesday for all Executive members
Tier 4 trades, where more advanced trading strategies will be expounded upon and in turn possibly bringing in more profits
In terms of live calls, Scheidt will cover a specific topic for the week. For instance, on Friday, March 6, he planned to discuss the influence interest rates, gold and market fears have on chosen buyout clients. Additionally, he will be answering any questions one has on his team's strategies.
How to become a member of the Executive Boardroom?
To become a member, investors have been advised to contact customer service at 1-800-708-1020. Given that one is already a member, it is a matter of logging into one's respective accounts and joining the service. On that note, prices have not been displayed anywhere as of yet, and there's no refund policy in place. Finally, upon signing up, one is automatically enrolled in the Executive Boardroom subscription plans, which are either monthly or annually.
Final Thoughts
Based on the analysis above, it is clear that more access has been granted in terms of the types of information investors will learn through the Executive Boardroom. Additionally, Scheidt's expertise is neither weak nor questionable. That said, the key in deciding whether this service is right for an investor rests in one's goals, as well as the subscription fees, which have not been disclosed anywhere.
To find out more information regarding the Buyout Millionaires Club "Executive Boardroom", click here.