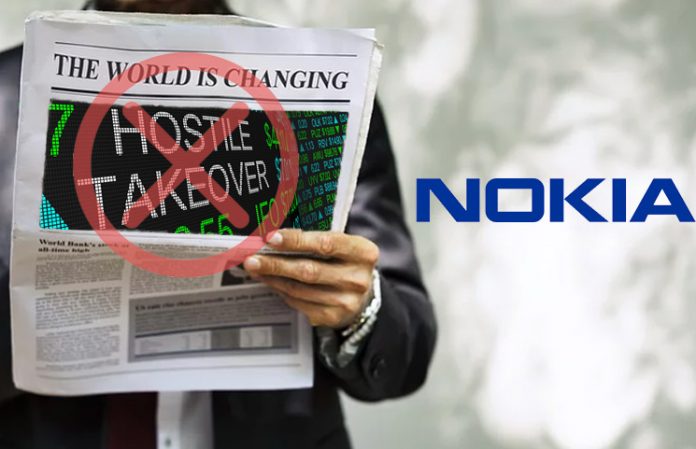 Nokia is declining to comment on rumors of a hostile takeover.
The company's shares rose 12.5% on Thursday after a media report claiming Nokia (HEL: NOKIA) was working with an investment bank to defend itself from a hostile takeover.
"Nokia does not comment on market rumours," said a Nokia spokesman in a statement to Reuters.
On Thursday, online newspaper TMT Finance published a report claiming Nokia was defending itself from a hostile takeover. The report did not mention the name of the perpetrator. It's also unclear if the takeover is targeting parts of Nokia's business – or the whole company.
According to TMT Finance, Nokia has hired investment banking partner Citi to defend the takeover attempt. The Finnish telecom giant has previously worked with Citi.
The deal could be worth up to $17.4 billion.
The news of a hostile takeover isn't a complete surprise. In February, Bloomberg reported Nokia was exploring strategic options and working with advisors to consider potential asset sales and mergers. At the time, Nokia claimed there was "no truth to the report".
Later that month, JPMorgan analysts concluded that sale of the company was the only viable strategic option for Nokia.
Nokia is competing with Ericsson and Huawei for 5G network equipment. Experts expect competition between the three telecom giants to continue throughout 2020 and 2021 as the rivals compete for market share.
Nokia's stocks have been hit hard since October 2019. Investors are concerned that the company is losing ground to Huawei and Ericsson as the world increasingly shifts to 5G.
The departure of Nokia's long-time chief executive Rajeev Suri earlier this year also rattled Nokia's shares.
Nokia's shares opened the trading day at 2.97 EUR on Thursday, April 16, rising to 3.39 EUR before retreating to the 3.15 EUR range. Nokia ended the day up 7.47% overall.
Learn more about Nokia and other related 5G stocks by visiting the 5G Master Key report.