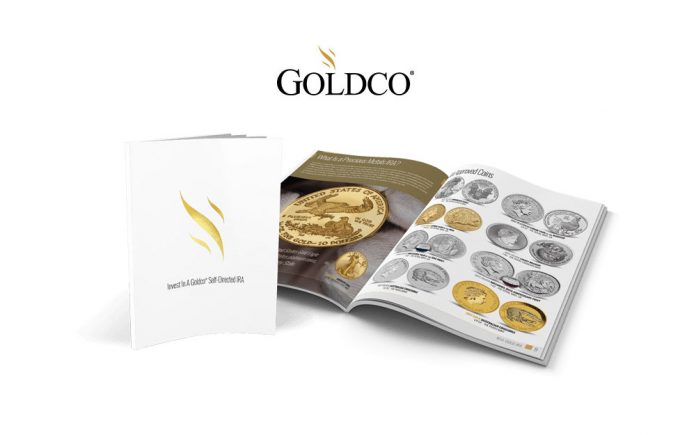 Goldco Direct LLC is a gold IRA specialist that offers a range of gold products for investment accounts.
The Woodland Hills, California-based company is best known for its gold and silver self-directed IRA services.
It's natural to be wary about a company before making an investment. Is Goldco a legit company for gold investors? Keep reading our Goldco review to find out everything you need to know about Goldco.
What is Goldco?
Goldco, also known as Goldco Direct, is an investment company specializing in gold and silver delivery, among other investment services. The company was founded in 2006.
You might also find Goldco marketed online under two other names: Goldco Precious Metals and the Heritage Gold Group.
In addition to offering gold and silver delivery, Goldco offers precious metals services for IRA and 401K accounts.
Today, Goldco markets itself online by giving away free gold IRA guides and similar products. The company also has an active blog that draws traffic. If you have ever Googled gold-related investment questions, then you might have stumbled upon Goldco's website.
The company particularly markets itself towards older investors, including investors who want to hedge their retirement savings against market volatility by investing in a trusted asset like gold.
Goldco also regularly issues free gold IRA advice reports. As of January 2020, for example, Goldco is marketing a self-directed 12-page gold IRA guide online that will teach you how a gold and silver self-directed IRA can protect your IRA / 401(k), what types of gold and silver are eligible for a self-directed IRA, and how to open a self-directed IRA by investing in precious metals. The guide is free: you just need to enter your name, phone number, and email address (and agree to receive future marketing from the company).
Let's take a closer look at the products and services offered by Goldco.
Goldco Products and Services
Goldco specializes in self-directed IRAs. You might choose a Goldco self-directed IRA if you want gold, silver, or precious metals to be in your individual retirement account (IRA).
The company's flagship product is called the Goldco Self-Directed IRA. That account comes with the following core features:
Invest in gold just like you would invest in stocks or bonds in a conventional IRA
Rollover or transfer an existing retirement account and make allowable annual contributions
Use gold, silver, and other precious metals to protect your IRA, 401(k), and other qualified retirement accounts from inflation and market volatility
There are plenty of precious metal IRA companies across the United States. Goldco's services are similar to the services offered by many other companies. Here's a full list of the products and services available through Goldco:
Gold IRA: Add gold – including gold bullion and gold coins – to your retirement account.
Silver IRA: Add silver to your retirement account.
401(k) Rollover: Goldco can help you rollover your traditional or Roth IRA into a precious metals IRA. If you already have an IRA, then you can easily swap funds to Goldco and buy precious metals for your retirement account.
Traditional and Roth IRA Planning: Goldco offers consulting services, helping you choose whether you should open a traditional IRA or Roth IRA. Goldco will also help you allocate precious metals, recommending different precious metals for different investment goals.
SEP IRA: Goldco offers SEP-IRA planning, informing you of eligibility requirements and contribution limits.
Simple IRA Planning: Goldco can help you decide whether or not to open a simple IRA, including how the rules work for gold and silver simple IRA.
Benefits of Goldco
Goldco claims its Self-Directed IRA offers all of the following benefits:
"Allows investment in an asset of stable value"
"Self-directed IRAs come with favorable tax treatment"
"The simplicity of investing in precious metals"
By investing in gold and other precious metals, you're giving your retirement savings a hedge against market volatility. Gold has traditionally been an asset of a stable value, and gold can help protect against inflation.
The Goldco website brings up the fact that the United States owes $22 trillion. They suggest that this debt "will result in future inflation and other economic problems in the long run". With debt not expected to slow down anytime soon, it may be smart to invest in gold today before the USD loses its value.
What about the favorable tax treatment? It's true: a self-directed gold IRA (from Goldco or any company) can be established as either a traditional IRA or a Roth IRA. Traditional accounts use pre-tax dollars and only pax taxes when distributions are taken, while Roth accounts are funded with after-tax contributions that grow tax-free.
To be clear, there are no specific tax advantages to having a gold IRA compared to a stock and bond IRA. However, there is an advantage between a gold IRA and just holding gold coins in a safety deposit box. You're insulating your gold from taxes via a traditional or Roth IRA.
Goldco also claims to be one of the simplest ways to invest in gold. The company claims a self-directed IRA can be a great tool – but it does have its own challenges.
"Our self-directed IRA services will help you avoid any pitfalls and common errors that are commonly encountered by self-directed IRA investors."
Overall, however, Goldco emphasizes the fact that gold will not lose its value.
"Whereas stocks and bonds can lose their value and fall to zero, gold's price remains stable and consistent over time."
Obviously, there are no guarantees about the future price of gold. Yes, gold has historically been a safe investment, but past returns do not guarantee future results – regardless of what Goldco wants you to believe.
What Metals Can You Put in a Goldco IRA?
The IRS has specific rules governing what can be placed in a self-directed precious metals IRA. If you want to open a self-directed IRA with Goldco, then your precious metals need to meet specific standards.
The IRS, for example, will analyze your precious metals based on the following qualifications:
Level of Purity

Gold:995
Silver:999
Platinum:9995
Palladium:9995

Place of Issue: The United States Mint, Royal Canadian Mint, Royal Mint, Perth Mint, etc.
Custody: Precious metals held in your IRA must be held in the custody of an IRS-approved custodian until you reach your retirement age (59.5). From that age onward, you can begin taking distributions either in the form of physical precious metals. Or, you can sell them back at the market price and take the cash.
How Do I Open a Self-Directed Gold IRA with Goldco? What to Expect
Goldco has a straightforward four-step process to start investing in gold with a Goldco Self-Directed IRA. Here's the process:
Step 1) Contact Goldco via Goldco.com or phone at (855) 465-3472
Step 2) Goldco will organize the paperwork allowing you to transfer or rollover funds from an existing IRA, 401(k), or employer-sponsored plan
Step 3) Return the completed paperwork
Step 4) Goldco will open your Self-Directed IRA, then process the necessary documents to transfer the funds to your existing account without having to worry about paying taxes or early withdrawal penalties. Once your account is open, the Goldco representative will help you invest in precious metals. You can invest in a range of precious metals, for example, or invest exclusively in a single precious metal – like gold.
The entire process takes about 2 to 3 weeks.
Goldco Reviews: What Do Customers Have to Say?
Goldco seems to be well-rated online. The company has a Trustpilot page with a perfect five-star rating. 91% of reviews are a perfect 5/5 score, and no reviewer rated the company below 4/5 or "Great".
Goldco Direct also has a Trustpilot page, although there are only 25 reviews under that name. Goldco Direct has an average rating of 4.5 stars out of 5. Most reviews (88%) were 5/5 or "Excellent", and there were no reviews below 4/5 stars.
We're much more impressed, however, with the Consumer Affairs page for Goldco. Goldco has a 5-star rating from Consumer Affairs based on 200+ customer reviews over the past year. Goldco is also an accredited brand on Consumer Affairs, and most of the reviewers are verified, which means they have genuinely used Goldco's services. Again, the vast majority of reviews are a perfect 5-star rating.
Most Goldco reviews state the same thing: the company did what it promised it would do.
We also appreciate that Goldco responds to customers across all review websites. A Goldco representative takes the time to respond to positive and negative comments from customers.
Goldco Fees
Goldco does not list its fees upfront on its website. However, here are some of the notable fees, restrictions, and limits you need to know about:
Goldco has a minimum required investment of $25,000.
You'll pay an annual fee of $175, increasing to $225 for investment accounts over $100,000
One-time account opening fee of $50
$30 wire transfer fee
You also need to pay storage company fees upfront (you pay a separate company – not Goldco – to store your gold), which costs between $100 to $150 (depending on whether or not you choose segregated vault storage)
You'll also need to pay custodian fees (again, Goldco is not acting as the custodian either)
Goldco will cover one year's worth of storage fees for new customers. After that, however, you will need to continue paying gold storage fees every year. Goldco recommends using their partner, Equity Institutional, as a custodian and using Sterling Trust for storage, although you're free to pick any custodian or storage provider.
About Goldco
Goldco is based in Woodland Hills, California. The company was founded in 2006.
According to Inc, Goldco earned $56.1 million in revenue in 2017. Inc. placed #3782 on the Inc. 5000 list in 2018.
Inc also reports the company is led by Brenda Whitman, although the official Goldco website does not list any information about leadership structure or company executives.
Address: 21215 Burbank Blvd Suite 600, Woodland Hills, CA
Phone: (855) 754-4226
You can also contact the company via live chat at Goldco.com.
FAQs About Goldco
Q: What types of precious metals are available with Goldco?
A: Goldco allows you to buy certain coins, bars, and bullion. However, not all coins, bars, and bullion are approved by the IRS, and Goldco makes sure your precious metal investments meet eligibility requirements.
Q: Can I choose my own custodian and storage company?
A: Yes, you can choose your own custodian and storage companies. However, Goldco will recommend specific partner brands, including Sterling Trust for Storage and Equity Institutional as a custodian.
Q: Can't I store my own precious metals at home or in a safety deposit box?
A: The IRS does not allow you to keep your IRA precious metals at home or in an ordinary safety deposit box. The precious metals must be held with an approved trustee.
Q: When can I begin taking distributions from my Goldco Self-Directed IRA?
A: You can start withdrawing from your Goldco IRA at age 59 ½.
Q: How long does it take to roll over a traditional IRA into a gold IRA?
A: It usually takes 2-3 weeks to set up a new account with Goldco.
Q: What are Goldco's fees?
A: Goldco charges a fee of $175 per year. That fee rises to $225 per year on IRAs over $100,000. Annoyingly, Goldco doesn't list its fees upfront on its official website.
Q: Is gold a safe or smart investment?
A: Goldco frequently refers to gold as a safe investment that will help you hedge your retirement savings against market volatility. However, as with any investment, there are no guarantees with gold.
Q: Is Goldco just a middleman?
A: Yes, Goldco is a middleman, although the company prefers to refer to itself as a "broker". The company primarily markets its services to people who are new to investing in gold or silver and are willing to pay for the convenience of a broker.
Final Word
Goldco is a broker that connects investors with gold IRA custodian and gold storage services. As a custodian, Goldco works as a middleman, simplifying the process of setting up a gold IRA.
You'll pay a fee for Goldco's services: $175 to $225 per year. You will also need to pay custodian fees and storage fees (both of which are paid to separate, third-party companies).
Overall, Goldco is well-rated online. However, some customers aren't willing to pay for the convenience of having a middleman arrange their gold IRA.