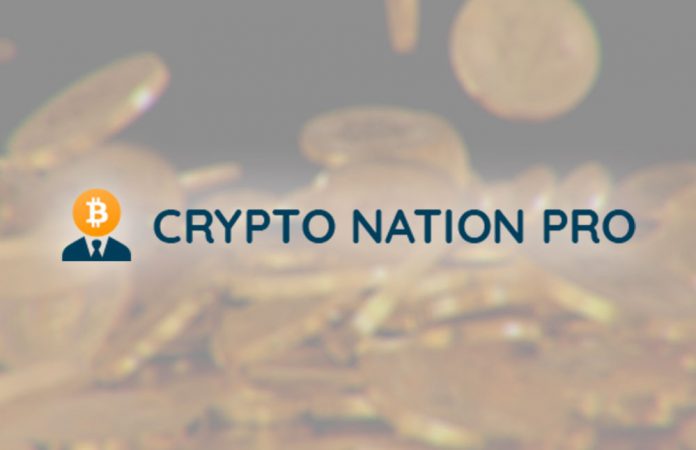 As most of our readers are well aware of, the prices of most popular cryptocurrencies seem to be surging at the moment — with Ethereum recently rising from $200 to a whopping price point of $272 within a period of just 72 hours. As a result of this bullish momentum, more and more people are beginning to take notice of this burgeoning market.
Learn About the Number One Crypto Investment of the Decade Here
What is Crypto Nation Pro?
Crypto Nation Pro is an all-new investment system that seems to have been designed to cash in on the ongoing crypto boom. In regards to how it works, the creators of the program claim to deliver potent trading signals to their users, who can then use this information to start making money ASAP. While all this may sound extremely promising on paper, the folks behind the project have not really disclosed any of the techniques that they are using to ensure such gains (that too within such short periods of time).
Is Crypto Nation Pro Legit?
A quick look at the website makes it seem as though the project is shady, to say the least. For starters, the folks behind Crypto Nation Pro claim to deliver buy/sell signals that are 99.8% accurate. However, there is no data given to back this claim up. Usually, when companies, make such a bold proclamation, they back up their stats with some sort of mathematical data.
Other unfounded claims put forth by the company:
(i) Fastest signal delivery in the market:
The system claims to provide its users with the fastest trading signals ever. This is an extremely dubious claim since most legitimate companies operating within domain tend to refrain from making such statements.
(ii) $2 Million Worth of Payouts Delivered till Date:
The folks over at Crypto Nation Pro claim to have helped their clients make more than $2M to date. However, as amazing as this may sound, there is no evidence to back up such a claim.
(iii) No 1. App in the market:
A common technique used by a host of scammy projects, Crypto Nation Pro also claims to be one of the most awarded investment apps in the market today. This statement is completely baseless since there is absolutely no mention of the platform anywhere on the internet except for the company's official website.
(iv) Featured in Forbes, TIME:
The creators of Crypto Nation Pro claim that their project has been featured across a number of highly respectable media publications such as Forbes, TIME magazine and the Financial Times. Again, there is no evidence available to verify this claim.
Frequently Asked Questions About Crypto Nation Pro
How Does Crypto Nation Pro Work?
As per the official product website, the team behind Crypto Nation Pro routinely send out high-quality trading signals. This data can be used by traders as well as casual crypto enthusiasts to rake in profits in excess of $500 per day. With that being said, the creators of the platform have not really disclosed how they devise their signals, thereby leading us to believe that Crypto Nation Pro might be a quick cash-grab scheme.
How Much Does Crypto Legacy Pro Cost?
Even though the registration process can be completed absolutely free of cost, to start receiving the signals, users need to make a minimum "seed deposit" of $250. Also worth mentioning is the fact that this money is not protected by any financial guarantees, thus interested individuals should really do their own personal research in regards to Crypto Legacy Pro before investing in the system.
What is the Easiest Way to Get Started With Crypto Legacy Pro?
To start making use of the Crypto Legacy Pro system, all one has to do is enter their details on the official company website and then follow the instructions provided to them by their designated Crypto Coach. The coach provides users with exact instructions as to how the given live trading signals should be employed —  so as to maximize one's overall profit potential.
Are Withdrawals Easy?
The creators of the system have stated online that platform users have the right to make withdrawals at any time — irrespective of the amount being taken out. In order to facilitate a withdrawal, all one has to do is follow the instructions outlined on the official company website.
Is Crypto Legacy Pro a Scam or Legit Trading Software?
From the outside looking in, Crypto Legacy Pro is quite obviously a scammy venture. For starters, there is no information regarding the people behind this system provided on the official website. Similarly, the testimonials that are available in regards to the platform are quite clearly fake since the photos are stock images that have been procured from Shutterstock.
Verdict — Scam
In our humble opinion, Crypto Nation Pro is a project that investors, as well as VC enthusiasts, should remain wary of at all costs. All of the signs associated with this app seem to suggest that this is a quick cash grab venture that has been designed by some nefarious individuals in order to ride the ongoing bull wave.
As with the ICO boom of 2017, this project too seems to a scam straight out of the gate so it best that people stay away from it.
Learn About the Number One Crypto Investment of the Decade Here