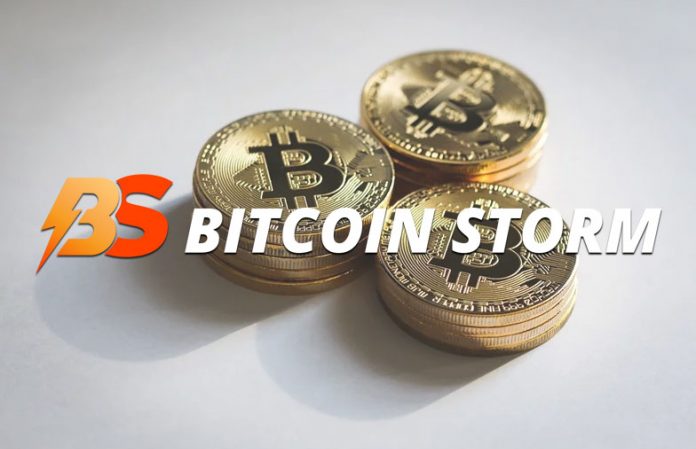 With global interest in cryptocurrency trading at an all-time high, a number of investors are looking to cash in on the ongoing crypto boom that is sweeping the world right now. And even though the market seems to have stabilized over the course of the past few days, many pundits are of the opinion that currencies like Ethereum, XRP, Bitcoin Cash, Litecoin will scale past their ATH values with ease by the end of 2020.
For example, experts predict that Bitcoin could quite easily reach a price point of around $50,000 within the next 10-18 months.
Let's review Bitcoin Storm auto trading software system to see if the investment program is worth its wait or just another fraud platform setup to steal money from unassuming users.
Learn About the Number One Crypto Investment of the Decade Here
What is Bitcoin Storm? Is the Software Legit?
In its most basic sense, Bitcoin Storm can be thought of as an automated crypto trading system that allows users to make profits in a swift and streamlined fashion. However, as good as all this may sound, there is no research data that seems to back any of the claims put forth by the creators of this project. For example, the official product website claims that Bitcoin Storm can help users rake in daily profits in excess of $1100. This number is not only unrealistic but a common tactic used by many scammers to lure in unsuspecting customers.
Red Flags Related to Bitcoin Storm that Should Not be Ignored
(i) No Work Involved:
Any product that claims to help people make insane amounts of money without any apparent hard work should be viewed with a certain degree of suspicion. The same can be said for Bitcoin Revolution since it claims to help customers make more than $20,000 on a monthly basis.
(ii) Claims to be featured in reputable publications:
According to Bitcoin Storm's landing page, the trading system has been featured in stories that have been covered by CNN, the Financial Times (FT), TIME magazine and Forbes. However, as per our research, the product has little to no internet presence. In fact, even the product's website just went online a week back.
(iii) Dubious Testimonials:
All of the testimonials that have been featured on the official company website have been obtained from Shutterstock — an online media repository containing millions of stock photos.
(iv) Minimum Deposit of $250 Required:
In order to make use of the system, users have to make a minimum deposit of $250. This is a common cash-grab tactic that was also used by a number of scammers back when the ICO market was at its peak a couple of years ago.
(v) No Team Details Available:
There are absolutely no details regarding Bitcoin Storm's core dev team available on the website or anywhere else on the internet. This is a surefire sign that the product is either shady or the operators have something to hide.
Frequently Asked Questions About Bitcoin Storm
How Does Bitcoin Storm Work?
In its most basic sense, Bitcoin Storm can be thought of as an automated trading system that makes use of highly advanced bots. According to the official company website, the platform has been devised after careful research and scientific deliberation. Not only that, the creators of the system claim to have used mathematically complex algorithms to ensure that investors are afforded the best possible returns within the shortest timeframe possible. With that being said, there is no hard data to back up any of the aforementioned claims and thus potential investors should proceed with extreme caution when deciding to try Bitcoin Storm.
What Profits Does Bitcoin Storm Claim to Help Generate?
When used on a daily basis, the folks behind Bitcoin Storm claim that their system can allow investors to rake in profits in excess of $1,100 (which works out to nearly $55,000 annually). However, this claim too is totally baseless and there is no evidence that suggests Bitcoin Storm is capable of generating such returns.
How Much Does Bitcoin Storm Software Cost?
Even though the company claims to be giving out a fully functional version of Bitcoin Storm to users for free, it bears mentioning that in order to start trading, users are required to make a minimum deposit of at least $250. This is quite a shady tactic and people looking to invest in this system should think twice before going through with such a deal.
What are the Bitcoin Storm Profit Expectations?
According to the official company website, users of Bitcoin Storm can expect profits of up to $1 million within a couple of months. This figure is not only absurd but is not based on any sort of mathematical evidence. Also, such claims should be viewed as a clear red flag by anyone thinking of investing in this product.
Is Bitcoin Storm a Scam?
After our research, we have come to a concrete conclusion that Bitcoin Storm is an out and out scam that has been devised by nefarious individuals looking to make a quick buck. Everything about this project reeks of shadiness – from the website design to the fake testimonials. Thus, we would like our readers to avoid investing in this product at all costs.
Verdict: Use Bitcoin Storm with Extreme Caution
From the outside looking in, Bitcoin Storm seems to be an out and out scam. Thus, for investors looking to maximize their crypto returns through the use of automated trading bots, we would recommend that they scour the internet for other, higher-quality options.
Learn About the Number One Crypto Investment of the Decade Here