Forsage is a cryptocurrency multilevel marketing company that appeared online in April 2020.
The multilevel marketing company claims to have disrupted the cryptocurrency space with some type of advanced smart contract. While it may not be hailed as the investment of the decade, the question is, is Forsage crypto MLM opportunity even legit to begin with.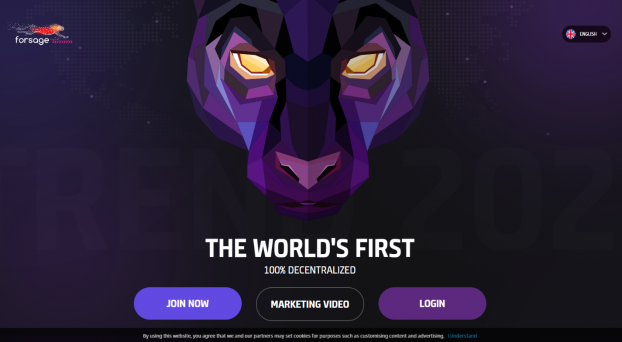 By paying to join the company today, you can become a part of an exciting business opportunity – at least, that's what Forsage claims.
Is Forsage the real deal? Or is this yet another cryptocurrency multilevel marketing scam? Find out today in our Forsage review.
What is Forsage?
Found online at Forsage.io, Forsage is a multilevel marketing (MLM) scheme that claims to have created the world's first 100% decentralized smart contract.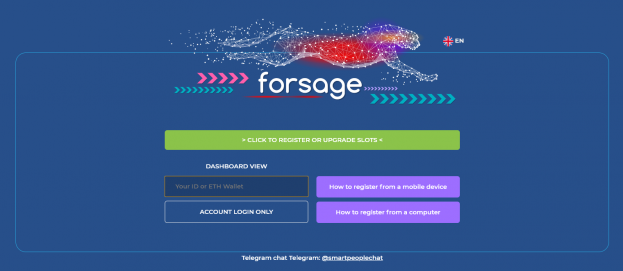 The company claims to have launched their "revolutionary" smart contract on the Ethereum blockchain in February 2020. Now, they're willing to share that disruptive technology with the world.
Here's how Forsage explains its technology:
"On February 6, 2020, Forsage developers deployed a self-executing smart contract on the Ethereum Blockchain that exists in perpetuity and cannot be modified by any entity."
That smart contract "facilitates peer-to-peer commission payments between its program participants."
Forsage describes its smart contract as the "Ethereum Blockchain Matric Project", claiming the smart contract "provides decentralized market participants with the ability to directly engage in personal and business transactions."
The official Forsage website is filled with vague, poorly-defined crypto and blockchain terms. It's like the company is trying to dazzle you with techno-babble to convince you to sign up.
Obviously, Forsage did not create the world's first decentralized smart contract – as claimed on their official website. The first smart contracts were proposed in the early 1990s, before blockchain. Ethereum has supported decentralized smart contracts since launch in 2015.
How Does Forsage Work?
Forsage works like any pyramid scheme or multilevel marketing company: you pay a fee to join, and that fee gets funneled up the pyramid.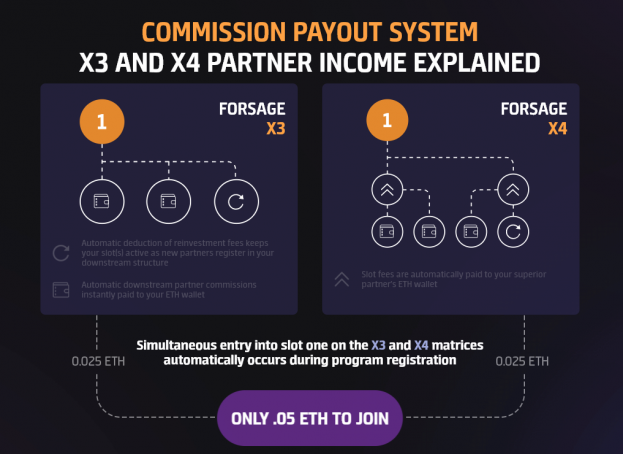 The only way to recover your initial investment is to convince a bunch of people to join underneath you. Eventually, the pyramid scheme collapses when no new members can be recruited.
Step 1) Pay 0.5 ETH to join ($86 USD)
Step 2) Send your friends the link to Forsage; if they sign up, then you get 0.025 ETH commission from each person's 0.5 ETH entry fee
Step 3) The remaining 0.475 ETH gets sent to higher tiers of the pyramid, with most funds directed to the anonymous positions at the top of the scheme (the original scheme's creators)
Forsage uses X3 and X4 matrices. Any members you recruit underneath you will automatically slot into the X3 or X4 matrix.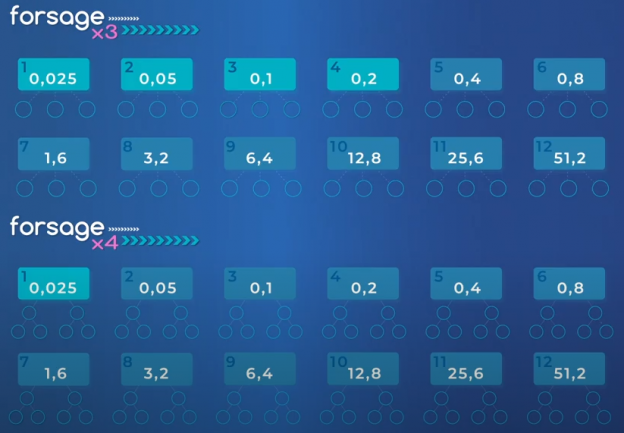 All slot fees are automatically paid to the referrer's ETH wallet. The joining fee is funneled up the pyramid, and Forsage will continue being profitable for members at the top until it collapses, causing the bottom rungs to lose their initial investment.
The Forsage Smart Contract
Forsage has built a smart contract on the Ethereum blockchain. That smart contract replicates the distribution system of a multilevel marketing company.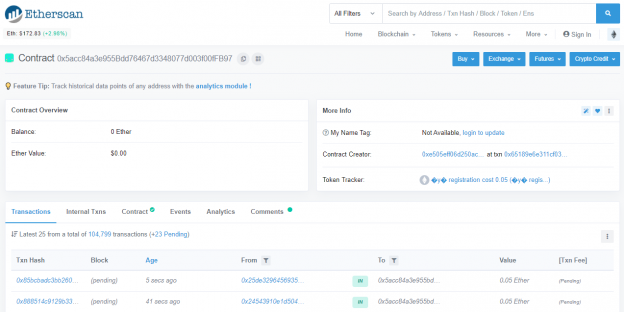 Instead of sending your joining fee to a company, for example, you send the fee to the smart contract. The smart contract sends your fee up the pyramid, and you get your own slot on the pyramid. When you recruit other people into sending money to the smart contract, these new members receive a slot beneath you.
Forsage's smart contract is viewable on the Ethereum blockchain via Etherscan.
The company claims this is the MLM scheme's smart contract: https://etherscan.io/address/5acc84a3e955bdd76467d3348077d003f00ffb97
That address shows a smart contract with over 104,799 transactions, although there's a balance of 0 ETH held in the smart contract.
Forsage Features & Benefits
The Forsage website uses vague terms to describe its features and benefits. Again, Forsage seems to dazzle users with technical jargon that doesn't make a lot of sense.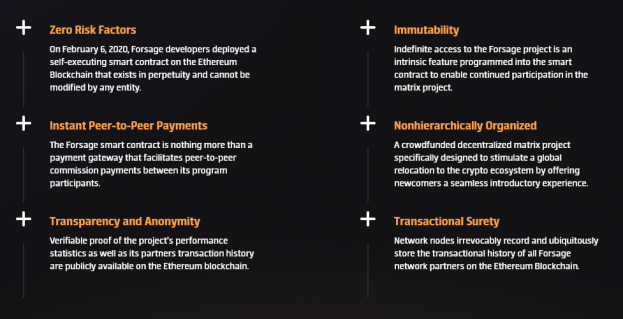 "Zero Risk": Forsage claims that there are "zero risk factors" to its scheme because the smart contract is publicly viewable on the Ethereum blockchain and "cannot be modified by any entity".
Immutable: Forsage claims their smart contract cannot be changed.
Instant Peer-to-Peer Payments: The Forsage smart contract facilitates peer-to-peer payments on the Ethereum blockchain, letting you send money between other members of the scheme.
Non-Hierarchical Organization: Forsage claims to have a non-hierarchical organization that uses matrices instead of a pyramid design.
Transparent: You can view the Forsage smart contract on the Ethereum blockchain, and Forsage discloses the address of the smart contract.
Anonymous: You can participate in the Forsage anonymously. You only reveal your Ethereum wallet address.
$1.2 Million Profit Per Week: As of April 2020, Forsage claims to be generating over $1.2 million in profit every week.
Forsage Profit Claims
As of April 21, 2020, Forsage claims to be generating enormous profit. The company claims to have generated 6,977 ETH of profit this week, for example, and 22,681 ETH profit overall.

In USD terms, Forsage claims to be creating $1.2 million of profit (not just revenue) each week and $3.9 million profit overall.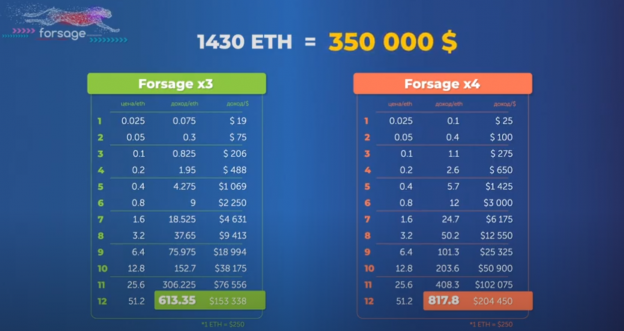 The company also claims to have 9,963 new members this week and over 1,500 new members per day. There's a total of over 32,000 participants in the network.
Who's Behind Forsage?
Forsage does not disclose the names or locations of any individuals behind the scheme.
As with other pyramid schemes, there are admins at the top of each "matrix" or pyramid, and these admins receive the largest chunk of incoming funds.
The only contact information posted on the official website is a Telegram channel (@smartpeoplechat).
The Forsage.io domain was registered on February 9, 2020. All information attached to the domain has been anonymized.
Final Word
Forsage seems like a classic pyramid scheme: the company does not claim to have any product or service. Instead, you pay money (0.5 ETH) to the company's smart contract on the Ethereum blockchain, then attempt to recruit people into the pyramid scheme after you. You receive 0.025 ETH commission for each person you recruit, while the rest of the money gets funneled up the pyramid.
There's limited information online about who's running Forsage or how it works. However, the official Forsage website claims the scheme is generating over $1.2 million of profit each week.
Multilevel marketing companies (MLMs) are legal in certain jurisdictions, but pyramid schemes are illegal in most parts of the world – including the United States. Forsage does not sell any products or services – it's just a membership-based pyramid scheme with anonymous benefactors who placed themselves at the top. All of this makes Forsage an illegal scam.
You can learn more about Forsage or check the scheme for yourself at Forsage.io.