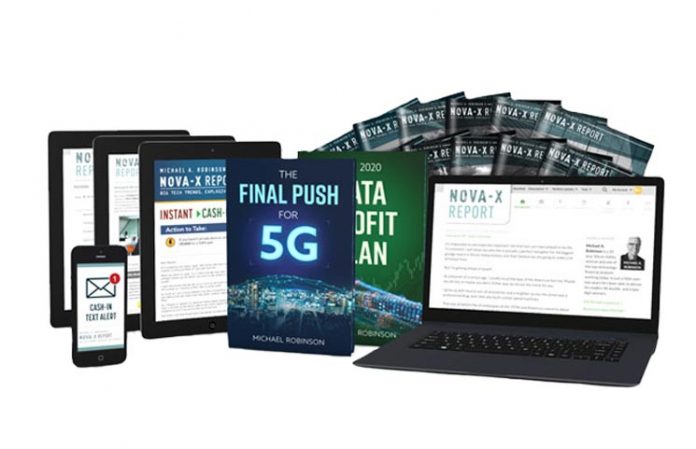 Investor, Michael Robinson Insists that the Internet is "Giving You the Potential to Make up to $125,000" by Year-End
Since COVID-19, people around the world were forced into a lockdown. While some countries were successful in overcoming it, others are still waiting for positive signs prior to lifting any restrictions. The one thing that all of these countries have in common is the excessive use of the Internet.
Investor, Michael. A. Robinson believes that the internet can help to generate up to $125,000 by year-end. How? As per the expert, it depends on a new investment opportunity that allows one to recover whatever financial turmoil they faced. What makes this alleged investment unique is that it does not require one to focus on companies that benefited from the use of the Internet, but rather the internet itself. Given the popularity of the internet, the main problem that is likely to arise is congestion. Robinson believes that this is going to change for the better thanks to 5G or "the fifth generation of mobile networking."
5G is not new, but it has become more in demand due to how much people continue to rely on the internet. Ultimately, $125,000 can be made by investing in 5G. Robinson is currently eyeing a small, San-Diego based firm poised to capture 33.4% of the 5G market. This company produces "fiber cables, cooling systems, tower enclosures and power splitters," all of which are required to make 5G work. Moreover, this company is currently working alongside Verizon, AT&T, T-Mobile and Sprint. Above all, they are hopeful that 5G will be in effect by July 23rd, 2020. Want in on the company? This is where Robinson's Nova-X Report comes into play.
What is the Nova-X Report?
The Nova-X Report is a financial newsletter that focuses on investment opportunities within the technology sector; this would include anything from artificial intelligence and machine learning to cloud-computting and remote-working tools. More specifically, small cap stocks are the key focus here, as established firms are only likely to bring in 10% profit, while the former can bring up to triple-digit gains.
What do we know about Michael Robinson?
Michael Robinson is deemed a veteran when it comes to identifying tech opportunities. Throughout his career, he has taken on the role of consultant, senior advisor and board member for Silicon Valley venture capital firms. This allowed him to learn more about cloud-computing, AI technology and machine learning to name a few. In fact, he is not only the editor of Nova-X Report, but also a more advanced newsletter called, Radical Technology Profits.
What does the Nova-X Report membership entail?
Upon becoming a member of the Nova-X Report, individuals will receive Robinson's recent briefing called, "The Final Push for 5G." In it, he will cover the ins and outs of the firm he has been watchful of, along with a group of 5G chipmakers. Next comes a report that expounds on companies that serve as 5G real estate companies and details on this will be shared in, "The 2020 Data Profit Plan."
As for the overall perks of joining the Nova-X Report, they go as follows:
Regular updates on open positions and new investment opportunities to consider
Cash-in alerts that inform investors on when to sell an investment for optimal profits
Intelligence briefings that cover insiders' view on technological breakthroughs
Cellphone notifications
Video alerts that expound on the latest opportunities that exist
Access to the Nova-X Connection, where members come together to discuss the latest technological advancements
An exclusive talk on a "legendary 5G dealmaker."
How much does the Nova-X Report membership cost?
For limited time, individuals will have access to the Nova-X Report membership for as low as $39. In addition, it will be backed by a 60-day money back guarantee. In this case, if members feel that Robinson's recommendations are not up to par, then it is best to reach out to the team for a full refund. Bear in mind that this offer expires the moment 500 new members join! To get started, customer service can be reached at:
Toll-free (U.S.): (888) 384-8339
International: (443) 353-4519
Final Verdict
The Nova-X Report is an entry level financial newsletter that focuses on stock picks within the technology sector. By becoming a member, individuals will be provided with 5G's most prominent, both in terms of storage and producers of fiber cables and other related facets. The current going price of the Nova-X Report is quite inexpensive as most services range anywhere between $49 and $2000.
Having said all that, former and/or existing members affirm that Robinson has a solid track record, however, the main drawback experienced has a lot to do with poor communication. Select individuals found it difficult to get touch with customer service, let alone get responses to their emails. In addition, some members felt that they entered far too late into the game, forcing them to incur a loss. Ultimately, members need to assess the recommendations made prior to investing, as things can either go well or suffer drastically. To learn more about Michael Robinson's the Nova-X Report, click here.