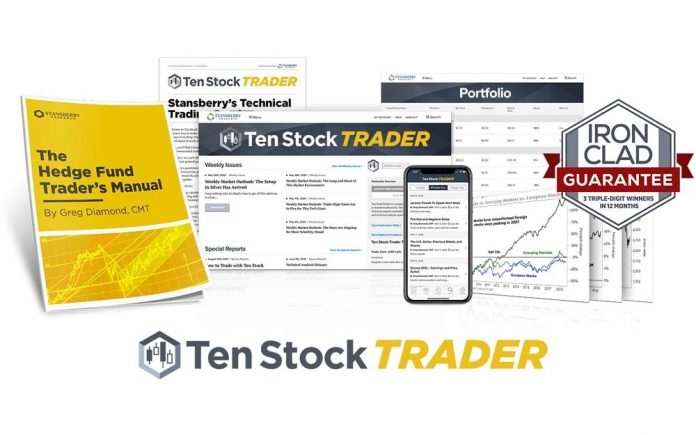 Ten Stock Trader by Greg Diamond, former hedge fund trader and Chartered Market Technician (CMT) at Stansberry Research, is opening up the opportunity for investors to get in on a triple-digit winner using a secret market signal on June 22, 2020.
But could Greg Diamond's Ten Stock Trader and the The Hedge Fund Trader's Manual
really be the best gold mine on the planet right now? Most financial newsletters today focus on unveiling investment opportunities within various sectors. Sure, it is true that individuals who join these services have less work for themselves when it comes to pinpointing innovation as they neither require to do fundamental or technical analyses. But, how does one truly learn? Will individuals have to be lured into such services forever?
According to Greg Diamond, investing isn't just about taking someone's advice and analysis, but also knowing what went behind it. In a recent presentation dubbed, "Former Hedge Fund Trader Reveals: "I Made $4.6 Million for my Former Firm in 24 Hours Watching Just One Market Signal," Greg unveils details on his approaches and what he relied on most during technical analysis processes.
In fact, he was supposedly successful in coming up with a market signal that correctly identified when the market would hit the lows. With an eye for pattern-driven, mathematical approaches to the market, the investor scheduled to reveal a brand-new trade recommendation on Monday, June 22, 2020 and this is all thanks to his market signal. Want in on his approaches? All details regarding his market signal called the "Wave Signal" and select recommendations will be shared in a research service called, Ten Stock Trader.
What is Ten Stock Trader?
Ten Stock Trader is a research service based on technical analysis. With emphasis placed on the global macro environment, this service aims to notify investors of investment opportunities within the stock market. Throughout this yearly membership, individuals will be presented with up to 25 chances to make millions in the time to come. Led by Greg Diamond, he will do all the heavy-duty work; specifically, going over new options and waiting for his specific signal to give the green light on his top ten stocks or funds.
Check Out Ten Stock Trader's Hedge Fund Trader's Manual Today
Who is Greg Diamond?
Greg Diamond is the editor of Ten Stock Trader. With 16 years of trading and portfolio management experience across an array of assets including equities, currencies, commodities, futures, and interest rates, he has successfully traded a $3 billion hedge fund and a $35 billion pension fund. As for his education, his specialization is obviously in technical analysis, and is presently a member of the Market Technicians Association. Who can forget the fact that he holds the Chartered Market Technician (CMT) designation!
What will I get by becoming a member of Ten Stock Trader?
Immediately after signing up, members will get a copy of Greg Diamond's "The Hedge Fund Trader's Manual," which covers the basics of how technical analysis works along with the Wave Signal. In addition, members will come to learn of the charts that he uses on the daily and the necessary steps one should take to execute each recommendation.
Other perks include:
• One full year of Ten Stock Trader covering buys and sells, and a minimum of 25 recommendations
• Access to the Ten Stock Trader app, where members will receive alerts and market updates within their very palm
How much does the Ten Stock Trader membership cost?
Originally priced at $3000, members can now take advantage of Greg's discounted rate of $1500 per year. In addition, Greg is backing his service up with his Ironclad Guarantee, which ensures that either members make triple-digit gains or receive full credit that can be transferred to another financial service offered by Stansberry Research.
Final Thoughts
Ten Stock Trader is a research service that picks stock recommendations from diverse industries based on technical analysis indicators. Led by Greg, who is deemed the guru of said analysis, this service will specifically focus on option puts and calls, ETFs and stocks as assets. To make the most out of one's investments, individuals are usually recommended to start with at least $15,000 as per the official website. That said, the average holding period is said to range anywhere between 1 day and 1 year, so he focuses on both short, intermediate and long-term positions.
In terms of its affordability, the price is fairly high even after the applied discount. That said, low-priced services are usually entry level, so it could be that this is an advanced service. This makes sense given the emphasis placed on technical analysis and Greg's goal of going over them with his members. Given that we are told throughout the presentation that he has an "incredible track record"; this could imply that the price is worthwhile. However, it is too soon tell just based off of their claims and would have been nice to have actual members' feedback.
Ultimately, members should assess their investment goals and trading style prior to joining, as the only guarantee in place at the moment is a full credit towards another Stansberry Research service. To learn more about Stansberry Research's Ten Stock Trader, click the button below: