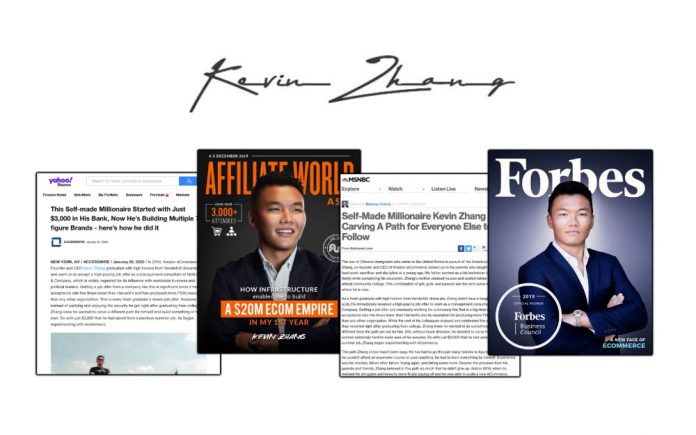 In today's society, eCommerce has and continues to have the largest impact in the way one purchases goods. Not only does it increase job opportunities, it also promotes a learning environment, provides marketplaces for B2B, B2C, and C2C sales, allows for food delivery and so on.
Ever wonder what steps are necessary in making it in the world of eCommerce amidst other competitors? This is where is it most fit to introduce Ecommerce Millionaire Mastery (EMM) by Kevin Zhang.
In EMM, Zhang aims to lay out strategies that help to grow money without the need to invest excessive hours and while maximizing the value of one's efforts. Interestingly, he claims to earn $20 million a year by working a little as an hour a day. Is the earning potential truly that high? Here's what there is to know:
What is Ecommerce Millionaire Mastery (EMM)?
Commonly referred to as EMM, Ecommerce Millionaire Mastery is a course that helps individuals learn everything there is to know in regard to building a successful eCommerce business. Based on Zhang's strategies and experiences, the expert affirms that he will provide step-by-step instructions on how to replicate his success.
Who is Kevin Zhang?
Serial entrepreneur, Kevin Zhang is the instructor behind EMM. Born into a poor family, Zhang used his financial experiences as a driving force to become the person he is today. As per the claims made, he is popularly known for building multiple 8-figure eCommerce brands. By the age of 23, Zhang allegedly became the youngest member of the Forbes Business Council, has spoken in front of large audiences at Affiliate World and has been featured on MentorBox and 100M Academy.
What is the foundation of Ecommerce Millionaire Mastery?
According to the official website, Zhang's strategies shared in EMM are founded on the three dimensions of freedom. Without these factors, he believes that life will be neither fulfilling nor worthwhile. Here's a brief overview of the three dimensions:
Financial Freedom: ability to purchase and experience one's wants.
Time Freedom: if one does not have time, then there's no way to enjoy financial freedom
Determination Freedom: this is the freedom to decide what to do, when to do it and mastering one's schedule
With the EMM, individuals can expect to learn strategies on how to build a successful eCommerce business, while ensuring that none of the freedoms mentioned above are compromised.
What does the Ecommerce Millionaire Mastery course include?
Besides sharing his strategies on selling physical products, Zhang will teach mindset mastery tips and decision-making frameworks and essential digital skills ranging from graphic design and product sourcing to ad strategies that generate profitable business results. Most importantly, he refrains from supporting any form of business scams and believes solely in building consumer trust and loyalty.
For those who are curious about the length of the course, it seems like Zhang is offering a complete package in video series. In particular, there are a total of 178 lessons to be learnt. Here's a preview of what there is to learn:
Module 1: Introduction to Ecommerce (3 lessons)
Module 2: Branded Niche Dropshipping (6 lessons)
Module 3: Ecommerce Consumer Psychology (4 lessons)
Module 4: Shopify Store Mastery (51 lessons)
Module 5: Setting Up Your Facebook Account for Advertising (4 lessons)
Module 6: Making Engaging and Highly Profitable Advertisements (24 lessons)
Module 7: Facebook Ad Strategy Mastery Part 1 (31 lessons)
Module 8: Facebook Ad Strategy Mastery Part 2 (9 lessons)
Module 9: Most Important Business Principles to Understand for Ecommerce (11 lessons)
Module 10: Email Marketing and SMS Marketing for Dropshipping (3 lessons)
Module 11: A/B Testing and Multivariate Testing (2 lessons)
Module 12: Customer Support Best Practices (10 lessons)
Module 13: Keeping Your Business Alive and Out of Trouble (11 lessons)
Module 14: Building Advanced Infrastructure and Achieving Full Automation (20 lessons)
How do I get started?
To get started, individuals are required to reserve a spot to Zhang's Ecommerce Millionaire Mastery. This can be done by visiting KevinZhang.com, and providing one's first name, email address and phone number.
How much does the Ecommerce Millionaire Mastery cost?
According to IMRHYS, who actually purchased the course, the price came out to about $1997. Should the course not meet one's expectations, there's also the option to opt out as Zhang is evidently offering a 7-day money-back guarantee.
Final Thoughts
Based on the analysis above, it is clear that Kevin Zhang's EMM course carries a lot of worth, especially for individuals who are looking to start an eCommerce business. What makes the course rich is Zhang's approach to teaching, which is reflected in the completeness of the lessons covered.
By deciphering the modules, it is clear that his strategy entails focusing on dropshipping. Shopify defines dropshipping as a method in which a store doesn't keep the products it sells in stock, but instead makes a purchase through a third party so that it is directly shipped to the customer.
That said, the main drawback of this course appears to be a lack of variety in website traffic, as he only covers Facebook. While Facebook is popular across the globe, it is just one medium of several to consider. Ultimately, those who are well-advanced in eCommerce might not find this course useful, but the same cannot be said for beginners who are looking to broaden their knowledge.