Debt Relief Secrets is a package of digital products explaining how to escape from debt.
The products are being heavily marketed to Americans who owe significant amounts (over $5,000) of credit card debt. By following the recommendations in Debt Relief Secrets, you can escape from this debt and move on with your life.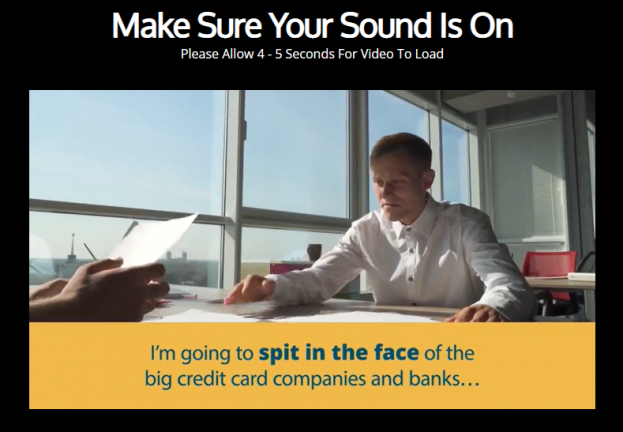 Will Debt Relief Secrets really work? How does Debt Relief Secrets help relieve debt? Find out everything you need to know about Debt Relief Secrets today in our review.
Get Debt Relief Secrets Book Guide Here
What is Debt Relief Secrets?
Debt Relief Secrets is a package of digital products explaining how to escape from multiple types of debt. The package includes the original Debt Relief Secrets eBook, which explains how to pay down debt using various strategies. The package also includes eBooks like Medical Debt Loophole and The Ultimate Money Making Guide.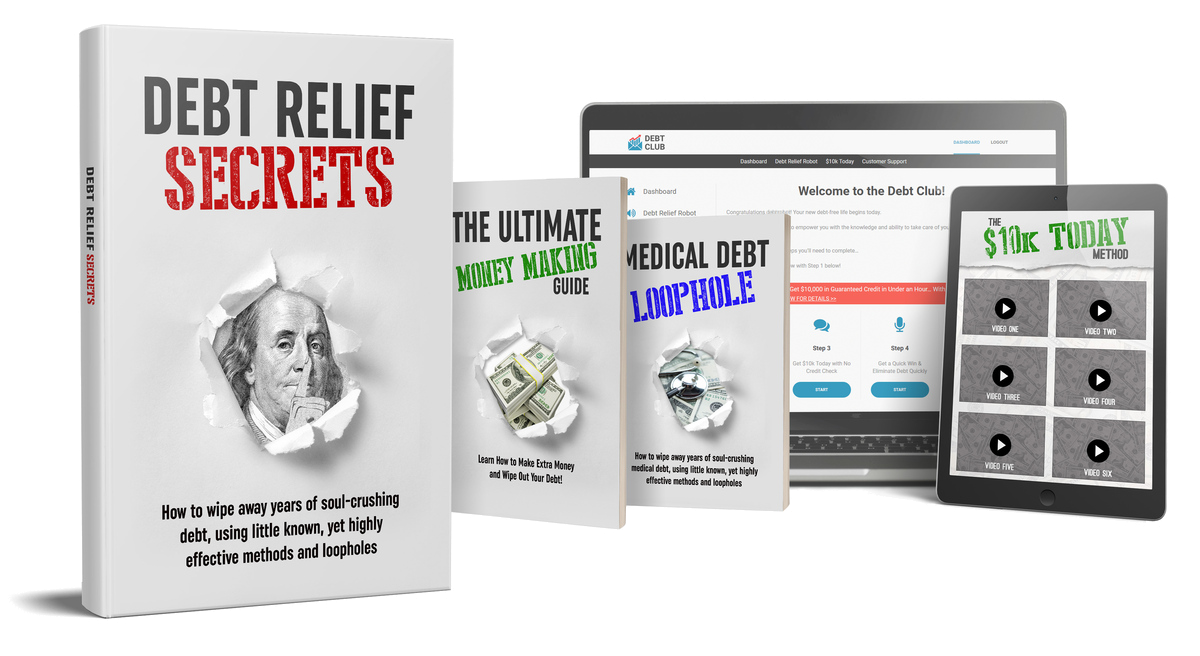 In addition to eBooks, Debt Relief Secrets features a series of tutorial videos called the $10k Today Method.
Debt Relief Secrets is priced at $40. After paying your fee, you'll gain access to all of these digital products immediately. The program includes eBooks, video tutorials, and access to an online platform.
Overall, Debt Relief Secrets claims to teach you how to escape from debt, pay down multiple types of debt, and escape from the burden of debt. According to the introductory video, you'll learn how to "spit in the face of the big credit card companies and banks", paying down your debt and avoiding it forever.
That all sounds good – but Debt Relief Secrets has one big issue: the program is loaded with hidden fees that will push you further into debt. Let's take a closer look at how Debt Relief Secrets works.
How Does Debt Relief Secrets Work?
Debt Relief Secrets shares various strategies for escaping from debt. The debt relief system emphasizes consolidating debt, negotiating with creditors, and engaging in other strategies to lower the amount of money you owe.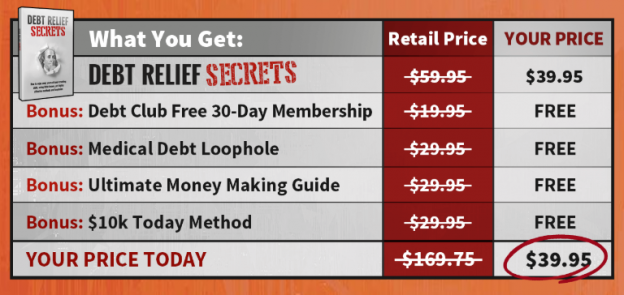 The core of the Debt Relief Secrets program is the main Debt Relief Secrets eBook. That eBook teaches you how to:
Reduce your debts to less than what you owe
Avoid paying the full amount owed on your medical debt, credit card debt, student loans, and more
Letters you can write to creditors to reduce your debt
Lower the balances you owe on your debt
Minimize the damage to your credit score, and how to easily raise your credit score
How to dispute your account status with creditors
How to avoid common scams, traps, and pitfalls
The core of the Debt Relief Secrets system involves sending certified letters to a credit bureau, creditor, or debt collection agency. You request to remove or update erroneous items on these letters, and the creditor can choose the next step.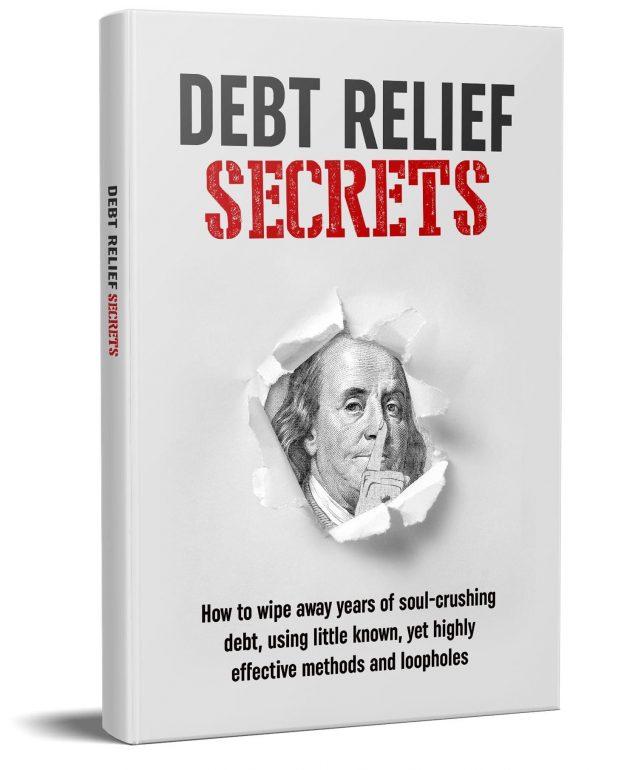 If you search for debt relief strategies online, then you'll find many similar lessons available for free. By challenging your creditors, arranging payment plans, and consolidating debt, you can reduce the amount of money you pay on your debt.
In most cases, you won't technically avoid paying the principal of your debt. However, you can avoid future interest payments.
Let's say you owe $10,000 on your student loans. You will always have to repay a minimum of $10,000. However, with a debt consolidation or repayment plan, you might only pay $2,000 of added interest instead of $5,000.
Overall, the lessons in Debt Relief Secrets are similar to the debt relief lessons you can find online for free. If you're serious about escaping debt, you're better off speaking with a qualified financial expert or debt advisor.
Other Debt Relief Secrets Products
There are three other products in the Debt Relief Secrets package, including:
Medical Debt Loophole: This eBook teaches you how to wipe away years of medical debt using "highly effective methods and loopholes". As with other Debt Relief Secrets strategies, you can expect recommendations for consolidation or repayment negotiation with creditors, among other strategies. There are few 'loopholes' that allow you to genuinely escape from medical debt beyond these strategies.
$10K Today Method: This is a series of video tutorials that explain how to access $10,000 in new, available credit with no credit check required.
The Ultimate Money Making Guide: This eBook contains proven ideas about how to make extra income at home or by working for yourself. You can implement these strategies from home with no startup capital required.
Access to Debt Relief Secrets Community: By signing up for Debt Relief Secrets, you'll get access to the Debt Relief Secrets online community, which includes members at various stages of dealing with their debt. Your price includes a 30-day free trial, after which you need to pay $20 per month to remain active in the group.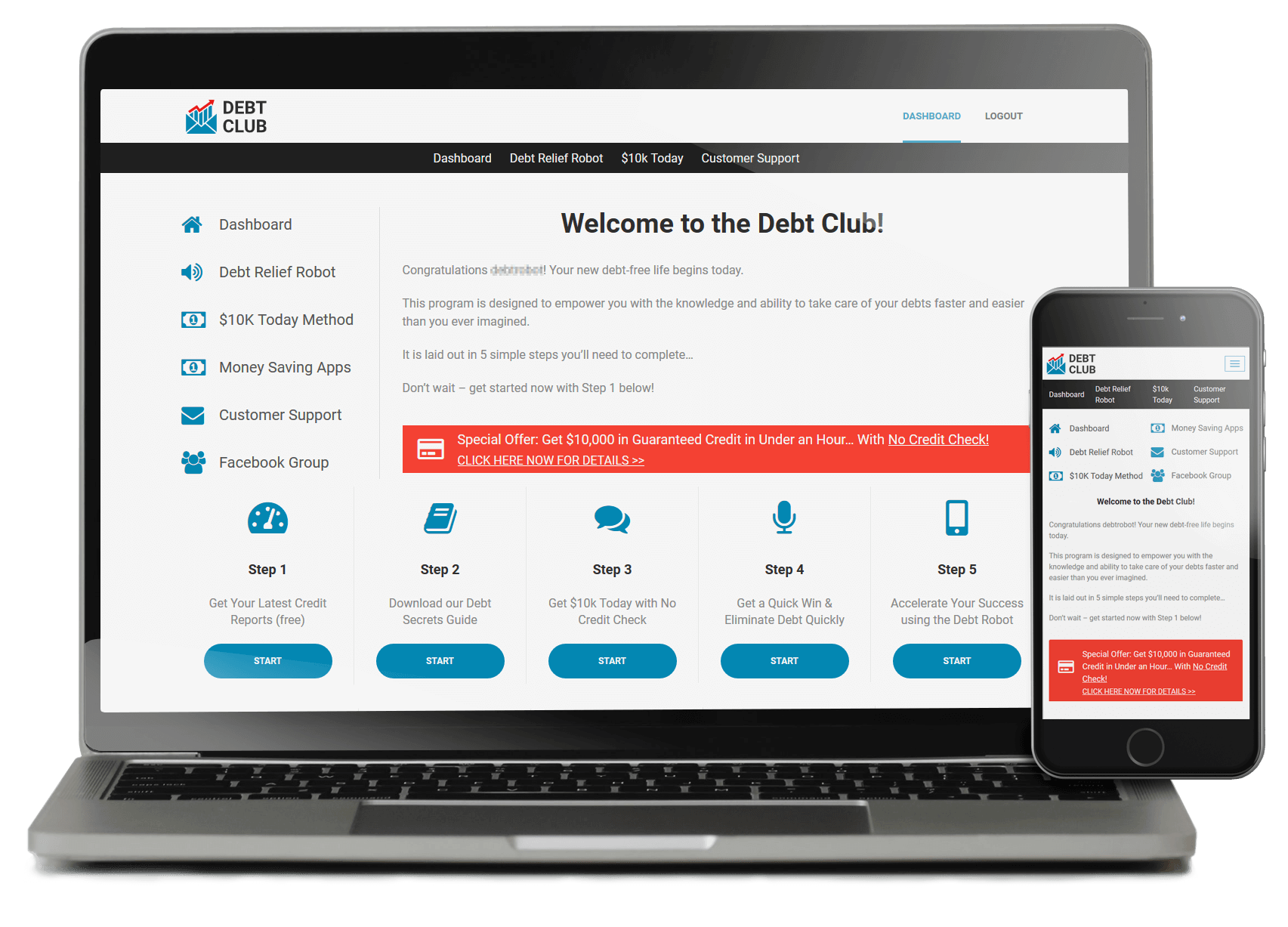 Debt Relief Secrets Pricing
Debt Relief Secrets is priced at $39.95 plus shipping:
1 Debt Relief Secrets Package: $39.95 + $7.95 Shipping ($47.90 Total)
It's unclear if the Debt Relief Secrets is an eBook or physical book. However, since you're paying shipping, we assume you receive a physical book.
You can pay online using any major credit card.
Debt Relief Secrets Hidden Fees
As mentioned above, Debt Relief Secrets is loaded with hidden fees. After entering your credit card information to pay the $40 fee, you'll automatically be subscribed to a high-priced subscription program called Debt Club.
Debt Club, as far as we can tell, is simply the online Debt Relief Secrets community. It's unclear why you would pay $20 to join the club, or why membership is worth over $240 per year.

That program is detailed in fine print at the bottom of the Debt Relief Secrets sales page, where you'll learn that:
Your $40 membership fee only covers a 30-day trial membership; that trial membership starts the day you place your order
30 days after buying Debt Relief Secrets for the first time, and every 30 days after, your credit card will be automatically charged $19.95
To avoid these fees, you must call 1-800-204-7090 or email support@debtreliefsecrets.com
If you cancel within the first 30 days of your purchase, you will not be charged
Debt Relief Secrets claims these aren't 'hidden' fees because they're explained at the bottom of the sales page. However, the company uses small, italicized, hard-to-read font. These hidden fees are also labeled as a 'terms of service' – they're not labeled as extra fees.
Debt Relief Secrets Refund Policy
Debt Relief Secrets has a 'triple your money back guarantee'. If your monthly bills do not decrease by at least what you paid for this book within 90 days, then you'll get triple your money back (you receive $120 via check or PayPal).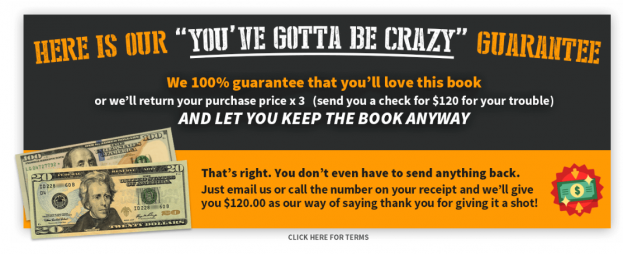 To qualify for the triple refund policy, you must meet the following qualifications:
Owned the book for at least 90 days, with proof of receipt
Logged into the Debt Club member area at least once
Sent three certified letters to a credit bureau, creditor, or debt collection agency requesting to remove or update an erroneous item
If you have done all of these things and have not saved at least $40, then you may qualify for a triple refund and receive $120.
Who's Behind Debt Relief Secrets?
Debt Relief Secrets was created by a company named Credit Heroes (CreditHeroes.org). That company lists a post office box in Scottsdale, Arizona as its mailing address. The company is also affiliated with FinanceCouncil.org, Finance Council, and The Debt Relief Center.

Credit Heroes provides online credit scores that help you get approved for loans, access lower rates on credit cards, and borrow money at a lower price. Most of the company's products are catered towards people with bad credit or debt who want to borrow money without excessive interest rates.
You can contact the makers of Debt Relief Secrets via the following:
Email: support@debtclub.com
Mailing Address: 1776 N Scottsdale Rd. #10548, Scottsdale, AZ 85271
Phone: 1-800-204-7090
Final Word
Debt Relief Secrets is a debt reduction system that teaches you how to contact your creditors to reduce your debts. The program consists of a series of eBooks and video tutorials explaining how to reduce your debt, what to say to creditors, and how to access lower rates for borrowing.
Debt Relief Secrets sounds good, and the product has a good 'triple your refund' policy, where you can get a $120 refund (on your $40 purchase price) if the program did not reduce your debt.
The main problem with Debt Relief Secrets is that it's bundled with hidden fees and a high-priced subscription. By buying Debt Relief Secrets for $40 today, you're automatically subscribed to a $20 per month ($240 per year) online community called Debt Club. You can cancel your subscription any time. When comparing Debt Relief Secrets club and book guide to other credit repair type offers such as Credit Secrets or Credit Score Accelerator, one can never been too sure what they might gain from it as sometimes only a small action can result in a big reward when it comes to lowering personal debts and boosting credit.
To learn more about Debt Relief Secrets and how it works, visit online today at DebtReliefSecrets.com.