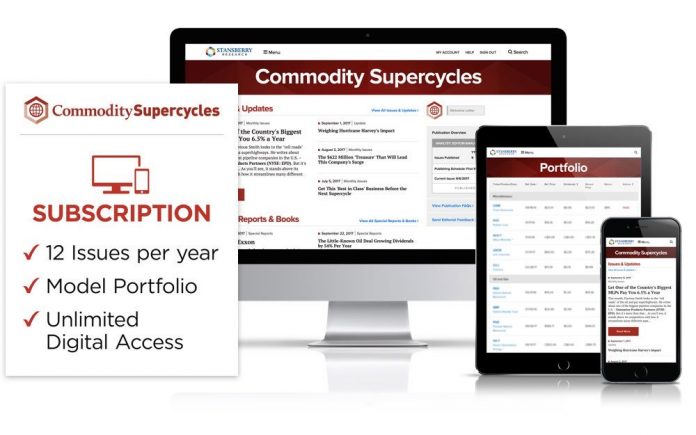 Commodity Supercycles is a subscription that shows consumers the best ways to invest in natural resources to gain a healthy profit. Consumers can only sign up for this subscription through the official Stansberry Research website.
What is Commodity Supercycles?
Investment advice that can bring in consistent profit can be hard to find. There are many resources online that show consumers how to work the stock market and how to be ahead of the trends in technology. However, Commodity Supercycles brings something different – advice on energy and natural resources investments.
Commodity Supercycles brings consumers monthly information on investments that they can make with the energy and natural resource industry. Most of the information delivered to consumers is on resources like oil, gas, coal mining, and related natural resources. This area is rather complex to invest in, and the goal of the researchers is to show investors how the companies work, what their assets are, and how their companies perform. With these details, consumers can feel more encouraged about the investments they'll make, learning exactly what could benefit them the most.
The editor of this subscription, Bill Shaw, originally jointed Stansberry Research about five years ago, following his travels worldwide to better understand the natural resource sector. With Commodity Supercycles, he uses macro-economic indicators to help predict the next major profiters. Shaw has a Bachelor of Science degree from Penn State University in Environmental Resource Management, and he has experience in management roles in land development.
Shaw also contributes as an analyst for Stansberry's Investment Advisory, the flagship publication for Stansberry Research.
Subscribing to Commodity Supercycles
For a limited time, consumers are able to sign up for a trial subscription, though the full year will cost $199 to access. With this payment, the consumer will start receiving a monthly newsletter on the first Wednesday of each month. They will be shown how to invest in stocks regarding natural resources, though the company recommends having about $1,000 in collateral on hand to get the most out of this program.
Along with monthly newsletters with Commodity Supercycles, individuals that sign up will also get access to "Special Readers-Only Reports" at no additional costs. These reports show consumers all the details that they need to know to make the profits they want to see in their own financial portfolios.
Summary
Commodity Supercycles creates a new opportunity for consumers that have decided to invest in natural resources. Natural resources will always be an active sector, but there are many companies that could see a surge in performance and profits, which is exactly what consumers will have access to. By following the recommendations of Shaw through this subscription, there's a chance that consumers could see major gains each month as they pursue these leads.
For any questions about the subscription or Stansberry Research, send an email to info@stansberrycustomerservice.com or call 888-261-2693.