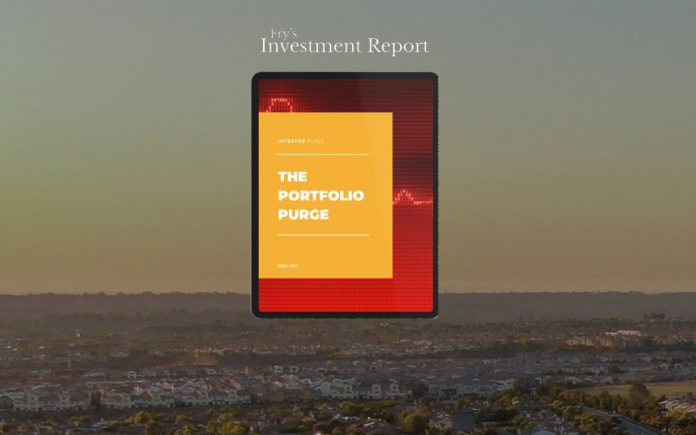 Fry's Investment Report is a newsletter that shows consumers what they can do to invest and make millions of dollars over the course of two years. The only way that consumers can access this newsletter is by signing up on the InvestorPlace website, after which time their content will be delivered digitally.
What is Fry's Investment Report?
Finding investments that consumers can trust is a difficult task. The market is always moving, and there are constant changes on a daily basis that can alter the direction of an investment. Eric Fry has come up with a way to deliver some of these secrets to the average consumer, centering his work around a concept called the Law of Accelerating Returns, which was first conceived by Ray Kurzweil. Though the concept has been around a while now, the details of how this process impacts company growth and the wealth gap can now be found in Fry's Investment Report.
Eric Fry, the creator of the report, states that there's a secret to living in a special town called Atherton, and it has a lot to do with the way that wealth can be built and accumulated. He notes that there's a major gap between the rich and everyone else that has never been seen before, and he knows exactly why it is happening. He tells readers that the key to overcoming this gap is by understanding exactly what is happening to cause it, as well as what consumers can do to fix it.
There are three specific steps that the creator brings consumers to understand during this advertisement, ensuring that they are able to grow their own wealth. To get this kind of information, Eric would ordinarily charge good money for the secrets, but they are now being exposed for absolutely nothing. Using the Law of Accelerating Returns, there's two outcomes consumers can bank on – making money at a rapid pace and making more money with less people to split the profits between.
Eric has already worked as a broker, entrepreneur, analyst, and hedge fund manager, making tons of money in the process. He's even found opportunities for consumers that could've increased their profits by tenfold in recent years, allowing himself and loved ones to make millions of dollars. By following along with a subscription to Fry's Investment Report, it is possible to reach the same amount of success in two years.
While the advertisement on this program is filled with success stories and profits that were majorly missed by companies, these opportunities won't be missed by individuals who subscribe.
Getting Access to Fry's Investment Report
The total cost to get involved right now is $49, allowing consumers to get access to all of the critical research reports made available by Eric and the Investment report. The introductory offer for Fry's Investment Report includes access to:
The Portfolio Purge, a research report that shows consumers what to remove from their own financial portfolio
The 1,000% Portfolio, which shows consumers how to make the biggest gains globally within the next few years
The Next 1,000% Winner, which shows the most profitable tech that no one is looking at right now
The only reason that the creator states that the subscription is priced so low is in attempt to help consumers of today that could position themselves in a more profitable matter. However, if the user doesn't agree with these methods or doesn't find the solutions to be helpful, they have up to 30 days to get a refund.
Contacting Customer Service
Even with the information provided online, consumers may find that they have other questions they want to address in this subscription. The customer service team can be reached by sending an email to feedback@investorplace.com or calling 800-219-8592.
Summary
This newsletter promises big profits, but only if consumers follow along. The price is fairly low for all of the benefits offered and understanding more about an investment portfolio could greatly benefit consumers. Still, none of this information is helpful at all without subscribing to gain access. After a fast payment, the keys to reaching financial stability and massive profits await.