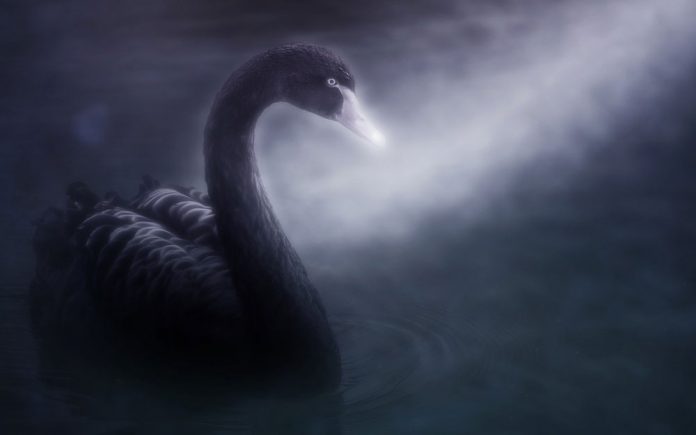 Black Swan Crisis is an upcoming webinar hosted by financial author Adam Baratta.
What is Black Swan Crisis? What will you learn from the event? Why is Baratta talking about catastrophic economic collapses?
Keep reading to discover everything you need to know about Black Swan Crisis.
Get Registered for the Most Shocking Economic Prediction of 2020
What is the Black Swan Crisis Event?
Black Swan Crisis is an online webinar scheduled to take place on January 29, 2020, at 5 pm PST (8 pm EST).
The webinar is hosted by Adam Baratta. Baratta will discuss a mysterious upcoming event that "will come out of nowhere and cause catastrophic damage to our economy".
Smart investors who take advantage of this mysterious event will get a "once-in-a-lifetime opportunity at retirement fortune", according to the Black Swan Crisis marketing page.
Black Swan Crisis is a free webinar. You can register today at the Black Swan Crisis sales page. Just enter your first name, last name, email address, and phone number.
The sales page claims "space is limited". However, it seems unlikely that access to the event will be restricted. You should have no trouble attending Black Swan Crisis.
What Type of Economic Crisis is Black Swan Crisis Referring To?
The Black Swan Crisis webinar will discuss something called a "Black Swan", which is a random and devastating economic event that cannot be predicted by any standard forecasting models.
Once a Black Swan hits, everything gets really bad. Here's how the Black Swan Crisis sales page explains what happens next:
"Once one hits, financial systems collapse, markets crater, and millions can lose their entire life savings."
Of course, there's a silver lining: if you prepare yourself for a Black Swan event in advance, then you can profit enormously from the event.
"Those who know what to look for can make fortunes because these events present once-in-a-lifetime opportunities."
The last Black Swan event occurred in 2008 during the financial crisis. Baratta claims that some of the smartest investors in the world made an enormous profit during that event. "Andrew L. netted a cool $75 million", for example, and "John P. banked an estimated $2.5 billion".
"That's how smart money investors who know what's coming get richer. They know the biggest gains are made at the peak of the pendulum at it turns."
How to Predict a Black Swan Event
It's no secret that predicting events can make investing easier. But how can an ordinary investor like you predict the future?
That's what you'll learn in the Black Swan Crisis webinar. Baratta claims to have predicted several major economic shifts in the past. Now, he wants to equip ordinary investors like you with those same tools.
What Will You Learn During the Black Swan Crisis Webinar?
Baratta will teach you about all of the following during the Black Swain Crisis webinar:
The massive economic shift that will blindside global markets and unprepared investors
A powerful financial force that will send national debt off the charts (and what could be "the final nail in the coffin before all hell breaks loose)
Why the upcoming Black Swan event is predictable, and how to position yourself for exponential growth when it comes
What an ancient European civilization said about why crises repeat and how to profit from them
The real reason the rich have gotten richer over the last 40 years
The shocking similarities between today's economy and the economy in 1929 (Baratta claims "every sign points to a massive financial collapse the likes of which has not been seen since the Great Depression)
What every investor must do right now to protect their retirement savings, take advantage of the upcoming opportunity, and secure a lifetime of wealth
How to Sign Up for Black Swan Crisis
Black Swan Crisis is free to attend. You can sign up for the webinar through GoldIsABetterWay.com.
Baratta claims there's limited space because "over 10,000 people registered for the last two [webinars] alone". However, it doesn't seem Baratta restricts access to his webinars in any way, so space doesn't seem to be an issue.
Who is Adam Baratta?
The Black Swan Crisis sales page describes Adam Baratta as the "#1 financial author in America" and claims he has been featured in Forbes, The Wall Street Journal, and USA Today.
This is all partially true. In 2018, Baratta wrote a book called Gold Is A Better Way, and that book has appeared on the USA Today bestseller chart. In the book, Baratta predicted that the price of gold would rise over the coming years.
Gold Is A Better Way appeared on the USA Today bestseller list. As of January 2020, Gold Is A Better Way is #87 on the USA Today best-selling books list. It reached its peak at #56 and has appeared on the list for two weeks total since being published in August 2018.
Since the release of the book, gold has risen about 30%. Baratta seems to believe there's another economic crisis on the horizon, and that crisis will cause gold to rise even further.
It's unclear why Adam Baratta claims his book is the "#1 financial book". It never reached anywhere close to #1 on any major list of bestsellers, and it only has a few dozen reviews available online. However, Baratta insists the book is "the #1 financial book in America".
Prior to launching Gold Is A Better way, Baratta co-founded a precious metals company called Advantage Gold. Advantage Gold is a Los Angeles-based company that helps users buy gold and other precious metals.
Baratta was born in Philadelphia. He is also an actor: he appeared in several movies in the early 2000s. He also wrote and directed a movie called Do It For Uncle Manny.
Why is Black Swan Crisis Free?
Black Swan Crisis is free because Adam Baratta wants to sell you other products. He gives you a free webinar, collects your contact information, then attempts to sell you other products.
People who attend Black Swan Crisis might buy Baratta's new book, for example, Gold Is A Better Way.
However, Baratta really wants you to sign up for the Gold Is A Better Way Platform & Newsletter Bundle, which is priced at $3,499 per year. That bundle gives readers insight into gold-related trends, investment seminars, and more.
Gold Is A Better Way Platform & Newsletter Bundle: $3,499 Per Year
Gold Is A Better Way Book: $16 ($10 eBook)
What's Included with the Gold Is A Better Way Platform & Newsletter Bundle?
Why would you pay $3,499 per year for an email newsletter and online platform? Baratta claims to provide huge value through his platform. Investors can access videos, investment advice, company analysis information, and even "insider information", according to the sales page.
Some of the things included with your subscription include:
Video Guides: Your subscription includes access to a library of video guides, produced and written by Adam Baratta.
Investment Seminars: Baratta host live investment seminars with financial gurus. He'll discuss the latest topics and trends from the world of investment.
Insider Information: Baratta claims to give users "insider information" they can use to make trades.
In-Depth Investment Analysis: Baratta shares detailed investment information, including the Warren Buffet Indicator, debt to GDP ratio, and other statistics.
Online Dashboard: Baratta gives users access to a financial dashboard that includes a financial report card. You can use this dashboard to track your stocks.
On his LinkedIn page, Baratta claims Gold Is A Better Way has "thousands of members", suggesting that Baratta makes over $1 million per year through his newsletter alone.
Final Word on Reviewing the Black Swan 2020 Crisis Event
Black Swan Crisis is a free, upcoming webinar hosted by Adam Baratta. Baratta recently published a book called Gold Is A Better Way. He also has an email newsletter and subscription-based platform under the same name priced at $3,499 per year.
During the Black Swan Crisis webinar, Baratta will explain how to spot the signs of an upcoming economic crisis: a so-called "Black Swan" event.
After teaching you how to recognize those signs, Baratta will explain how to profit from the crisis – just like so many smart money investors did during the 2008 financial crisis.
Black Swan Crisis is free to attend. It's a no-risk webinar that could provide valuable financial advice.
Get Registered for the Most Shocking Economic Prediction of 2020