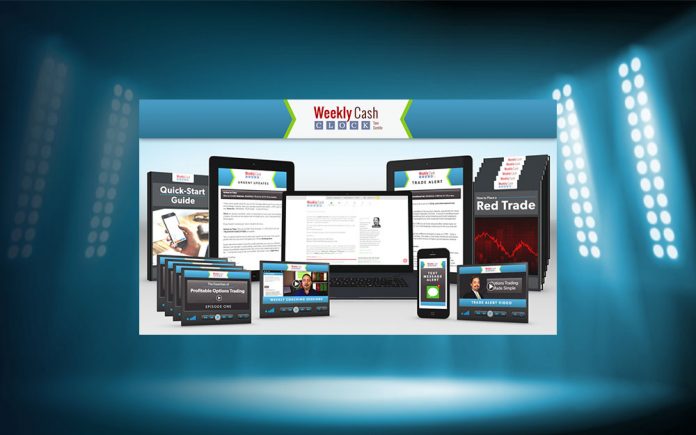 Have you ever for a second considered investments but felt that your starting capital was far too low? In a presentation called, "10X Your Money by August 1, 2020," investor Tom Gentile claims that individuals can generate profits without having to invest so much.
In addition to a rather reduced starting capital, he affirmed that individuals will not have to invest too much time nor require any experience. This is where it is most fit to introduce the Weekly Cash Clock.
Let's review Tom Gentile's Regular to Riches challenge and see how it works with his research service Weekly Cash Clock.
What is Regular to Riches Challenge?
A proprietary system developed by Tom Gentile; the Weekly Cash Clock is an investment newsletter/research service that supposedly has the ability to predict when stocks are about to go up. His system is said to house 200 of the most liquid stocks in the U.S. and from these, Gentile finds stocks that have the potential to triple gains.
Who is Tom Gentile?
Tom Gentile is a trader and editor of the Weekly Cash Clock research service. He is widely known as America's number 1 pattern trader. Everything Gentile is known for today was founded on his passion for options trading back in 1986. His efforts later led him to found Optionetics, which is an options educational platform.
As he continued his role in Optionetics, he came to realize that his passion rests in teaching everything he's learnt in his 30 years of trading.
What does becoming a member of the Weekly Cash Clock mean for me?
For the most part, becoming a member of the Weekly Cash Clock implies that individuals will no longer have to guess or rely on the news to predict the future. Moreover, there will no longer be a need to constantly check emails or sit at the computer all day, as individuals are not required to day trade in any way. Here's what Gentile claims to be offering through his service:
Weekly Cash Clock Alert
Every Monday, Gentile will deliver his Weekly Cash Clock Alert by 12 p.m. ET. He insists that members will receive an email with all of his research outlined in detail.
Weekly Cash Clock Alert Video
The Weekly Cash Clock Alert Video is a 2 to 3-minute video where individuals will get the opportunity to watch Gentile over his shoulder as he shows his approaches. Additionally, individuals will be instructed on how to go about placing a trade.
Weekly Cash Clock Text Messaging Service
One does not simply need to rely on emails anymore, as individuals have the option to sign up to the Weekly Cash Clock Text Messaging Service.
Weekly Cash Clock Quick-Start Guide
This guide provides step-by-step instructions on his analysis of every trade recommendation made. For newbies, an extra section has been dedicated to options trading.
The Essentials of Profitable Options Trading Video Course
This is a four-part online video seminar in which individuals will be learning about trading strategies.
Weekly Cash Clock Online
This is a 24/7 members-only web portal/database consisting of every trade recommendation, analyses and archived reports to date.
6 Weekly Cash Clock Special Reports
Gentile describes his Weekly Cash Clock Special Reports as being a "money-multiplying library" that can help maximize one's subscription to the service.
Weekly Cash Clock Coaching Webinars
Finally comes the Weekly Cash Clock Coaching Webinars, which are offered on a monthly basis. These are only for members and Gentile and his team will share valuable tips, tricks and shortcuts among others.
Frequently Asked Questions (FAQs)
What is Tom's Guarantee?
For the first 500 people who sign up to the Weekly Cash Clock service and as a result take part in the "Regular to Riches" challenge, they will have the opportunity to multiply their money by at least 10 times in 4 months. If individuals were unable to grow their money, as Gentile confidently stands by, then he will extend one's subscription for an extra year for free.
Does Gentile invest in penny stocks?
Given that Gentile prefers to consider low risk investments for his members, he will not be recommending any penny stocks. More specifically, his picks are of top companies in the world.
Who do I contact regarding my membership?
To contact the VIP Services team members, domestic customers are urged to call (888) 384-8339 and for international customers, (443) 353-4770. If calling isn't convenient, one can also fill out a customer service form here.
Is this a refundable offer?
No, the Weekly Cash Clock membership is non-refundable.
How much does the membership cost?
To become a member of the Weekly Cash Clock research service, individuals will have to pay $4,995 per year. The promotion code for this offer is WWCKVB36. It is important to note that, upon signing up, one will be automatically placed in a subscription plan, so the payments will continue until the subscription has been cancelled.
Final Thoughts
The Weekly Cash Clock research service aims to help investors grow their money through options trading. Editor and creator, Tom Gentile appears to carry a lot of value as he's been in the industry for well over 30 years.
In terms of the service at hand, individuals will not only be provided with recommendations, but also an options education. The latter is attractive given that individuals will eventually have a better idea of possible strategies to consider. This is reflected in the diverse, educational tools provided.
One of the main drawbacks of this service is that it is non-refundable. This might be concern for some as the total cost comes out to roughly $5,000, which is fairly expensive compared to competing newsletters. According to existing and/or former members of the Weekly Cash Clock, on average Gentile's win ratio has been about 60/40 (i.e. 40% have been losing trades). For those who prefer to have access to trade histories, this supposedly isn't available as well.
On that note, each individual's experiences are likely to vary, hence, it is the consumer's responsibility to contact customer service regarding any doubts or conduct further research prior to investing.
To learn more about Tom Gentile's Weekly Cash Clock service, click here.