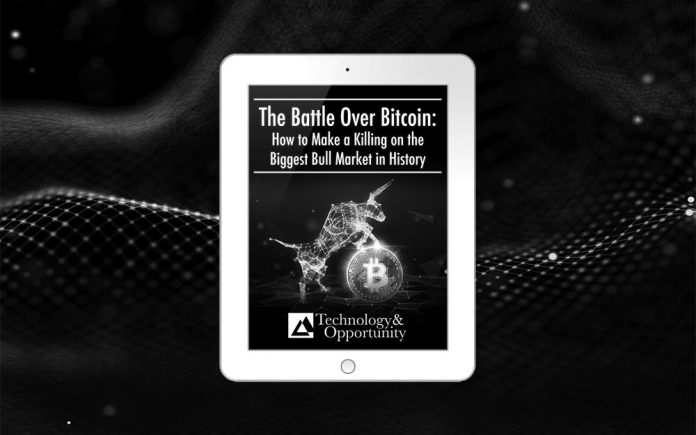 In his presentation called "This Secret Arms Race Could Ming Another Round of Crypto Millionaires in 2020", Jason Stutman talks about the investment opportunities currently available on the crypto market. Furthermore, he discusses his Technology and Opportunity investment service, which is included, together with the presentation, in the Battle Over Bitcoin program.
Get Started with Only a Little Capital
Looking at the profit opening in the cryptocurrency world, Jason says people only have to take advantage of the opportunities in front of them, without buying Bitcoin (BTC), Ethereum (ETH) or any Altcoin. Besides, they need only a little capital to start making a lot of money. For example, they can turn $500 into $135,836 by investing in only one stock. His Battle Over Bitcoin is nothing else but a race BTC miners are involved in. He knows about a company that makes BTC mining processors and will defeat AMD and Nvidia in sales after the BTC halving.
Who Is Jason Stutman?
Jason Stutman currently analyzes tech stocks for Angel Publishing, but this is not the only thing he does. He has also launched the Technology and Opportunity advisory service that provides entertaining, insightful are ready-for-action stock commentaries. He likes to invest in tech disruptors, which means he's focused on new trends. These disruptors are companies that will surely do well with shares or have events overtaking (disrupting) them in the short run. His strategy has always worked. At the moment, Jason is also editing on budding technology for Wealth Daily, focusing on MEMS, autonomous machines, 5G, VR and AI.
What Do People Get with Battle Over Bitcoin?
Battle Over Bitcoin teaches people how to invest in the crypto market. They need to buy stock that belongs to a company making BTC mining machines. The whole idea is to get the stock from this company while it's still cheap. For now, it costs only $5, but Jason says the machines this company makes are going to be in high demand, so the stock will increase tremendously. In order to invest, The Battle Over Bitcoin: How to Make a Killing on the Biggest Bull Market in History report needs to be read in full. It can be obtained for FREE, just by subscribing to Jason's Technology and Opportunity. Aside from the report, potential investors will receive:
Portfolio Updates
The Technology and Opportunity Newsletter
Flash Alerts
Weekly Curated Content
Access to a Private Website
Customer Support
FREE Subscription to the Wealth Daily Newsletter
And there's more…
In addition to all this, a subscription to Jason's newsletter will also bring the following reports, FREE of charge:
The End of Goggle as We Know It: How You Can Profit from the Next Leap in AI
Space Billionaires: The #1 Stock to Own for 2020 and Beyond
Ultranet Profits: Top 3 Stocks for Riding the 5G Revolution
Each of these reports is about the tech space and investments that could be made into this industry's subsectors.
The subscription fee to the Technology and Opportunity service and therefore, The Battle Over Bitcoin program, is $99 a year. It comes with a money-back guarantee and can be canceled at any time for a full refund.
While everyone is interested in learning how to earn bitcoin online, whether investing in blockchain stocks or getting the inside scoop on the investment of the decade, The Battle for Bitcoin by Technology and Opportunity's Jason Stutman is all about helping the everyday investor make a killing during the next bull market cycle for the crypto industry.