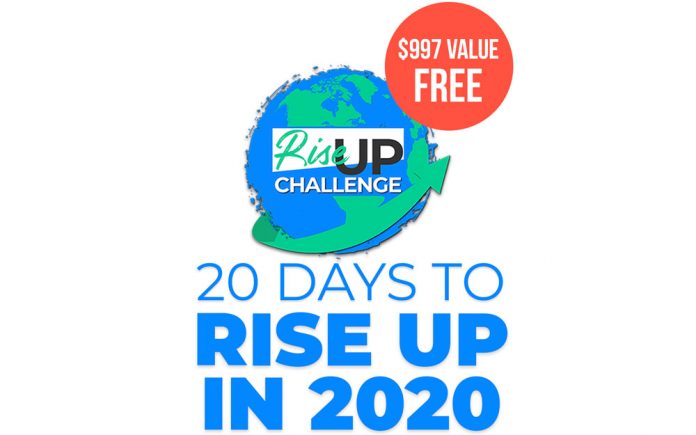 Are you a business owner, entrepreneur, founder or creator? Are you fearful of how things might play out amidst the COVID-19 pandemic? The Rise Up Challenge might be exactly what you are looking for. Here's what there is to know:
What is The Rise Up Challenge?
The Rise Up Challenge is a 20-day live and interactive challenge that has been created to bring together industry leaders who will be sharing their proven tools and strategies. Most importantly, individuals will not only learn how to grow their respective businesses, but also their health, finances, wellnesss and overall mindset.
Who is The Rise Up Challenge hosted by?
The Rise Up Challenge will be hosted by the Founder of Advance Your Reach, Pete Vargas. Vargas is widely known for having successfully grown his business. In fact, his firm is recognized as one of Inc. 5000's fastest growing private companies in all of America.
Advance Your Reach's mission is to help both entrepreneurs and non-profit leaders improve at all stages in life. In 2019, Vargas joined forces with the renowned Tony Robbins and Dean Graziosi to bring the Knowledge Broker Blueprint Workshops across the world. Given his expertise and career path, no one is a better fit as host as he is.
Are there any special guests who will be part of The Rise Up Challenge?
42 individuals holding a wide range of positions will be part of this movement. These individuals include life coaches, motivational speakers, authors, and entrepreneurs among many others. These individuals include:
Kim Vargas, Marie Forleo, Michael Hyatt, Shaun T, JJ Virgin, Todd Herman, Les Brown, Amy Porterfield, Prince EA, Daniel Amen, Dean Graziosi, Lisa Nichols, Pat Quinn, Russell Brunson, Hal Elrod, Pat Flynn, Bret and Chalene Johnson, Garrett Gunderson, Jenna Kutcher, Molly Bloom, Ryan Deiss, Rachel Cruz, Jennifer Allwood, Shanda Sumpter, Jeremy Camp, Ona Brown, Julie Stoian, Erwin McManus, John Gray, Lecrae, Trent Shelton, Pedro Adao, Rich Wilkerson Jr., Eric Worre, Time Grover, Jon Gordon, Ray Higdon, Jack Canfield, Johnny Wimbrey, Joel Marion, Anik Singal and Daymond John.
How much does it cost to join The Rise Up Challenge?
Provided that the number of well-known individuals that are willing to help and teach their respective practices to others, the overall value of this event would have been $997 per person. However, this event is being launched at no cost!
How do I get join The Rise Up Challenge?
One can join The Rise Up Challenge by clicking here. In doing so, it is a matter of entering one's first name, email and phone number.
To learn more about the 20-Day Rise Up Challenge, click here.