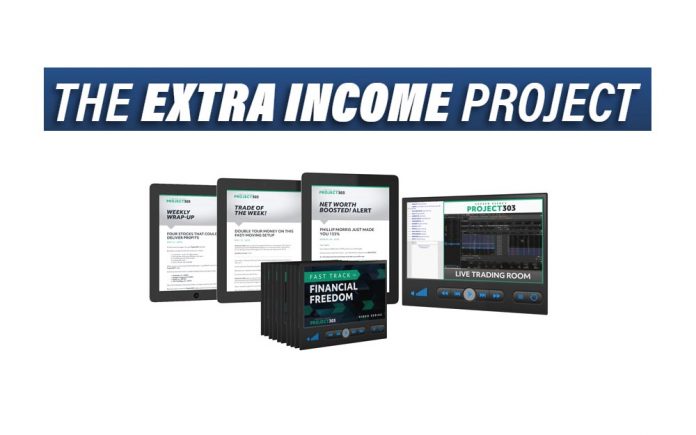 The Great Recession in 2008 cast a dark shadow over the financial portfolios of the whole country. With few people left untouched, it took years for many people to recover their losses. The economy is suffering yet again with the spread of the novel coronavirus.
Still, Andrew Keene found a way to put money in his pocket with a process that has made him a multimillionaire. Now, he is bringing the same methods to Americans who want to improve their finances with Project 303.
What is Project 303?
Andrew states that Project 303 provides the key to potentially collecting $1,000 to $5,000 per week no matter how volatile the markets are swinging. Named for the 30 minutes a day and three days a week that the user needs to commit to, Andrew explains that there's no need to lose an entire savings account, but his techniques could boost any financial portfolio by the thousands each week. While he admits that the idea is a bit extreme, he will also be revealing the methods that helped him to increase his accounts by $2 within a couple of years, even while the stock market was suffering.
Andrew has been frequently featured on major news channels, including CNBC and Fox Business, allowing him to spread the word on his techniques. From cutting lawns as a teen to holding a $5 million fortune as an adult, Andrew's efforts to bring these techniques to the public started with a small group of people that he knew. Now, the recommendations are helping over 3,000 people to make some significant money as well. With Project 303, more people can see the recommendations made by Andrew that could show them how to make big money, which is extremely helpful as many people still struggle to make it through the pandemic.
As Andrew explains, absolutely anyone can learn how to perform these trades, and they can succeed in the toughest of markets. Interestingly, these investments don't have anything to do with advice conventional assets, like cryptocurrency, short stocks, bonds, or gold. It isn't even about trading futures since Andrew has found them to be too unpredictable. Instead, he seems to be centered around the use of options contracts, rather than shares of stocks.
The S.C.A.N. System
Andrew calls the method that he uses the S.C.A.N. System. S.C.A.N. stands for:
Spot the tell.
Confirm the signal.
Automate and execute.
Net worth boosted.
With this set of rules, Andrew can break down the best opportunities for investment, bringing those recommendations to the user in multiple notifications each week. Whenever a trade moves, whether it is against or for the benefit of the investor, Andrew will let them know. With this knowledge, every investment and every move count, but no one is left without direction as they enter the Live Trading Room.
What Commitment Do Users Need to Make?
The Live Trading Room is open every Monday, Wednesday, and Thursday and starts at 9:00 am. By 9:30 am, the participants will have everything that they need to potentially make some money. After the trade recommendation is set, participants will get an email called Weekly Wrap-Up on Fridays, which will tell the user about what they need to do to prepare for the upcoming week if they want to act.
Consumers won't have to worry about having even to do any of the heavy lifting, because Andrew performs the heavy lifting for them. Anyone that signs up as a founding member will get the chance to access recommendations and research and possibly make their fortune. While there are many other insights that he has made available to consumers, these trading recommendations will only be available to individuals that sign up for Project 303.
Additional Content
As a gift to the new founding subscriber, consumers will instantly be able to access a series called The Fast Track to Financial Freedom. The 10-apart series will tell members what they need to do to try out a new way of making money without a lot of risks, as well as the ways that Project 303 can work to saving for retirement.
How to Get Involved with Project 303
For a one-year membership, consumers will pay $129, though they can also sign up for a two-year membership for $199 if they are ready to commit. Buying in today will give founding members a 78% discount off of the one-year price (83% off of the two-year price), giving them a distinct advantage over people who choose to weight. As a bonus, users will also receive a subscription to Profit Pregame and round the clock access to the creator's private website.
If this research service isn't suitable for the user's needs or the member doesn't have a chance to make money, they can get a refund within the first 30 days.
Final Thoughts
Project 303 is an almost-zero hassle way to potentially make a lot of money without spending a lot of it. This service has already gathered a few thousand members, and the price is discounted for a limited time. The content is entirely digital, and consumers only need to take some time a few days of the week to get trade recommendations. There's no requirement to follow the recommendations, but each one has been well-researched by creator Andrew Keene.