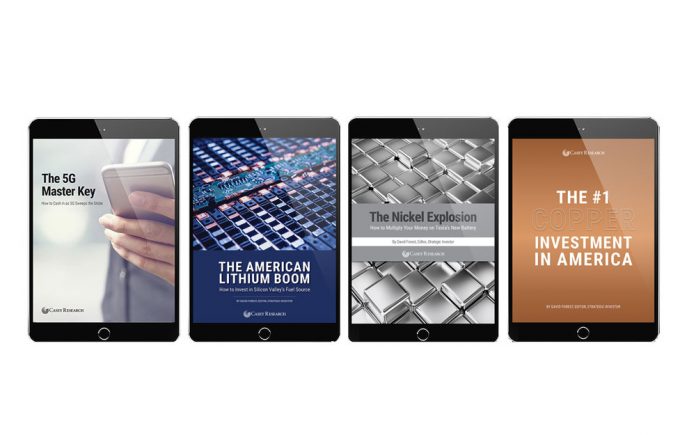 With the coronavirus pandemic currently ravaging the global economy mercilessly, more and more people are looking to make smarter investment choices so that they can secure their futures in the easiest manner possible. In this regard, investor Dave Forest of Casey Research has just released a new strategic investment guide called the "Lithium Tech Fuel report" which outlines a highly lucrative financial opportunity related to a "$4 lithium company" that will most likely be signing a deal with Tesla in the near future — thus spurring the the value of the geo-tech metal (i.e. Lithium) in an upward direction.
To be a bit more specific, a number of geologists and tech specialists (in addition to Forest) too have looked closely at the proposition and believe that Dave is not simply trying to sell investors a far fetched dream. Instead, they also believe that if Tesla does go through with its latest lithium-ion innovation, the price of the metal could skyrocket within the next 1-3 years.
A Closer Look at Dave Forest's Strategic Investor Offering
Simply put, in his most recent iteration of the 'Strategic Investor' report, angel investor, Dave Forest has claimed that there is a $4 company that will most likely be signing a multi-billion dollar agreement with Elon Musk backed electric car firm, Tesla. For those of our readers who may not be aware of who Forest is, he is widely considered to be a pioneer within a host of niche business domains — especially research and financial markets.
Also, as part of the latest report, Forest claims that Lithium along with a number of other geo-tech metals will serve as important fuel sources for the future. Thus, companies operating within this domain are likely to see their values increase quite substantially as time passes on.
From a more technical standpoint, through the use of the "assess, consolidate, position and speculate approach", Forest believes that he has the right formula that can help investors cash in on the incoming mining boom, especially as more and more tech firms start to look for novel ways in which to secure their lithium deposits.
Further elaborating on his conviction regarding Lithium, in his latest report, Dave mentions how Tesla's stock recently stooped to a staggering $350 USD range following the Covid-19 outbreak. However, following the aforementioned speculation, the company's stock value once again rose to around the $1,208.66 USD mark.
Check Out Dave Forest's Strategic Investor Research Report Today
Other points regarding the matter that are worth highlighting:
Just last month, Tesla started taking reservations for its all-electric Cybertruck in China. This is a move that many experts believe has been initiated because the company wants to start operations for its battery-production factory ASAP.
The '$4 company' that Forest believes is primed for big things in the near future has the capacity to supply Tesla with upto 46 years-worth of Lithium (which has been deemed as a critical metal by the global scientific community at large).
Lithium is an extremely important metal for Tesla since its electric cars require batteries that have been made using the substance. Furthermore, even conservative estimates seem to point to the fact that if the deal does infact go through, it stands to help investors make generous profits.
What exactly is 'Strategic Investor'? Is it Worth Investing in?
As mentioned earlier, Strategic Investor is a monthly newsletter that is the brainchild of Dave Forest and published by Casey Research. It provides readers with a whole host of meticulously researched information regarding how to make profits using a number of different strategic avenues.
In his own words, Dave Forest has been time and again quoted as saying that 'strategic resources' (such as Lithium) will help drive the American industrial market in the future. Furthermore, in his view, rare metals like lithium, copper, and gold will become increasingly more popular as we move into the future.
The latest version of Dave's Strategic Investor focuses greatly on the American mining boom and how it is the perfect time right now for people to start looking at Lithium as a serious investment option.
Can Dave Forest be Trusted?
A quick look at Dave Forest's online bio shows us that he is a finance executive who has been working within the mining and petroleum industry for over two decades now. Not only that, he is also a certified geologist, who in the past has made a number of hefty investments in natural commodities like oil, natural gas, uranium and renewables. However, since joining Casey Research, he has taken on the role of a technical analyst/expert whose primary job is now to source out minerals-related stocks that have good future potential.
To elaborate further on the matter, it is worth highlighting that in the past Forest has been involved in the creation of various mineral exploration and development companies. For example, as per his online bio, he helped establish a 10-million-ounce gold deposit in Columbia as well as helped many similar firms obtain their exploration licenses within burgeoning economies like Myanmar.
How Does Membership for Dave's Strategic Investor Newsletter Work?
In its most basic sense, any membership to the Strategic Investor allows users to gain streamlined access to a number of highly researched resource investments. To be a bit more specific, every month, Dave and his team release a new report that contains a detailed breakdown on what's going on within the mining sector. What's more is that the report is perfectly suited for beginners as well as experts. For example, no technical terms are used to describe concepts nor is any technical jargon used to break down certain investments.
In Forest's own words, the goal of the newsletter is deliver users with things like:
Highly specific investment recommendations all year long.
Honest assessments regarding the financial condition of various companies.
An in-depth look at the various short- and long-term prospects of the deals being outlined in the report.
24/7 access to the members only website
Access to a number of charts, figures and diagrams that are meant to break down complex info in the easiest manner possible.
See the Strategic Investor Presentation by Casey Research's Dave Forest
What are Some of the Freebies that Come Along With the Subscription Package?
In addition to all of the membership perks, users are also provided with a total of 4 additional reports absolutely free of cost when they sign up for the Strategic Investment report:
(i) The American Lithium Boom: How to Invest in Silicon Valley's Fuel Source
As the name seems to clearly suggest, this guide compiles a number of Forest's speculations regarding Tesla and some other firms that have access to huge volumes of Lithium.
(ii) The #1 Copper Investment in America
In this report, Forest talks about a "American copper royalty company" that he claims to have found. The firm is currently dealing with a total of 44 ongoing projects that are spread out across five different continents. Additionally, in the report, he also talks about how royalty companies' function as well as how they can help investors get rich in the easiest manner possible.
(iii) The Nickel Explosion: How to Multiply Your Money on Tesla's New Battery
Quite simply, this guide is meant for those people who are looking to make some serious investments in Nickel (particularly within America). Forest claims to have sourced out a niche company that is currently operating in Michigan and is primed to deliver insane returns to its clients using this metal source.
(iv) The 5G Master Key
The report has been devised to help readers understand the key specifics of the highly advanced comms technology and how there are many companies that stand to benefit monetarily if 5G is not deployed for mainstream use.
The Pricing Aspect of 'Strategic Investor'
A quick look at the official company website shows us that a one-year membership of the newsletter is now available to users for a discounted sum of just $49 (the report was originally available for $199).
Furthermore, each purchase comes with a 60-day money back guarantee, incase users feel that the investment advice contained in the reports are not as per their expectations. To facilitate a refund, all one has to do is email Dave and his team.
One shady aspect of the entire setup is that once a user's subscription ends, their membership is automatically renewed at $129 for the coming year. Thus, it is essential to opt out of this automatic payment option at least a day in advance before the day of renewal (so as to avoid unwanted charges).
For any queries, doubts, etc regarding this entire package, users can either send in their questions via the official company website (through the contact us section) or call up on the following number (888) 512-2739.
Bottom Line on Dave Forest's Lithium Tech Fuel Tesla Deal Research
From the outside looking in, a monthly subscription deal for Dave Forest's 'Strategic Investor' does seem like a good proposition, especially when considering Forest's background in geology as well as his vast experience of working within the global mining industry. Furthermore, it does seem as though Forest has a good knowledge of what he's talking about. For example, he knows the ins and outs of the mineral market as well as understands how the entire biz works.
The fact that the subscription for the first year is only $49 makes the offering all the more appealing. Not only that, as mentioned earlier, users also have the option of cancelling their subscriptions at any point, thus there seems to be no apparent risk in going ahead with the deal. Payments can be made via a number of safe and secure avenues including PayPal, AMEX, Mastercard, Visa, etc.
Watch Strategic Investor Research Presentation with Dave Forest Here