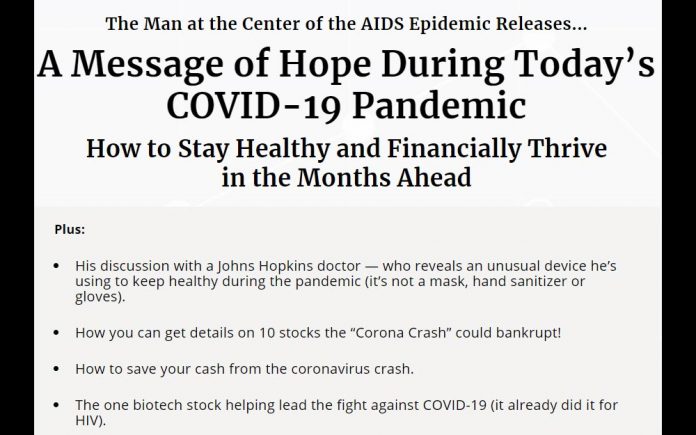 Recently financial expert and editor, Jeff Yastine interviewed Dr. Sorento from Johns Hopkins Medicine. The duo expounded on the ways one could protect their respective families from COVID-19 while covering some leads on investment opportunities that could secure one's savings.
Here are some of the health tips that Dr. Sorento recommended:
Wear masks that are airtight, otherwise, individuals will be vulnerable to the virus
A flattening curve doesn't mean everyone is safe, the suggested precautions should be maintained
Increase vitamin D intake, either through supplements or by getting outside for 30 minutes/day or more
Surely, it might feel as though the virus has taken over civilization, but the doctor insists that this too will pass. In particular he shared that: "Drugs and vaccines in trials are showing great promise […] the FDA authorized emergency use of the antiviral drug, Remdesivir, for COVID-19 patients. Research is showing how it shortens their recovery time from the virus."
Given the reassurance that, health-wise, we will all be okay, Jeff Yastine moves on to how one can secure their finances. This involves making some investments in the stock market. To be more specific, Yastine trusts that there's one biotech stock that is a leader in helping to put COVID-19 to an end. In fact, this very company was the one to have done the same for HIV. In addition, he's found 10 stocks that are likely to go bankrupt as a result of COVID-19.
On that note, this is where it is best fit to introduce Jeff Yastine's Total Wealth Insider. This is described as a money-making and learning opportunity for individuals who are interested in finding alternative ways to secure their wealth. Here's what there it to know:
What is Total Wealth Insider?
Total Wealth Insider is a monthly, financial newsletter led by Jeff Yastine. This is a journey in which the expert will cover top investment opportunities in a wide range of industries including cybersecurity companies and green energy stocks to biotech companies and infrastructure recommendations to name the least.
Who is Jeff Yastine?
Jeff Yastine identifies himself as a financial expert. During his presentation, he affirmed that he was financially capable of overcoming other related pandemics and epidemics including SARs, MERS, avian flu, Ebola, Zika and AIDs respectively.
According to Banyan Hill Publishing, Yastine has well over two decades of experience as a stock market investor and editor. His recognition goes beyond financial newsletters, as he's been quoted in Forbes, Barron's, or Reuters and explicitly appeared on Fox Business News and the Nightly Business Report.
In 2007, he was nominated the "Business Emmy Award" for having covered on America's underfunded systems of roads and other public infrastructure.
What does the Total Wealth Insider membership entail?
Upon becoming a member of Total Wealth Insider, individuals will come to learn of a company that stands out from the 19 others that are racing to find a vaccine for COVID-19. Below is a summary of the biotech firm that he is betting on:
It is based in Massachusetts
It produced one of the first commercial tests for COVID-19 testing that the FDA approved
It produces five million test kits per week
Their breakthrough test was given "CE Mark" in Europe – which is a strong statement that Europe even approves it for testing
They recently acquired a $11.5 billion firm that also produces COVID-19 kits – all authorized by the FDA
In addition to the aforementioned, Yastine will provide a complete analysis on this firm in his report called, "The Biotech Supporting the Race for a COVID-19 Solution." In it, he will reveal the name and ticker symbol, how to get in and out of the stock to capture the most profits, and the latest updates on their R&D.
As for the Total Wealth Insider membership, individuals are entitled to the following:
Monthly research briefings on new investment opportunities
Access to Jeff Yastine's model portfolio
Weekly model portfolio updates
Trade alerts
Daily market briefings and free access to his daily e-letter, "Smart Profits Daily"
Access to a 24/7 members-only website
Bonus Report #1: "The $5 Biotech Stock Revolutionizing Healthcare"
Bonus Report #2: "Hypernet Fortunes: How to Make 10 Times Your Money from the Fastest Technology in History"
Bonus Report #3: "The Blacklist: 10 Stocks to Dump Right Now"
Is Total Wealth Insider affordable?
The Total Wealth Insider appears to be affordable as it was once priced at $199, but currently offered at $47 for the first year. Thereafter, it will cost $97 per year. In addition, Yastine has placed a 12-month money-back guarantee in case members find that his service is either underperforming or doesn't match their trading styles.
It is also important to note that signing up to Total Wealth Insider also implies a free, 3-month access to another newsletter called, Automatic Fortunes, which is written by Ian King. Once this period is up, members will be charged an additional $97.
Final Thoughts
To summarize, Total Wealth Insider is an entry level financial newsletter where individuals will be introduced to a number of firms from diverse industries – all of which can help fortify one's model portfolio. Yastine has widely been recognized for his abilities to overcome pandemics financially.
As an editor, he seems to have generally satisfied individuals' expectations, especially in the quality of his analyses. In terms of its affordability, the service is currently offered at an inexpensive rate. This is a great buying price, as it also comes with a relatively long money-back guarantee.
One thing that individuals should consider is in regard to the recommendations made. Just because an expert affirms that it is a buy, it doesn't mean that one should go in blindly. It is always best to do further research to assess its potential.
That said, should one need more information on Total Wealth Insider, customer service can be contacted at (866) 584-4096 with the promotion code: W19CW529.