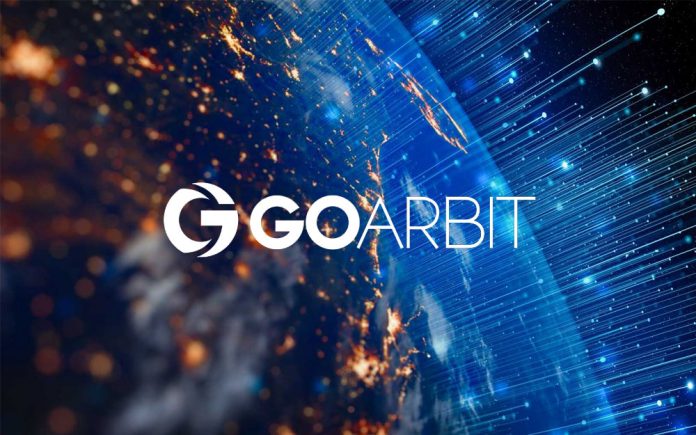 GoArbit is described as a cryptocurrency investment company that emphasizes heavily on trading and arbitraging digital assets. Having launched their official website about a month ago, i.e. Friday, April 3rd, 2020, it was of interest to see what the overall business entailed.
The purpose of this review to provide a complete breakdown on GoArbit, while pinpointing areas that require more clarification (if applicable). By the end, individuals will have a better sense as to whether Go Arbit cryptocurrency trading system aligns with one's own investment goals.
Let's review GoArbit and see if the crypto investment platform can help traders earn bitcoin online or if it is another risky multi-level marketing system like Forsage.
Watch The Crypto Investment of the Decade Right Now
What is GoArbit?
GoArbit is known for its digital crypto currency investment system. In particular, it is run by a private equity business team whose aim is to achieve economic democratization worldwide. Moreover, the team affirms to take advantage of what financial systems have to offer through the use of "next generation technologies that facilitate commercial exchange and allow [them] to obtain excellent results."
Who is behind GoArbit?
The CEO and Founder of GoArbit is Maximo Martinez. Martinez was born in Dominican Republic and has been an entrepreneur since the age of 19. Over the course of time, his passion for entrepreneurship led him to found various traditional businesses and even a leadership school.
When it comes to the notion of blockchain technology, he too was an early analyst, as he got to know of it from the start. After educating himself on crypto-based businesses, he's since involved himself in bitcoin mining farms, and appropriate systems needed to produce cryptocurrencies consistently.
What are GoArbit's Main Pillars?
As per the official website, GoArbit's operations rest on three pillars: Arbitration, Cryptocurrency Mining and Trading. Arbitration is a financial strategy that the team plans to implement in order to take advantage of price discrepancies of the same asset found across different markets. This approach is expected to bring economic benefit to members at little to no risk. Then there's cryptocurrency mining, which is a validation process on blockchain that includes adding transactions and creating new currency. As for the team's approach to trading, details regarding what assets they plan to focus on is ambiguous.
What is there to know about the GoArbit Business Plan?
Based on the GoArbit business plan, there are four bonuses that members could earn, and they are as follows:
Daily Income
Members have the chance to win 0.5% to 1.5% of the package purchased from Monday to Friday. Based on GoArbit's mission, one could assume that "the package purchased" implies some investment bundle.
Direct Bonus
Members supposedly could win from 5% up to 10% "quick start" on all packages.
Binary Bonus
While there's no particular description as to what "binary bonus" means, one could assume that this entails earnings from referrals.
Withdrawal Bonus
Members will receive 2% of withdrawals from all their direct affiliates.
How does GoArbit work?
After reviewing GoArbit's business plan, it seems like this might be a multi-level marketing scheme, where individuals earn commission based on the number of successful joiners. That said, Go Arbit relies heavily on three rank memberships: Go, Silver and Gold.
With the Go Rank membership, the daily income earned is 0.5% followed by 5% in direct bonuses and binary bonuses. The Silver Rank membership is evidently superior to that of Go, as the income-generating potential is higher. More specifically, members will earn 1%, 7% and 7% in daily income, direct bonus and binary bonus respectively. As for the Gold Rank membership the percentages are 1.5%, 10% and 10% respectively.
What is Go Arbit's Career Plan?
As per the career plan, the GoArbit system also claims to give members the chance to win mobile phones, luxury vehicles and trips among others based on the number of points earned. Here's a breakdown of the types of prizes one can win:
10,000 points: iPhone 11 Pro 256 GB (Executive)
20,000 points: MacBook Air (Manager)
60,000 points: Rolex Watch (Director)
400,000 points: BMW 235I 2020 (National Director)
2,000,000 points: Audi R8 (Ambassador)
Can individuals cancel their membership?
For those who are doubtful, there is a cancellation policy in place. In particular, members can cancel their contracts at any time they choose. However, only 70% of the value will be refunded, as the team will be deducting the total earnings acquired to date. To process a refund, one must contact customer service at support@goarbit.com.
What else is there to know in regard to GoArbit?
Here's an overview of what one should bear in mind when it comes to the entirety of Go Arbit:
Payments: Monday to Friday
Minimal Withdrawal: 50USD
Retreat Day: Friday
Withdrawal Fee: 10%
Withdrawal Approval Time: 24 to 48 hours
Packages from: 50USD
Packages earn up to: 200%
How do I get started?
To get started, individuals will have to create an account which entails providing one's full name, preferred username, email and password. Bear in mind that the only way to join is if individuals were provided with a referral code.
Final Thoughts
GoArbit is a digital cryptocurrency investment system with packages available for purchase. These packages give rise to some of many sources of income, as seen in the listed bonuses. Most of the income appears to be generated by purchasing packages and inviting individuals to join under them, i.e. multi-level marketing. Unfortunately, there are a lot of reservations when it comes to GoArbit.
For starters, it is vague as to what these packages entail. Are we dealing with cryptocurrencies, if so which ones? Then there's the different rank titles one can hold. The unease here is that there is no information on how on holds a low versus high rank. Is this something that can be bought into or does it solely rely on the number of members involved?
Then there is the points system which rewards physical goods. While we are told that one can get anywhere between 10,000 and 2,000,000 points, the rate at which such points are offered remains ambiguous. Finally, there is a restriction on who can join as a referral code is needed. So, it appears as though members will not actually come to know who is at the top of the chain.
Ultimately, due to the lack of clarification on what individuals will be purchasing from Go Arbit, along with the obvious blur in the bonus and points systems, individuals are encouraged to contact customer service regarding this system. This is not to say that GoArbit operates with dishonesty, it is more to ensure that individuals are fully informed prior to getting involved.