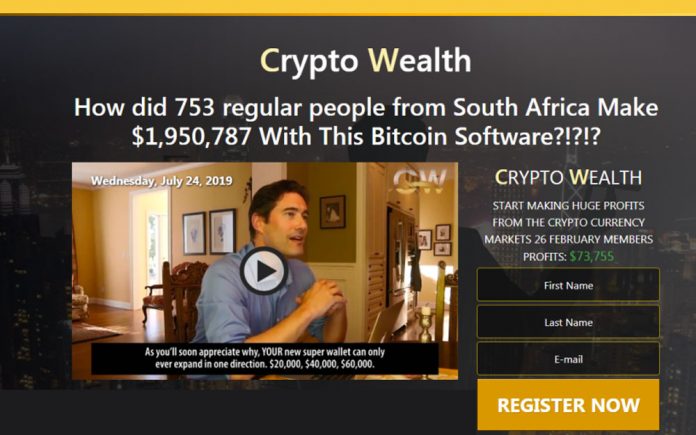 For those who are looking for a trusted Bitcoin (BTC) trading software program, such as Crypto Wealth, may want to do a little more in-depth research on their own. Because this system showcases several signs of being a classic scam program. Not only does Crypto Wealth App make fake claims and promises, there are also many complaints about the trading software, and can be found all over the internet.
Learn About the Number One Crypto Investment of the Decade Here
What is Crypto Wealth App?
Advertised as a trading software for cryptocurrency trading and able to generate profits of thousands in only one day of trades just for being active on the platform, Crypto Wealth quickly loses their credibility from the start. They also make claims their clients have made millions using the Bitcoin software trading program.
These claims in the trading world don't always work this way at all. While millions can indeed be made, they're definitely not made just by being active on a platform and if potential users have done their research into any kind of trading software, know that platforms just cannot guarantee a huge return on investments simply by putting money into it, or everyone would be signing up. Ridiculous claims of substantial profits are usually the first sign that a system is a scam.
"Crypto Wealth App" may if fact be nothing more than a binary options scam that is used by internet marketers to get you to send your hard earned money to an unregulated broker.
Scam Widgets
The Crypto Wealth website uses scam widgets like the count of dollars ticker next to the sign-up form. The system's developers are purposely luring in consumers by claiming those are money made in real-time by others that bought the Bitcoin trading software and system, something that's not true because this is a strategy is also used by scammers to take consumers money.
The profits registered through the counting widgets on the website are huge, which is what proves they're not real. Crypto Wealth lures potential consumers in by blurring the reality and facts.
$250 Deposit
Another common trick used by fraudsters and by Crypto Wealth is to put screenshots of the profits made by their users in presentation videos on the website. Such screenshots can be made by anyone. This system also asks for an initial investment of $250, promising to turn this money into $100,000 in a month.
This is almost impossible in the trading world, not to mention reputable trading systems in the software market don't dare make such wild guarantees. Investing $250 in Crypto Wealth very likely means losing that money for good. Since the deposit can't be under $250, which is enough proof that this system's developers are trying to rip-off customers with as much money as they can.
Fake Testimonials
The reviews on the Crypto Wealth website are obviously fake since they use stock photos and Crypto Wealth users all making false testimonials of profits of over $20,000 every couple of days. Looking around online, most reviews from real people using the Crypto Wealth system are in fact negative.
There are also complaints against their algorithms predictions of market movements, operating style and incorrect placement of trades.
Crypto Wealth App Looks More Like a Scam
The answer to the big question "Is Crypto Wealth just another scam?" is"Yes". The system doesn't appear to be regulated and with all signs indicating that it's just like all the other scams on the internet.
With many users complaining of their experience with this software, some even saying they have lost more than just the $250 deposit. Using fake reviews for advertising and claiming huge profits with a minimum investment is something serious trading operators never do.
Learn About the Number One Crypto Investment of the Decade Here