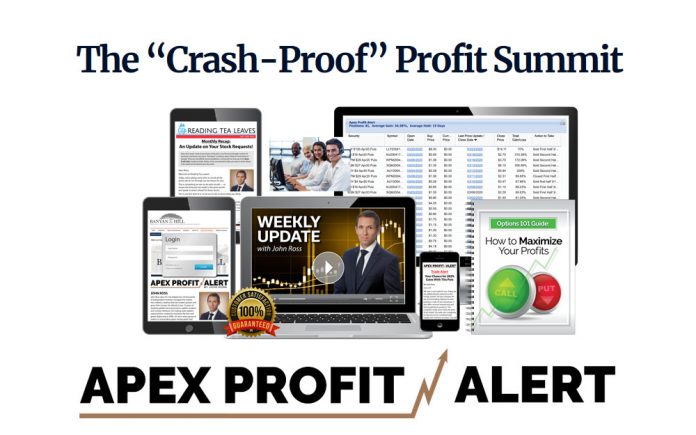 In its most basic sense, The Crash Proof Profit Summit is an advertisement for John Ross' investment advisory service Apex Profit Alert.
In the wake of the destruction caused by COVID-19, a whole host of investors all over the world have started liquidating their personal assets — thus causing volatility ratios to spike to unprecedented levels. However, in the midst of all this confusion, there are a few people that have discovered novel ways in which to preserve their wealth without them having to liquidate their current market positions.
About John Ross
John Ross is an investment expert who has a lot of experience trading in highly volatile markets. In this regard, he claims to have devised a unique system that can help investors navigate through today's bear market in a seamless manner. Additionally, in a recent interview, Ross stated that despite many experts predicting that the bailout package issued by the Federal Reserve will restore the American economy within the coming few weeks, he is sure that the ongoing uncertainty will last a bit longer because nobody really knows how devastating the effects of the ongoing pandemic will really turn out to be.
As per his official bio, Ross started his career at Banyan Hill Publishing where he claims to have learned a number of advanced trading techniques that a lot of average investors might not be privy to. Not only that, he is also highly trained in matters related to technical trading — especially in spotting recurring market patterns and developing unique algorithms.
Other facts about Ross worth pointing out:
He is a regular contributor to a number of respected media publications such as Winner Investor Daily.
John regularly works alongside Matt Badiali to publish the Apex Profit Alert.
It is being reported online that he is currently working to become a certified Chartered Market Technician.
A Closer Look at How the Crash Proof Profit Summit Works…
Users who sign up for the summit will be provided with a whole host of financial tips and tricks to successfully navigate this ongoing market slump. In this regard, John will be providing users with a whole host of profitable spot trades using proprietary trading algorithms that he has developed as part of his Apex Profit System.
Ross is confident that investors who follow his advice will not only be able to stay active during this ongoing bear market but also thrive and make amazing profits. Some of the core facets of the Apex Profit System include:
Subscribers will be provided with weekly updates in relation to market movements — especially those concerning stocks — via a weekly podcast.
John will dish out high-quality trade alerts and short term investment opportunities via various messaging avenues.
Options 101 Guide: As the name suggests, this manual comes replete with a whole host of information that investors can learn from in regard to how options work and how one should trade them.
Reading Tea Leaves. This book is a freebie through which John seeks to help subscribers in learning about stocks and how they can be used to rope in amazing gains.
Exclusive access to John's investment-related encrypted website
Important Details Related to the Crash Proof Profit Summit
(i) Subscription Fee: At press time, John is offering users a massive discount of around 50% on the aforementioned product which means that subscribers only have to pay a combined fee of $2,495.
(ii) Financial Guarantee: In John's words, individuals who follow the advice doled out by him as part of the summit will be able to reap profits in excess of 1,000% within a span of just 12 months. In this regard, he also claims that investors who are not able to rope in heavy profits will be provided with free access to the Apex Profit System.
(iii) Money-back guarantee: If users are not satisfied with the investment advice they receive as part of the Cash Proof Profit Summit, they have a three month time window to file for a full refund.
How Legitimate is the Crash Proof Profit Summit?
For starters, John Ross is a respected market personality who has more than 20 years of real trading experience under his belt. Not only that, there are a number of testimonials available online from people who have been helped immensely by his financial advice.
Last but not least, Ross' monetary strategies have allowed a large number of people to weather various kinds of adverse market conditions in a seamless manner.
Pros and Cons
A look at the ups and downs about John Ross' Crash-Proof Profit Summit and his Apex Profit Alert system.
The good
All of the investment advice doled out by John relies entirely on spot trade data that has been devised using computer algorithms.
The information that John is giving out is completely objective in nature and does not carry with it any hint of financial bias.
As things stand, subscribers can avail of this system at a 50% discount.
The bad
There are only 1000 seats available for people looking to sign up for the Crash Proof Profit Summit.
Verdict — Can You Trust What's On Offer?
In closing out this article, it should be made clear that the Crash Proof Profit Summit is currently one of the better strategic options that one can avail of to protect their assets — especially as markets all over the world continue to become more volatile with each passing day. Also, as mentioned previously, Ross' advice seems to have helped a lot of people since the start of 2020 and thus it could be useful for people to check out this offering.
With that being said, there are no guarantees when it comes to the investment game and it is of utmost importance that people carry out their personal research before putting their money into this product.