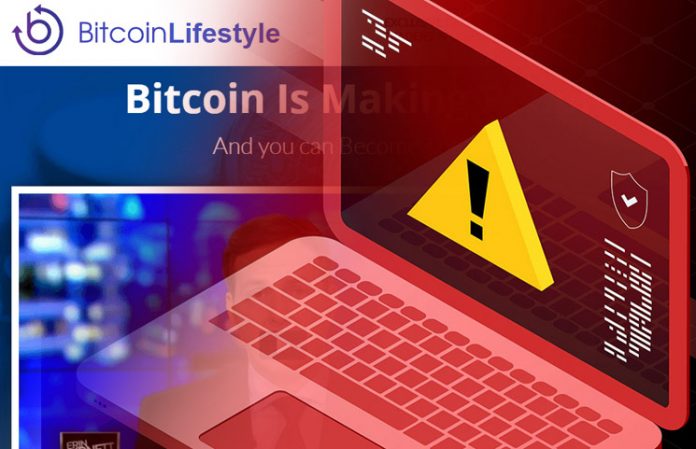 Ever since the May Bitcoin halving event of 2020, many investors became confident that it would be the next big profit-generator. With a reduced supply of mined bitcoins, comes a tremendous price hike in value. Today, many apps claim that they can help investors become millionaires by investing in Bitcoin. Of the several comes a recently launched concept called Bitcoin LifeStyle. As disclosed by its unnamed team, the embedded system allows one to grow their wealth by spending little money and effort. The purpose of this review is to assess how legitimate Bitcoin LifeStyle truly is.
Watch The Investment of the Decade with Teeka Tiwari Today
What is Bitcoin LifeStyle?
Bitcoin LifeStyle is an app that serves as an online trading platform. Designed to work based on the real trading world, it allegedly runs on select software and algorithms. The information housed within this system is said to have been put together by "the online gurus on [their] team."
How does Bitcoin LifeStyle work?
The Bitcoin Lifestyle app relies on the cryptocurrency market. As per the official website, most of the work is done by the embedded algorithms, which assesses various markets to inform individuals of heightened trading opportunities. As a result, the overall analyses produced is reasoned to have an accuracy rate of 99.4%, not to forget its ability to make moves 0.01 seconds before the actual market. Lastly, individuals can either allow the app to do all the trading for them or adjust the settings so that one can manually place trades.
What is the money-making potential with Bitcoin Lifestyle?
The money-making potential with Bitcoin LifeStyle has been advertised as being relatively high. In fact, individuals can expect to make as much as $1,500 a day and more depending on how much time one invests. But, on average a matter of "a couple of minutes a day" apparently suffices.
Is There a Fee to Join Bitcoin LifeStyle?
Based on what's been explicitly disclosed, there are no (hidden) fees to joining the Bitcoin Lifestyle app. It is deemed as simple as starting with a capital of as little as $250 and getting right into its trading aspects.
Is Bitcoin LifeStyle legitimate?
Based on the analysis above, the legitimacy of Bitcoin LifeStyle is quite questionable. In fact, it appears to be a recycled scam, where the same information has been reproduced but under a unique logo. That said, there are a number of other obvious factors that make it illegitimate. First, nowhere are we told who the creators of the app are, let alone the "online gurus" on the team. Not knowing such information is indicative of how little transparency this app holds.
Second, a 99.4% accuracy rate appears to be impractical. This is based on the mere fact that the cryptocurrency market has been underperforming since the end of 2017. In addition, for the team to make such strong claims about a system, more details regarding the technology should have been provided, but this is not the case. This leads to the question as to whether such a technology even exists for that matter.
Next, in the advertisement itself, individuals are told that "Bitcoin is Making People Rich and you can Become the Next Millionaire." Again, such claims are just ways of luring in investors. Moreover, the suggested money-making potential is unlikely because even if one were to start with $250, it is only equivalent to about 0.02 of one Bitcoin at its current price. So should Bitcoin's value surge to $50,000, such an investment will not result in millions of dollars in profit.
Finally, for a system that has a 99.4%-win rate, it seems too good to be true that it is offered for free. It turns out that such apps usually have a bot attached to one's account. In this case, the moment one joins Bitcoin LifeStyle, the risk of having their credit cards compromised is high. Ultimately, individuals are suggested to proceed with caution, as the Bitcoin LifeStyle app might be nothing more than a rip-off.