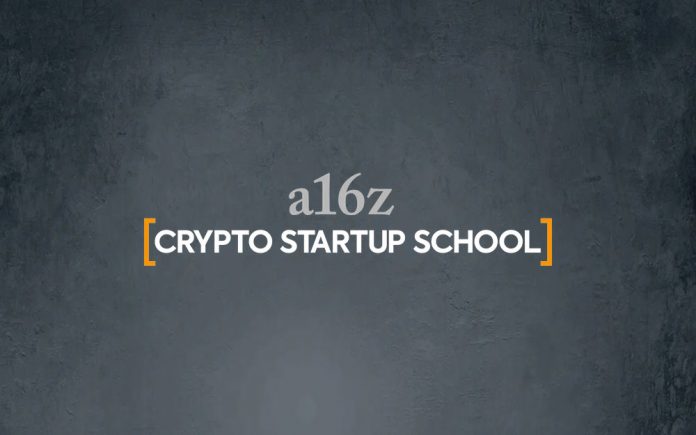 Andreessen Horowitz Launches Free Crypto Startup School for New Crypto Entrepreneurs
Earlier this year, Silicon Valley venture capital firm Andreessen Horowitz launched Crypto Startup School, a seven-week course aimed at teaching entrepreneurs how to build crypto companies. Now, thanks to a partnership with TechCrunch, that course is available online for free.
Over the seven-week course, 45 participants from around the world learned how to create and grow a cryptocurrency company. They met with company founders and executives, learning how to manage and build a crypto startup.
Over the next few weeks, Andreessen Horowitz is releasing the course online as part of a partnership with TechCrunch. The course will be available online open source, allowing anybody to access the material and learn to launch their own crypto company.
TechCrunch has already released several course videos through YouTube. You can also view the videos at the official Andreessen Horowitz website here: https://a16z.com/crypto-startup-school/
There are currently 11 videos in the 'a16z Crypto Startup School' playlist. The videos interview top tech founders, highlighting some of the strategies these founders used to grow their business.
Here's how Andreesen Horowitz (abbreviated a16z) explains the program:
"a16z Crypto Startup School is a series of lectures and discussions given by experts to help technologists learn how to build crypto companies."
You can learn more about the Crypto Startup School here.
Andreessen Horowitz hopes that by making the program open source, they inspire more entrepreneurs to build and grow crypto companies:
"Now we're making the course videos available to you. In partnership with TechCrunch, we're releasing a new course module every week for the next several weeks. We hope that the hours of real-world insights contained in these videos over the next few weeks will help a new generation of talented technologists navigate the idea maze and get started building crypto projects."
The original Crypto Startup School took place from late February to mid-April. a16z selected 45 students from among thousands of applicants. These students attended the a16z Crypto Startup School in-person and then online.
What Will You Learn in Crypto Startup School?
The free version of Crypto Startup School consists of 11 videos 35 to 60 minutes long. Each video features one subject matter expert discussing his or her unique challenges and solutions faced when building a tech or crypto company.
Each course is led by an 'instructor', which is the person being interviewed. It's all performed in a 'fireside chat' environment.
In one virtual fireside chat, a16z General Partner Chris Dixon and GitHub and Chatterbug co-founder Tom Preston-Werner discuss "building companies and developer communities". The pair emphasize the importance of open source development. Preston-Werner praises the clean, developer-focused interface of GitHub for inspiring its wide adoption.
Other videos in the series include:
Building Crypto Companies: Setting Up and Scaling a Crypto Company with Brian Armstrong
The Future of Applications: Today & 2015 with Balaji Srinivasan
Gaming & Crypto: Opportunities for Crypto in Gaming with Josh Williams
Economic Flywheels: Business Models and Value Capture with Ali Yahya
Incentive Engineering: Cryptoeconomics 101 with Sam Williams
a16z is already planning to release 4 more videos, including Protocols vs. Products (with Nitya Subramanian), Security in Crypto (with Jutta Steiner), and Deal Structure in Crypto (with Jesse Walden), among others.
It's unclear if a16z will offer the entire course for free online, or if they'll just release snippets of the course.
However, a16z has already released over 9 hours of free course content.
Overall, the videos cover topics that are relevant to those building and growing crypto companies. They cover scalability, for example, managing a remote workforce, and how to build a successful company in as little as 12 to 18 months.
The videos also cover more specific topics. One video explains how compensation works for crypto companies, including how crypto companies can allocate tokens instead of more-traditional shares. Other videos discuss employment laws, including whether or not to use Professional Employer Organizations (PEOs).
To catch up on the a16z Crypto Startup School videos so far, visit the free online course here: https://a16z.com/crypto-startup-school/