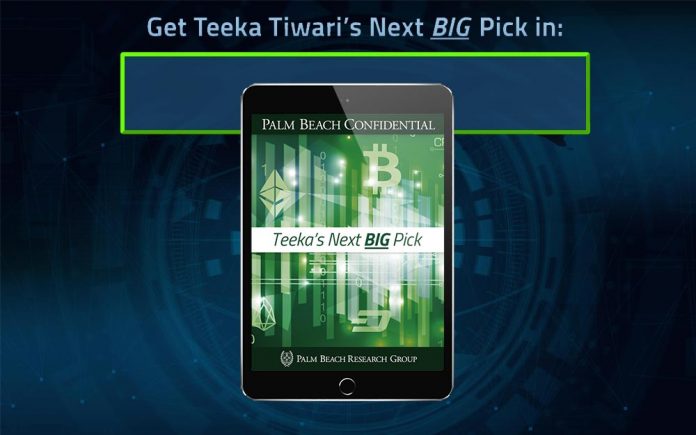 Just Days Away Until Teeka Tiwari Reveals his Next Big Crypto Pick Via Palm Beach Confidential
Number one most-trusted crypto-investing expert, Teeka Tiwari is planning to reveal his next big pick that can double, triple or even quadruple every $500 investment. He affirms that there is one more event that is poised to push the cryptocurrencies into a bull market. One might assume that this has to do with the Bitcoin Halving, but this is not the case at all.
It turns out that the expert currently has his eyes set on a tiny crypto project that aims to "solve a multi-billion-dollar problem." The profit-generating potential is on the brink of exploding, as he anticipates a gain of up to 156,753% in the years to come. The reason why he stands by the cryptosphere despite its under-performance is that the World Economic Forum supposedly projected that crypto assets could increase by 295,762% within the next seven years. Moreover, it is likely to revolutionize mainstream finance, namely the world's biggest financial institutions.
With all that in mind, in order to get hold of information on this "tiny investment decision", individuals will have to sign up to Tiwari's Palm Beach Confidential.
What is Palm Beach Confidential?
Palm Beach Confidential is a monthly newsletter that covers investment opportunities within the crypto space. Led by Tiwari who emphasizes on cryptocurrencies with market caps of under $1 billion, the newsletter is supposedly founded on a strategy called "asymmetric investing."
Brief Overview on Asymmetric Investing
Asymmetric investing is a strategy in which the risks and rewards are off-centered so that the profits are greater than the losses. This approach usually indicates a limited downfall and unlimited possibilities when it comes to upward trends.
Who is Teeka Tiwari?
Teeka Tiwari is the editor of The Palm Beach Letter, Palm Beach Confidential, Alpha Edge, Palm Beach Venture, Palm Beach Quant and Palm Beach Crypto Income Quarterly. His experience in the financial world was supposedly shaped through his roles as a former hedge fund manager and Wall Street executive.
He is viewed as an investor who achieved many firsts at such a young age. For instance, he was 18 when he worked as an employee at Lehman Brothers and 20 when he was the Vice President of Shearson Lehman. As he reached new heights, he also had a number of setbacks. Ultimately, his 31-year career motivated him to thrive towards his personal mission: "to help teach individual investors how to grow their money safely."
What does the Palm Beach Confidential membership include?
By becoming a member of Palm Beach Confidential today, individuals will be provided with his next big pick in the new monthly issue published in two days' time. Next comes Tiwari's "Crypto Master Course," which is a video series compiled to instruct everyone on how to go about owning cryptocurrencies to the fine details of trading. This supposedly invites newcomers to the crypto space and fills in any voids in knowledge possible.
Members will also have access to the Palm Beach Confidential portfolio where Tiwari will publish his latest updates on each of the cryptocurrencies that he has since recommended, as well as 12 monthly issues, video updates and a members' only website filled with his research.
Finally, he will release a bonus report called, "The 2020 Phenomenon Playbook: 5 Coins to $5 Million." In it, he covers details on an event that happened to Bitcoin this year (i.e. halving). Though it already took place, there's supposedly still time to make huge gains, as its effects usually kick in over a span of two years. For those interested in short-term crypto holdings, Tiwari will also offer bonus crypto trades via email alerts.
How much does the Palm Beach Confidential membership cost?
The Palm Beach Confidential membership current costs $2,500. Tiwari is so confident in his picks that if his model portfolio doesn't show at least 1000% cumulative gains over the next year, he will offer the second year for free.
In addition, a 90-day credit guarantee is in store. So, should individuals feel that Palm Beach Confidential isn't the newsletter for them, the customer service team will give full credit towards any other service offered by Palm Beach Research. The options include:
The Palm Beach Letter
The Palm Beach Trader
Palm Beach Crypto Income Quarterly
Teeka Tiwari's Alpha Edge
Palm Beach Venture
Palm Beach Quant
Palm Beach Infinity
For more information, customer service can be contacted at (800) 681-6533.
Final Thoughts
Palm Beach Confidential is a cryptocurrency-focused newsletter that covers everything there is to know on this respective market. Individuals who become a member today do not need to have any experience, as Tiwari provides the necessary resources and courses that enhance one's overall understanding. Each month, he claims to release a recommendation supported by in-depth analysis and necessary updates.
Though a yearly membership of $2,500 may seem like a lot, especially considering that there are no money back guarantees, this appears to be the norm with Palm Beach Research publications. In fact, many of their services range between $1999 and well over $5000 per year. As for whether or not it is worthwhile, some members have revealed that the overall performance has been positive with all of his recommendations considered. In fact, members seem to have been generally satisfied with the newsletter's content, performance and customer service team.
That said, individuals need to understand that the risks are generally higher in the crypto market than they would be in stock market. This is simply because it is still considered quite novice, fluctuates heavily and is meant to succeed over the long run. So, given the intentions of Palm Beach Confidential, it is important to assess whether this newsletter aligns with one's trading styles prior to becoming a member. To learn more about Palm Beach Confidential, click here.
Learn About the Number One Crypto Investment of the Decade Here