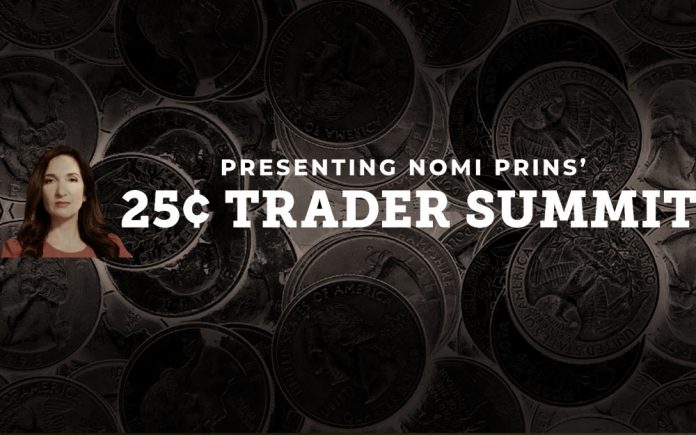 The event will take place on February 15th, 2020 at 1PM EDT.
While Noni Prins usually charges a high appearance fee, this event is free to visit.
Finding tips on investing is not difficult, but getting the right direction is another story. Nomi Prins, a former insider with Wall Street, has quite a resume to back up her success, and she's bringing some of these details to light in a new online summit. In the upcoming "25 Cent Trader Summit" that she will host, Prins plans to show watchers how they can gain thousands in profits each day.
The presentation will include techniques that can be used within a few minutes of work, which means that money can be made each day. In fact, the information on the advertising website indicates that these options are relatively easy for consumers to use at any skill level, even if they've never been involved in the market.
The "25 Cent Contracts" that Prins will talk about are not broadly publicized on Wall Street, but they can offer major gains in the most volatile of markets. Even if the stocks go down, there's a chance of still making money. The strategies are relatively unknown, but the only way that consumers will learn anything is by attending the presentation.
There are many promises made about how beneficial the strategies will be, and the website indicates that the idea of getting thousands of dollars daily may not be a typical result. In reality, every person invests differently, and the results can vary. However, there are a few ways that consumers can expect to benefit anyway, including:
The way that "25 cent contracts" can be used to create a profit.
How to get hundreds in gains.
Why Wall Street hasn't revealed this method.
When the best time of week is to invest.
If consumers are willing to try some of these options, they may see thousands in income a week. Plus, though Prins usually charges upwards of $30,000 per appearance, this entire presentation is free.
Former $GS Managing Director @NomiPrins wants to teach you how to turn 25 cent options into big money while napping…

Limited Spots Available!!! pic.twitter.com/GFQ0JSTMn7

— GuruLeaks (@Guruleaks1) February 12, 2020
When Is the Event?
This online summit will commence on February 15th at 1:00 pm EST. The only way to attend is to sign up beforehand, which can be done on the official website for the event with a valid email address. Attendance costs nothing, and consumers will be able to watch the entire event at home.