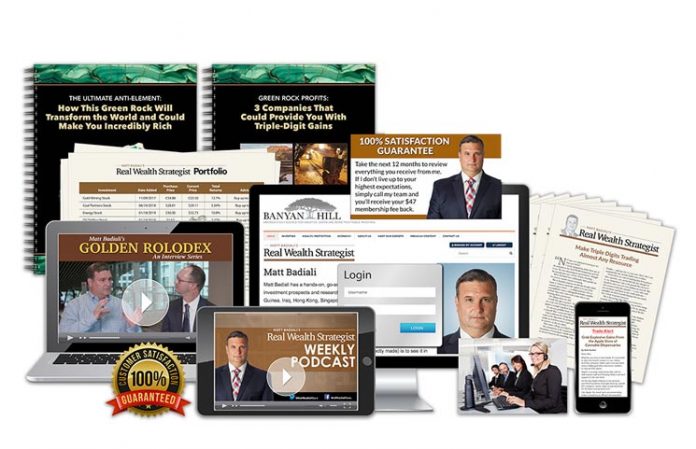 It has been recently revealed that a green rock found at the depth of earth has the potential to rid society of bacteria, viruses and fungi among others. To date, it has been deemed beneficial in combating epilepsy, stomach ulcers and even lung-related infections. According to editor and investor, Matt Badiali, this very element is expected to be the "face of modern medicine" in the months to come.
Most of all, it is currently being researched by a number of entities all of which hint for optimal growth. Badiali argues that with time, its supply will decrease due to low quantities available, and this is expected to raise it value even more. From there, the editor affirms that there's one company worth investing in as a starting capital of $1,000 and quickly turn to $29,000. To find out more, individuals will need to familiarize themselves with the Real Wealth Strategist.
What is Real Wealth Strategist?
Published by Banyan Hill, Real Wealth Strategist is financial newsletter devoted to covering investment opportunities within the natural resources sector. Editor Matt Badiali's key focus in this service is to ensure that investors are introduced to safe investments with little risk attached.
Who is Matt Badiali?
Matt Badiali is described as a 20-year veteran within the natural resource industry. He has experience in mining, energy and agriculture, which makes him a fit editor for this respective newsletter. He's also taught at the University of North Carolina, primarily in geology and the sciences. When the opportunity to travel arose, he did so, and this served as a foundation to his knowledge on natural resources.
What do we know about this profitable investment?
Badiali insists that the company he pinpointed through his system, "is literally sitting on the mountain of reserves of this miraculous material." In fact, demand for this rock within the medical sector is expected to drive the stock price up. The reason he stands by this firm rests in what he was able to find based on the "Commodity Life Cycle."
Currently, this company is positioned right in between formation and surge or in technical terms, where the demand is gradually overtaking supply. As for the "green rock" itself, Badiali hints that it contains alloy. This usually implies copper, but it is unclear as to what copper has been combined with.
What does the Real Wealth Strategist investment membership consist of?
Upon signing up to Real Wealth Strategist, members will automatically receive, "The Ultimate Anti-Element" report where details regarding this company will be revealed.
Another report that members will gain access to is "Green Rock Profits: 3 Companies that Could Provide You with Triple-Digit Gains." Besides the main company, he found three other stocks (two in Canada and one at the heart of Switzerland) poised to soar as a result of heightened demand for this rock.
The general membership comprises of a year-long access to:
Badiali's model portfolio consisting of up to 15 new stocks per year
Weekly podcasts that keep members in the loop regarding market trends and open positions
Urgent trade alerts informing members of appropriate entries and exits
Monthly newsletter diving into investments under consideration
Golden Rolodex interviews, where Badiali share experts' viewpoints on the natural resources sector
24/7 website access to all of his latest and archived reports
Is the Real Wealth Strategist affordable?
Yes, Real Wealth Strategist appears to be affordable given that the first year of membership costs $47. Having said that, Badiali is also backing each order with a 12-month, money back guarantee, which gives investors a lot of time to assess whether or not his approaches align with one's goals. That said, every year thereafter will cost about $97. Given that this offer will eventually expire, individuals are encouraged to contact customer service at https://banyanhill.com/contact-us and provide them with the promotion code: W190W607.
Final Thoughts
Given the price of the yearly membership, it is evident that Real Wealth Strategist is an entry level financial newsletter. Led by an expert of over 20 years of experience, this service is meant for anyone looking to take positions specifically within the natural resources sector. For $47, members will gain access to a wide range of resources that can help amplify one's knowledge, making it quite worthwhile.
That said, many existing members seem to have been generally satisfied with his recommendations, however, investing in general carries both gains and losses and this is something that individuals need to bear in mind prior to signing up. Ultimately, consumers should do their respective research prior to proceeding. This can be as simple as contacting customer service regarding any doubts or concerns. To find out more and this supposed "green rock," click here.