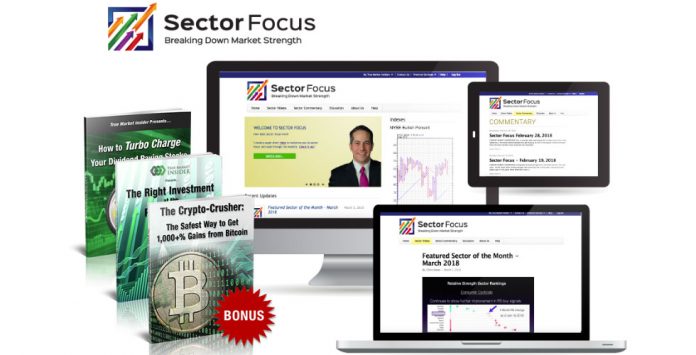 For the majority of investors, the financial markets appear increasingly complex. Every investor today is yearning for a precise translation of the markets, especially the stock market, to help them stay afloat as traders, minimize losses, and maximize their gains.
But what if you could read the minds of the market movers and shakers—people and companies whose decisions dictate the direction of all world markets? Well, this is what Chris Rowe, Founder, and CEO of True Market Insiders, are about to tell you.
Just subscribe to his advisory service, Sector Focus. By registering for this service, you will know firsthand, what prominent money managers think about, talk about, worry about, or get psyched about and what they are likely to be doing soon. You will gain vital knowledge to help you make profitable trading decisions.
During a recent presentation, Chris shared a startling truth about investing in the stock market. He explained why many investors miss out on tremendous opportunities and why they lose money every day. In his advisory service, he shows investors practical trading and investing tactics while giving them the guidance they need to make money.
Who is Chris Rowe?
Chris Rowe is the Founder and CEO of True Market Insiders. Previously, he worked in the financial services industry in various capacities since 1995. He held several senior positions at reputable money management and investment banking companies, where he served high net worth institutional and individual investors.
Between 1996 and 2003, Chris was engaged in the analysis and management of investment portfolios of debt securities, options, derivatives, publicly-traded equities, commodities, and private securities. From 2003, he ventured into publishing and financial analysis, education, and editorial.
During this period, Chris was a consultant for mainstream hedge funds, where he identified smart investment opportunities, wrote reports, and helped them hedge positions. He was also actively involved in IPOs and secondary/follow-on offerings.
Currently, Chris is engaged in helping investors unravel little-known investment opportunities to help them earn more significant returns. In addition to True Market Insiders, he contributes to several financial publishing companies and websites. He provides both individual and corporate investors with instruments, data, and investment education.
What is Chris Rowe's Advice?
Chris believes that few investors know the secret of winning, and that's why they miss highly-rewarding investment opportunities and lose money even in bull markets. On the other hand, he says the few who discover the secrets and apply the truth at the most basic level have always made huge gains amounting to 186.04%.
Saying that a more focused approach can yield even better returns, Chris is out to show you how to be in this league of investors who "just plain win more often." He says he's seen as many as 51 winning ideas happen in a single day from this trading strategy.
A real-life Wall Street insider, Chris has adequate experience and connections very few others have. To make matters worse, those who know this secret are not willing to share it with other investors they consider 'outsiders.'
Based on his experience in managing hundreds of millions of dollars for clients and as an investor who broke the 7-figure mark in his early 20s, Chris can tell you what he says is "by far the most powerful way to stack the odds of success in your favor."
While he believes all investing carries some degree of risk, Chris says this model is the next best thing to a guaranteed winning strategy you'll find anywhere. In summary, he says you cannot understand the market by looking at the market. Instead, he urges investors to look at the market WITHIN the market.
Chris Rowe's Investing Philosophy
Chris embraces a unique investing philosophy, far from the usual predictions that investors typically see. He says predicting the trends in the stock market would be impossible and believes there's a better way.
Instead, Chris and his team invest tools that allow them to accurately see what happens in the TRUE market. This enables them to analyze the battle between supply and demand on a granular level just on time. Since they know that trends often remain in place for a long time—months or even years, they get ready and ride those trends until something changes.
Sounds so simple, but Chris says 99% of investors—even seasoned ones, cannot do it consistently. According to him, investors cannot ride those trends because they simply can't see them. They cannot see what happens in the market until long after it happens.
In his advisory package, Chris aims to reveal to investors how they can see the market in real-time with crystal clarity. And when their eyes open, they begin to see stocks and ETFs with double and even triple potential. This process of identification starts from the top of the broad market, narrows down, and goes far beyond than the S&P or other broad market averages.
First, they identify the "Major Sectors" that show the most significant strength of the overall market. By this, Chris implies sectors that are going up by more or down by less about the global market. According to him, one such industry could be Technology. From there, they move down to "Sub-Sectors" and then scale it down to "Narrow Industry Groups."
If you're wondering how to identify which sector is more reliable than the others, that's what Chris will show you in his advisory service. You will be able to discover individual companies and ETFs associated with the smaller groups and capitalize on those with the most explosive upside.
The Sector Focus
The Sector Focus is an advisory service launched by Chris and his team. It comes out four times every month. This service gives investors access to the lucrative, actionable signals that Chris and his team detect as they happen and while they're still invisible to nearly everyone else.
Chris and his team spend six figures every year on raw market data that help them focus on the activity from institutional investors. They analyze more than two thousand individual data points every day to identify which sectors have the most overwhelming demand—and which are flooded with supply.
They proceed to single out the most reliable stocks and ETFs in the identified sectors at that particular time. Chris and his team then 'spoon-feed' their readers those tickers together with in-depth commentary, sector analysis, and market analysis. Consequently, their clients will almost effortlessly know exactly which sectors are on fire.
Subscribing to Sector Focus
Chris says Sector Focus is the only service that allows individual investors to truly 'see' the battle between supply and demand. Sector Focus knows which individual stocks and ETFs are making real moves.
Upon subscription, here are the primary benefits:
• 4 issues of Sector Focus delivered to your inbox every month
• An average of six trading recommendations per month
• Live webinars and detailed analysis
• The three powerful reports, improving your trading abilities and increase your ROI
The regular subscription of the Sector Focus is $336 per year. However, Chris is offering this service now at a discounted price of only $79 per year. That is a whole 76% off the regular price. Besides, subscribers will enjoy other benefits, as mentioned above.
Final Words
Chris Rowe and his team have agreed to interpret the data for you and bring you field reports to your inbox. This will enable you to understand what's happening in the market exactly. You'll be able to identify the stocks and ETFs with the best chances of putting money in your pocket.
Take advantage of this service—subscribe to Sector Focus now.