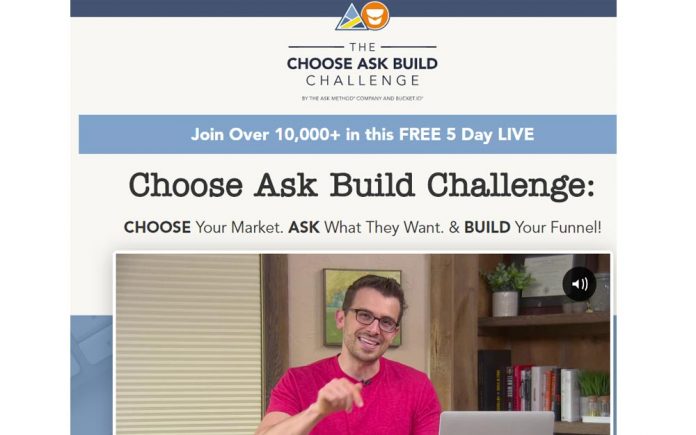 Tired of having to work for others? Fed up by how restrictive a 9-to-5 job is? In such cases, starting a business is surely to be alluring, however, it is not that simple and will require a lot of input. This entails figuring out the product or service being advertised, targeting the right market segment and of course, figuring out how to build customer relations and continuous leads.
Given the number of steps one is required to take, Ryan Levesque recently launched The Choose Ask Build Challenge to educate individuals and entrepreneurs on how to get started. Here's what we know so far:
What is The Choose Ask Build Challenge?
The Choose Ask Build Challenge is a 5-day interactive, implementation workshop that covers how to choose who to serve before having a business ready, how to rack in demand and ultimately, building the right funnel to lure in lasting customers and leads. With 30 to 60 minutes a day, Levesque will cover specific action steps one should take towards growing a successful business.
Who is Ryan Levesque?
Ryan Levesque is the CEO of the ASK Method® Company, a firm that has since earned the Inc. 500 honor from 2017 to 2019 consecutively. In addition, he is voiced as the number #1 national best-selling author of Ask, which Inc. named the "#1 Marketing Book of the Year." Many of his work has also been published in a number of platforms ranging from the Wall Street Journal and USA Today to Forbes and Entrepreneur.
To date, he has over 250,000 entrepreneurs subscribed to his email newsletter that offers business advice. Besides ASK, he also founded bucket.io®, which is a marketing funnel software designed specifically for entrepreneurs.
What will learn by joining The Choose Ask Build Challenge?
During this challenge, individuals will acquire marketing knowledge by:
Participating in 5 days of daily live interactive training, both through Zoom and a private Facebook group
Understanding how to choose who to serve without a business readily in place
Discovering where ideal customers spend much of their time
Exploring what triggers pain in customers
Assessing how to create the "marketing machine" that will increase leads and sales on a daily basis
Participating in live Q&A sessions where Ryan Levesque will clear any doubts and/or concerns
Gaining access to some of Ryan Levesque's special bonuses and surprises
When will The Choose Ask Build Challenge take place?
The Choose Ask Build Challenge is currently live and ongoing, in fact it started on Monday June 8, 2020 and is expected to last until Friday, June 12, 2020.
How do I join The Choose Ask Build Challenge?
In order to join the Choose Ask Build Challenge, individuals be asked a series of questions including:
Whether the business is new or existing
What is being sold
How one hopes to achieve sales
This has been done to tailor the challenge's content so that it best meets one's respective business situation. After answering these questions, a message directing one to enter their best email address will pop up. Finally, it is a matter of joining the Challenge FB (Facebook) group and getting started
How much does The Choose Ask Build Challenge cost?
This 5-day workshop is free, with no strings attached whatsoever.
Final Thoughts
Ultimately, there's no better way to launch a business than to learn directly from industry experts. Ryan Levesque has since built a marketing empire that has lured in a number of big names in the world. With The Choose Ask Build Challenge, individuals will come to learn what they truly want out of their business through his 5-second test and other tips and tricks shared throughout the 5-day workshop.
This is definitely something to consider, especially based on the fact that the content of the challenge will be tailored to meet individualistic goals. Who can forget the fact that Levesque will not only be providing crucial material, but also his experiences as an entrepreneur! To learn more about this challenge, click here.